2004 Whit Friday March Contest - Retrospective
9-Jun-2004
Our man Malcolm Wood was out and about on the longest and most enjoyable day of contesting in the brass band calendar.
---
Throughout the banding calendar year, there are events that stand out above others. The Open, The National Finals, The Masters, Europeans, its an endless list, and whilst all of those dates are special for everybody involved, in the Pennines, one date stands out above all else - Whit Friday. It has an aura all of its own, and it's one of those days in the year, that banding enthusiasts get together to enjoy and make music at twenty five different venues across Saddleworth and Tameside.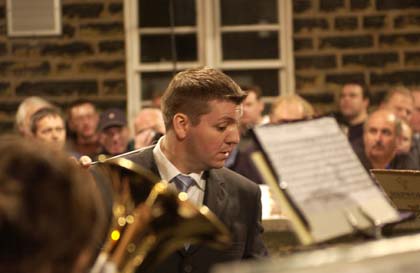 Mark Bentham with the Hepworth Band
Photo: www.studiotristan.com
There are no hard and fast rules, except bands must sign in at a contest between the time specified, perform a march whilst proceeding to the contest arena that can be anything from a car park, to a field, to an erected bandstand, and then play a march in the contest itself. The bands are judged in various categories throughout the night and each contest has individual prizes. Both Saddleworth/Oldham & Tameside though have main sponsors for the night both offering a large pot of money for the overall winners in the Borough, the only rule being that a band must compete in six contests to qualify for the title of 'Overall Champion Band'.
This year, a number of things stood out. The contest venues of Delph (74), Greenacres (47) and Scouthead & Austerlands (68) all set new records for the number of bands in attendance, whilst Greenfield equalled their own personal best of 60 competitors. Fodens Richardson became Tameside Champions, whilst Hepworth Persimmon Homes raised a few eyebrows by taking the Saddleworth crown. Whit Friday wouldn't be what it is without the odd scratch band appearing and regular contenders 'The Navigation' this year under the name of 'Cartax Navigation' were joined by the RNCM from Manchester (with a few notables amongst students and tutors), 'SLOB' - South London Overseas Band, and Salvo Brass, a mix of Salvation Army players from Derby, Leicester & Kettering.
The band who travelled the furthest this year was Brass Band Uri from Switzerland. They have ''Championship Section' status in their own country, but were classed as first section contenders on Whit Friday. They had a great weekend with the contests, a concert in Uppermill on the Saturday night and the Wigan Bier Fest on the Sunday.
As always, individuals as well as bands shine on the night and two individuals caught 4BR's eye on the night in particular. Soprano player, Brian Evans reached a half century of consecutive Whit Fridays - a real achievement and this year, Brian was with Cartax Navigation, and the other player to stand out was another soprano, fourteen year old called Stefan Maddock from Shirland Welfare Miners Training Band, of which, more later.
Delph's profile has been raised down the years with the film 'Brassed Off' featuring the village, BBC's Songs of Praise has been to visit, as well as Listen to the Band, and last year, the contest launched a CD of Whit-Friday Marches live from the event itself that proved to be a great success.
With these things in mind, it is no wonder that Delph are setting standards on Whit Friday that are hard to match. Each contest has its own characteristics that attracts players and listeners, and in Delph, the acoustic in Gartside Street is superb and players know that when they perform at the contest there is that hushed silence in respect of the playing.
It's not that long ago that if a contest venue did fifty bands in a night, it was exceptional, but now the contest controlled by Bob & Mary Rodgers (and a huge band of helpers) has gone through sixty plus bands competing and last year, hit a staggering seventy-one. This year, they improved again with seventy-four bands performing during the night. At 10.30pm when the contest has its last 'check-in', Carlton Brass were performing and it would be another two hours before the last band (University of Warwick) played to bring the night to an end. In fact, it is becoming something of a tradition now that the contest goes past midnight into Saturday morning. BBC Radio 2's Listen to the Band had a 'Whit-Friday Special' on the night and informed listeners that they would discover in the programme broadcast on 11th June, if Delph hit a new record. The object of the Delph contest (and every other one come to that) is to let as many bands play as possible and if records get broken, so be it. One thing for sure is that those contests who have set records this year won't rest on there laurels and some of the newer contests in Tameside (Bush Inn, Droylsden, Hattersley and Roaches Lock) will want to build on this year and attract the numbers that some of the more established contests receive.
The other thing about Whit Friday is nobody knows which bands will turn up. Rumours are always rife who is and who isn't out and about, and this year, the circuit had no Black Dyke, Faireys, Grimethorpe or YBS, although Black Dyke/YBS players were seen playing with other bands for the night. The non-attendance of these four names alone gave other bands the opportunity to have a go at the various titles on offer, and it was one that Fodens and Hepworth grabbed with both hands.
Fodens have found that winning formula on Whit Friday in the past couple of years. Once again, the Sandbach based band concentrated on Tameside and appeared at eleven venues, picking up seven first prizes, two seconds and two thirds. Under Steve Bastable (a man really making a mark on the banding scene at the moment) they played The President march. After Tameside, Fodens went into Saddleworth and took another two firsts at Delph & Roundthorn and a second at Greenacres. It was gone midnight when 4BR caught Fodens in Delph and even at such a late hour, the standard of performance was top draw, and deserved that first prize.
When the results were coming through, the number of wins that Hepworth were achieving was certainly raising a few eyebrows. Then again, if you heard them on the night, you'll understand why they did so well. 4BR had received a few messages to say 'Hepworth are playing well, hope you hear them' and they played late again in Delph and were absolutely brilliant. George Allen's 'The Wizard' is a march that suits the band and although Fodens deprived them the winners spot in Delph, they had four first prizes, two seconds and two fourths from eight contests. Add to that, the band's success at the Wigan Bier Fest on the Sunday, and they had a very financially rewarding weekend.
Whit Friday isn't Whit Friday without Brighouse and they concentrated on Saddleworth this year. They had to settle for second overall in the championships outside Tameside, but picked up four first prizes, a second, two thirds and a fourth overall from there eight performances of Ravenswood, and being honest, when they performed in Delph at 10.50pm they had gone in front, but Marsden got third, and then Hepworth & Fodens, went above them, and its hard not to argue that those three bands deserved to be where they were.
Bands such as Innovative Skemanthorpe, Leyland, Sellers and Pennine Brass also had good nights. Leyland are another band who favour Tameside and playing Knight Templar, gained runners up position in the Tameside Championships with two firsts and four second placings.
Innovative Skemanthorpe had two first placings amongst their ten outings in Tameside and will consider themselves unlucky to lost third place to Glossop Old. Sellers International did a Fodens and Leyland and stuck to Tameside, but will be a little disappointed to have come fifth overall with a second at Roaches Lock and a couple of thirds (Denton & Heyrod) their top marks of the night. Pennine Brass under Ian Porthouse were consistent in Saddleworth with a second (Lydgate) a couple of third prizes (Dobcross & Greenacres) courtesy of Mephistopheles.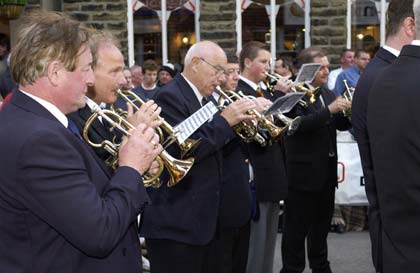 The back row - Cartax Navigation Band
Photo: www.studiotristan.com
Scratch bands are always good fun on Whit Friday. The Navigation Inn in Dobcross for years always sent a band out. Traditionally, it is a mix of players that are not actively involved in top-class banding anymore and players whose bands have chosen not to go out specifically on the night. Sponsorship has changed, but 'Navigation' is always in the title, and this year, under the banner of Cartax Navigation, ( a taxi firm in Saddleworth), they had two great soprano players in their ranks. Brian Evans as mentioned previously, is always with the 'Navi' nowadays and the other 'legend', Peter Roberts. Peter wasn't stood next to Brian though - he was front row, third man down, and still on sop! Led by Peter Reid, this band had the likes of Mark Rodgers (ex Black Dyke/Hepworth) Simon Gresswell (YBS) John Gillam, Gilbert Symes (ex Brighouse) and Steve Walsh (YBS) on euphonium, with Les Beavers directing The Senator march. Whoever is playing gets together on the run up to Whit Friday to have some serious rehearsal time and they always put on a good show on the night. It's nothing more than enjoyment and no doubt they will be thrilled to have picked up second prize in Uppermill.
The Royal Northern College of Music also came out for the night. It's a touch unfair to call them a scratch band, but they had a mix of pupils, tutors, and a couple of extras drafted in for the night. Led by John Dickinson, they performed Ravenswood in eight venues, with John Miller, Owen Farr, Arfon Owen, David Thornton, Matthew Routley and Daniel Sinclair in their ranks, experienced players, out for the fun and the experience.
Red Dragon Brass, a band made up of players from Pontypool Brass of South Wales and Royal Buckley Town Band, from the north of the principality, enjoyed the Northern hospitality and atmosphere, and hopefully will return, as will Shanklin Town from the Isle of Wight, who had fun in Saddleworth.
Other bands that caught our eye on the night included the Senior Trophy winners, Staffordshire who will consider themselves unlucky not to have come higher than tenth on the night at Delph with Ravenswood, but picked up a second at Lees and a fourth at Roundthorn. Stocksbridge only did a handful in Saddleworth with fourth at Uppermill their best of the night.
The great thing though about Whit Friday is the amount of youth bands that tour the circuits, around twenty this year, and the one player who stood out above anybody else on the night for us, was soprano player, Stefan Maddock (14) from Shirland Miners Welfare Training Band. The band played Army of the Nile in the contest arena, and within the opening bars of the march, a number of people were transfixed on the young man. His tone and control of the instrument was unbelievable; the obligato solo was pure class, the instrument was quite literally 'singing' and outside those well-known players at the top end of banding, this was the sweetest voice of the soprano, I have heard in many a year. I couldn't help thinking back to the National Youth Brass Band Championships in April when Richard Evans and James Scott were encouraging the young players then to "stick with it". Hopefully, Stefan won't be lost to the movement, and he is a player to look out for in the future.
And that was it really, a hundred and thirty-one bands in Saddleworth (ninety-seven in Tameside) all having a great night, meeting old friends (and a number of new ones on the way). The only hold-ups we heard about were around Dobcross, but when you've got so many coaches out and about, you always get a hold up somewhere.
The band contests on Whit Friday are something really special, and people travel a fair distance to share in the experience. If you have never done it, or are thinking of doing it, talk to those that do and come and join the masses on Friday May 20th 2005, for an event that just gets better and better.
Pictures by kind permission of www.studiotristan.com

Malcolm Wood