Thanks for the Memory No 10 - Arthur Laycock
8-Jun-2004
Legends in Brass: Arthur Laycock
"…Trumpeter - what are you sounding now…"
By Chris Helme
---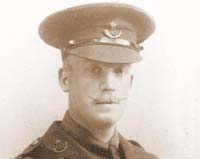 It was as a young Police Constable in the old Leeds City Police, almost thirty five years ago now that I first came across the name of the St Hilda Colliery Band and more importantly to this story the name of Arthur Laycock.
My regular patch back in those days was 1 Beat which included the old city centre Quarry Hill Flats, a place made famous as the TV setting for 'Queenies Castle' a programme where the lead role was taken by the late Diana Dors. To get to the flats I usually went through the large open market passing countless stalls where some of them were selling domestic pets and others the not so domestic pets. Amongst those selling fruit and vegetables and what seemed endless rows of second hand clothes stalls and purveyors of small items of furniture and electrical appliances was one that was literally piled high with old records which I later discovered were known as 78's.
It was whilst rummaging through some of these old records that I came across one record on the old Zonophone Record Label – on the one side it was the Cornet Solo 'Titania' played by Arthur Laycock and on the other side the Cornet Duet 'Ida and Dot' both recordings were accompanied by the St Hilda Colliery Band. Even after I paid my six old pence for the record I had no means of playing it – living in digs in Leeds did not run to having a record player of my own.
However, a few weeks after buying the record I did get my first chance of playing it and heard for the first time the phenomenal playing of someone who over the years was to become a musical hero of mine, the late Arthur Laycock. Over the years since I purchased that first record I have know managed to find or have copies of all his solo recordings, dating back to 1913 - but who was this man, someone who died at the comparatively young age of 42 back in 1929.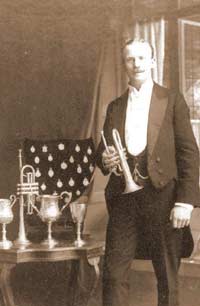 Arthur Laycock was born on March 4th 1887 and lived at 1 Hole Bottom, Stansfield, Todmorden and was the second son of Thomas, a Loom Tackler in a local cotton mill and Mary (nee Sutcliffe) Laycock – his other brothers were Ellis b: 1875 – William b: 1892 and Harold b: 1895. In the 1881 Census, Ellis aged 6 and his parents lived at 9, Store Street, Stansfield, Todmorden and were both employed as cotton weavers. In the 1901 census the family were living at 40, Stansfield Street, Todmorden when Arthur was aged 14 and listed as a slipper maker.
I understand that both parents had died by 1910 and with no other adult relatives to look after the boys the parental responsibilities were taken on by their eldest son Ellis who remained a bachelor throughout his life. It is believe that both parents were interred in Hebden Bridge.
Just how Arthur came to be involved in playing a brass instrument remains a mystery as neither of his parents appear to have been musically inclined. The only musical influence known to be within the family was with his brother Ellis who played the concertina. Shortly after his ninth birthday his parents bought him a second hand cornet and arranged for him see Arthur Hirst the conductor of the local Cornholme Band, which was based in Cornholme village on the outskirts of Todmorden and to give him some private lessons. It is documented that he made very good early progress – so much so that he was promoted on to the Repiano Cornet.
As his playing became even more proficient and no doubt on the recommendation of Arthur Hirst he was then given further tuition by George Nicholls, the highly respected solo cornet player with the Kingston Mills Band and someone who lived quite close to young Arthur.
It was not long before he was moving on to even greater things when he was invited to join the Todmorden Old Band as their new 3rd Cornet player whilst he was still under the tuition of George Nicholls. Within three months he was promoted by Todmorden's Bandmaster Chris Smith to be their Repiano Cornet.
In 1904 at the age of 17 Arthur was once again recommended by George Nicholls this time to the Hebburn Colliery Band some 135 miles away in the North East of England where he was invited to join them as their new assistant solo cornet player.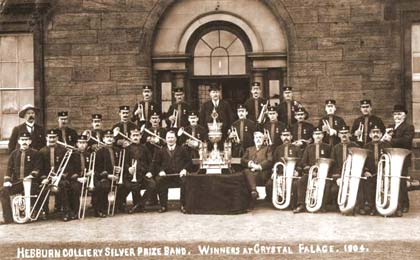 Hebburn Colliery Silver Prize Band - winners at the One Thousand Guinea Challenge Trophy National Championship Contest held on Saturday 1st October 1904 - Musical Director Mr Angus Holden
The Hebburn Colliery Silver Prize Band had been formed in early 1879 and progressed to become a very successful band culminating with what was described as a surprise win in 1904 at the One Thousand Guinea Challenge Trophy contest at the Crystal Palace. At that contest their musical director was Angus Holden who conducted two other bands on that day as well – Cleckheaton Victoria and the Luton Red Cross Band but neither of them were in the prizes. It would appear that whilst the band did continue after 1904 with a degree of success – 1905 they were placed 6th but the following year they were drawn the dreaded number one and were not placed. Their down fall appears to stem from after the 1904 win when the colliery management disapproved of their victory tour which resulted in a number of players being dismissed from the pit on their return. However, what appears to have been their loss was one of their neighbours gain and that band was the St Hilda Colliery Band.
From available sources it would appear that Arthur left Hebburn and returned to the West Riding and re-joined Todmorden Old Band. He later joined the Earby Band under the baton of W. Rushton and for a while would have sat alongside the legendary cornet player Edwin Firth who was sadly killed during the First World War in June 1918.
Then an offer was made he could not refuse from the Dalton-in-Furness Band which resulted him being a member of that band for the next three years. It was during his stay at Dalton that he was given tuition in musical theory and harmony as well as playing by their musical director John H. Carter, a man who was destined to lead the Dalton Band to a greater glory than they had ever known before. Under his inspired leadership, they entered and won competitions and became known as the Dalton Town Prize Band. Mr. Carter resigned as conductor on 2 April 1913 by which time Arthur had already moved on.
Arthur was now beginning to make a name for him self on the solo contest circuits – one of his first outings was at Ulverston where he was awarded first prize from a field of 35 participants. He went on to gain further success at Bacup, Dalton, Edge Hill at Liverpool, Crew, Workington and was awarded 1st prize at all of those and a number of other venues; he was also placed 2nd on four occasions; 3rd on three occasions; 4th twice and one 5th place in fact out of a total of 17 competitions he only failed to be in the prizes twice.
It was during this period that he was approached by other bands to join them these included: the principal cornet position at Irwell Springs Band which he declined; Wingates to play with them for the Belle Vue and Crystal Palace contests but again he declined their offer. However, he did accept an offer from the Royal Oakley Band at Blaenau Festiniog but at the first two contests the South Wales Brass Band Association disqualified him.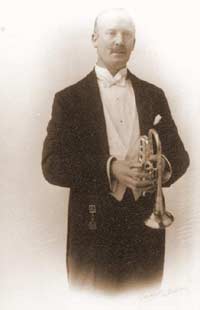 Even during his short stay in South Wales he was still in demand by other bands which included bands at: Aberman; Polton Mills; Lindley; Batley and even from as far away as New Zealand with the Waihi Federal Band. He did accept invitations to play as a guest with the Lindley Band at Huddersfield; Crosfields Soap Works Band; Longbridge Band and the Morecambe Band. He played under almost all the top and well known brass band conductors of the day which included: Alexander Owen; William Rimmer; Angus Holden; William Heap; John A. Greenwood; Chris Smith; John H. Carter; John E. Fidler; John Paley; Alf Gray and the doyen of the brass band world himself William Halliwell.
It was in March 1909 after having received an invitation to join the St Hilda's Colliery Band as their Principal Cornet player that he left the Dalton-in-Furness Band. St Hilda's had been making steady progress on the ladder of fame winning many local contests. In 1908 they took part in the Junior Cup at the Crystal Palace for the first time and were conducted by John A. Greenwood. There were sixteen bands entered that day – the test piece 'Gems of Mozart' had seen hours of determined rehearsal time, with Mr Greenwood being equally determined that they would give a good account of themselves.
The adjudicator was Robert Rimmer and to tumultuous applause, whistles, caps and programmes hurled into the air he gave first prize to the St Hilda Colliery Band. This was an achievement that set them on the road to the top – winning this competition at their first attempt – the band had now to stand together and remain as team - continuity was the key to success – a maxim that still has relevance today.
Arthur's first success with them came shortly after joining when the band was placed first in the Grand Shield section at the Crystal Palace. The number of individual contests entered by most bands a century ago was far more than any bands enter these days. Looking back on the 1909 contesting season St Hilda's first outing was at Felling in early May – the adjudicator was James Oliver the conductor of the Felling Band and someone who in later years would become part of St Hilda Colliery Band's history but on that day they were conducted by George Hawkins and were awarded 1st place in both the march and selection sections. On the 15th of May at a contest at Birtley they were awarded a 3rd prize; at the end of the month and moving on to West Stanley they were conducted by J. A. Greenwood and awarded 4th prize. Their first contest in July brought them 1st prize and then a 2nd prize at Benwell and another 4th prize at Hexham in early August. Their next success was at Grangemouth when they were awarded 1st place.
As the contest calendar entered September the season was now in top gear and although the band were entered the Grand Shield and was practising relentlessly for that event they were still entered in another three contests before the big one. The first was on September 4th at Kello – when they were joint winners with Houghton-le-Springs. Before the day was out they had also taken part in another contest at Shotton and won that was as well. It was now to the third and last contest before their big day in London. The contest was held at Stanhope on September 11th and once again they awarded 1st place - now they were ready for their trip to London to play for the biggest prize they had ever competed for.
Following the band's success at the Crystal Palace in 1909 he was invited to be a guest player with Besses o'th Barn Band who were about to embark on a round the world tour.
This event was to involve 31 players under than baton of Alexander Owen. This tour was to be a 50,000 mile trip around the globe and would last 18 months taking in visits to Africa, New Zealand, Australia and Tasmania. Arthur was later invited on a three month tour of Canada with Besses but turned the offer down.
St Hilda's took part again in 1911 at the Crystal Palace but were not in the prizes which saw the decision being taken to make some changes. The first of these changes was the appointment of James Oliver from Felling Colliery Band as the new bandmaster. That same year James Southern was appointed as the new principal trombone player and it was he who persuaded William Halliwell to be their new professional conductor in the August of 1912.
Following the completion of Besses world tour Arthur Laycock returned to St Hilda's in March 1911. On Saturday September 2nd 1912 they took part in the Belle Vue September contest and came in second to Foden's but on the September 28th under the baton of William Halliwell who conducted seven bands on that day - St Hilda's played off number 18 and as the band stepped out on to the One Thousand Guinea Challenge Trophy contest stage at the Crystal Palace, there was an electric atmosphere of high expectation. The test piece was William Rimmer's arrangement of Rossini's 'William Tell' - 7th place went to Hebden Bridge Band conducted by William Halliwell; 6th place went to South Moor Colliery under the baton of Angus Holden; Wingates came in 5th with J.A.Greenwood; Black Dyke Mills again with J.A.Greenwood were 4th; Fodens with William Halliwell were 3rd; Irwell Springs again with William Halliwell were given the runners up prize and once again conducted by William Halliwell and led by their principal cornet Arthur Laycock St Hilda's were crowned the 1912 One Thousand Guinea Challenge Trophy National Champions. It was estimated that there had been 100,000 at the Crystal Palace that day – the crowds of well wishers who attended their victorious return home to County Durham was something that no one had ever witnessed before and an event that saw the beginning of the band becoming the famous St Hilda Colliery Band and its eventual legendary status.
Following their 1912 win at the Crystal Palace and becoming the National Champions for the first time they produced 16 recordings in 18 months – which generated huge sales. This was a time of course when the wireless (radio) was very much in its infancy. Throughout their history I understand they produced about 300 recordings – their first recording was William Rimmer's '…The President…' and '…Death or Glory…' by Robert Browne Hall and was recorded in September 1912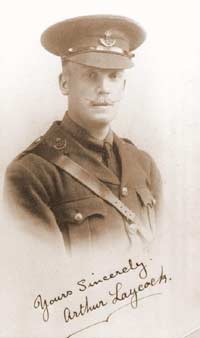 In 1913 they were commanded to play for the King and Queen at Lambton Castle when Arthur played Hartmann's celebrated cornet solo '…Rule Britannia…', he received words of warm appreciation from both King George and Queen Mary.
He was still playing with St Hilda's when he married Maggie Cowgill in June 1914 in the Lancashire village of Earby and continued to play with them until the outbreak of the First World War when he joined the 16th Durham Light Infantry. He was later appointed Bandmaster of the 1st Training Reserve Battalion which was stationed at Cannock Chase in Staffordshire. He later went on to France as the Divisional Bandmaster of the 58th London Division. At the outbreak of the war fourteen members of the band went into action. Whilst the remaining members continued with the band they performed at many charitable events and raised over £13,000.
The man who was responsible for organising and being the driving force behind this magnificent effort was the bands newly appointed band manager James Southern. Whilst he was a first class trombone player his real skills were in managing the band and driving them forward.
On demobilisation in 1919 Arthur and most of the other players came back and rejoined St Hilda's and practically carried on from where they had left off. The 1920 contest season began with them winning the Durham and Northumberland championships contest at Sunderland. On Saturday 25th September 1920, the first One Thousand Guinea Challenge Trophy contest was held after a gap of six years for the war. Playing off number ten and once again under the baton of William Halliwell and led by Arthur St Hilda's brought the audience to a huge crescendo of applause and jubilation as they played the final chords of Cyril Jenkins test piece 'Coriolanus' and were once again crowned as champions.
In 1921 St Hilda's were once again at the Crystal Palace with William Halliwell and Arthur Laycock was still on the '…end chair…' playing in front of what would probably the largest crowd ever seen at a brass band contest. This year the test piece was Cyril Jenkins timeless contest piece 'Life Divine' a test piece that has stood the test of time. Even today when played well it can still make the hairs stand up on the back of your neck. Many older readers will remember the days when that piece was played and described by CWS (Manchester) Band's principal cornet player Derek Garside as their swank piece.
It was at the evening concert following the contest where Arthur reached what could be described as his zenith when he was invited to be the guest soloist at the concert - he played Damare's famous cornet solo '…Cleopatra…'.
Newspapers reported at the time that the audience were mesmerised by his skill, artistry and were almost in frenzy as he rolled out the final notes of this famous solo. His performance was being likened to the great American cornet player Jules Levy.
The announcer once again placed St Hilda's as the champion band for 1921 – with two 4th places in 1922 and 1923 they were back on the winning trail in 1924 but for a 5th place in 1925 their winning run would have continued and probably remained unequalled for many years after. Their final visit to the Crystal Palace Championships came in 1926 and were for a record fifth time declared the One Thousand Guinea Challenge Trophy contest winners. However, following a decision by the promoters of the National Brass Band Championships in 1924 with regard to the number of engagements they were attending annually their 'amateur status' was brought into question.
In 1925 the colliery had closed down – due impart to a local dispute which was then followed by the General Strike and subsequent industrial depression. The whole band was now unemployed. James Southern bought the band effects and the name from the St Hilda Miners Lodge and then the band went on tour. In 1927 the band turned professional but the early years of its change status saw the band make wholesale changes to its personnel and Hubert Bath replaced William Halliwell as the musical director. It was also felt that the word Colliery was inappropriate and should be dropped from its title which then saw for recording purposes the name being St Hilda Professional Band.
In 1931 they took part in the All Canadian International Exhibition which was considered to be a great success – but further changes followed – they were finding it difficult to get the higher quality engagements. In 1934 Frank Wright was appointed as their new Musical Director for that season. Following in the footsteps of Frank Wright was John R. Bell and James Oliver who I believe stayed with the band until it finished. The end came in 1937 with their last engagement being at Stanhope Show County Durham on the 12th September 1937. During the 1950's there was St Hilda Yorkshire Electricity Works Company Band which had no connection with the old St Hilda's Band but did have a degree of short lived contest success during the 1950's and even had the opportunity of making a record – Festival Overture in 1950 following their success at the North Eastern Yorkshire Area Contest. This record produced on the old Grimes label would certainly be a rare find these days.
However, going back to 1923 both Arthur and the band were in great demand – in what was described as the band's first year of continuous tours with their huge engagement list taking them to every corner of the country Arthur featured at 401 occasions.
On Wednesday February 9th 1921 the band was commanded by the King to perform at Buckingham Palace. Arthur Laycock's cornet solo was '…Titania…' (William Rimmer) a performance that was particularly commended by their Majesties, the Prince and Princess Mary. The Queen remarked, "…I was delighted at the beautiful cornet solo…"
At the command performance at Lambton Castle a great personal compliment was paid to Arthur Laycock, the King sent intimation that he was coming to hear him perform 'Rule Britannia'. Shortly afterwards His Majesty came into the hall and took his place by the side of his Royal Consort, remaining in the hall until the end of the performance and said how delighted he had been with the playing.
Arthur was a member of St Hilda's for fourteen years and it was widely regarded that a great deal of the band's success was due to his untiring efforts, he was probably their greatest asset and as a critic once remarked, "…St Hilda's without Arthur Laycock is like a machine with a broken cog in the main wheel…"
During this time he was approached by Dr Williams, Conductor of the Grenadier Guards Band and offered him the post of Solo Cornet, a similar post was also offered by the Welsh Guards – both offers were declined.
Harry Mortimer another legend of the brass band world recalled in his autobiography when he met Arthur Laycock. Harry was given the job of standing in for Arthur after he had committed the cardinal sin with a chip pan fire by trying to carry the flaming pan outside. The incident resulted in him suffering from facial burns leaving him unable to play for some time Harry not only had to stand in for him at the band but also had to live-in at his house as well. Arthur Laycock, he recalls was known as an immaculate, if pedantic man and his painstaking attention to his appearance was reflected in his playing and as his deputy Harry was expected to imitate him in every way. Every aspect of his life was ordered and timed to precision to such an extent that it made Harry's father Fred Mortimer looked positively lax. His routine began from the moment of his rising from his bed and breakfast was as much of a ritual as a concert. Whilst he was eager to get on with some practice he would slowly go through his routine of eating, clearing away and preparing for the forthcoming day. After breakfast he would listen to some records from his collection but not until each one had been inspected, wiped and carefully placed on the turntable. Even the winding of the gramophone was done to a carefully planned pattern. It was not until eleven o'clock that Harry could get down to any cornet playing after which they took a stroll. On that first stroll Harry recalled that he was almost sent packing back home – Arthur said "…Where do you think you are going…"
"…Out for a walk with you…" replied Harry.
His face was a picture of disbelief, "…Not dressed like that…" he said "…You're out with Arthur Laycock, my boy – where's your hat….." - Never having worn one before Harry had to purchase a hat at his earliest opportunity. Harry discovered later that Arthur suffered from a heart complaint and problem that forced him into a some what eccentric but steady routine.
The day finally arrived when he sat second man down to Arthur and performed with him a farewell duet once he had fully recovered from his chip pan accident. But Oh, dear, it was almost at the end of the duet when Harry fluffed a note and looked at the audience and looked apologetic – all soloists will make this kind of mistake but Arthur was furious with Harry – "…Never admit to the audience that you have made a mistake…" he thundered –
"…It is unprofessional conduct…" – good advice Harry recalled but he was glad to return to his own band at Luton.
Harry Mortimer was once heard to say – "…perhaps one day I might be as good a cornet player as Arthur Laycock…" –
"…yes, you might…" - some one was heard to say in response – "…but you will never look as well dressed as he does…"
---
Programme of music for their Royal Command performance in 1921 at Buckingham Palace
Buckingham Palace - by His Majesty's Command
Wednesday, February 9th 1921
St Hilda Colliery Prize Band (Champions of England)
PROGRAMME
March: St Hilda, W. Raymond
Overture: The Ruler of the Spirits, Weber arr: W. Halliwell
Selection: Chu Chin Chow, F. Norton
Symphonic Poem: Coriolanus, Cyril Jenkins
The test piece with which the band won the Championship on September 25th 1920
Cornet Solo: Titania, William Rimmer
Soloist: Arthur Laycock
Waltz: Imagination, Williams
Excerpts from Iolanthe, Arthur Sullivan
Selection: Reminiscences of Tchaikovsky, arr: William Rimmer
Song Selection: Treasureland, Arr: Shipley Douglas
Selection: Reminiscences of England, arr: F. Godfrey
---
In 1923 his last concert with St Hilda's was at the Finsbury Park Empire when he left the band to join the Eastbourne Municipal Orchestra under their conductor Captain Harry G. Amers someone who he played under during his war time days with the Northumberland Hussars. The local press on finding out about his imminent arrival at the orchestra referred to it as 'Eastbourne's Capture' - '…So fine a cornet and trumpet player and so fine an artist would lend distinction to any orchestra by his inclusion in it, he stands in the same relation to the Cornet as Kreisler does to the violin or Backhaus to the piano, he adds individuality and musicianship to his superb mastery of his instrument…'
The orchestra at Eastbourne had been formed in 1899 six years after the original Eastbourne bandstand was built. The current bandstand was built in 1931 at a cost of £10,000 and is a distinctive structure with its blue dome and golden finial. Displayed at the rear of the present bandstand is a plaque in memory of Eastbourne bandsman John Wesley Woodward who was one of those playing on the Titanic when it sank on April 15th 1912. Newcastle born Captain Amers was the orchestra's conductor during the 1920's and 30's but was forced to retire through ill health in 1935 and died the following year.
Arthur Laycock played with the orchestra for three years but in 1926 he left Eastbourne following an infection of the heart, having earlier spent several months in a London nursing home after a nervous breakdown. Finally, he joined Frank Gomez – Musical Director at the Whitby Municipal Orchestra and played with them for two seasons.
Throughout this time he was in constant demand as a soloist and regularly performed as the guest soloist for bands throughout the country. In addition to these performances as well as orchestras and theatre pit orchestras he recorded for several gramophone companies including Pathe, accompanied by their studio Symphony Orchestra, Columbia accompanied by the Scots Guards Band, Zonophone and The Winner accompanied by St Hilda, also soloist to the ones recorded by St Hilda's. He was regarded as being one of the most successful brass recording artistes of his time. His phenomenal execution was the wonder of all those who bought his records – '…The Miniature…' a Cornet Solo which he himself composed was first recorded in March 1923 and at the time was considered to be one of his finest recordings – a piece of music which has only been recorded once since and that was by the Hammond Sauce Works Band with their Principal Cornet Stephen Thornton playing it in 1973. Arthur Laycock is reputed to have been the first Brass Band soloist to record and also to broadcast from the various stations.
In January 1929 he accepted a musical post in London, work which was in addition to all his guest solo engagements. His wife remained at their home in Whitby home owing to the difficulty in finding a suitable house in London but fully expected to see Arthur on his visits back home and during his summer season with the Whitby Orchestra.
An old friend from the Shaw Band who he knew from his early playing days was former Trombone player E.F.Woodhead who in 1929 was the Musical Director of the St Austell Town Band, Cornwall and had invited his old friend to be their guest soloist at two concerts on Sunday January 27th. Such was the modesty of the man not only did he play his solos to perfection but also sat in with the band playing along side them during their ensemble pieces. It was reported in the Royal Cornwall Gazette & News that on his arrival at St Austell he was already ill with Flu.
Being the true professional his appearance at the two concerts went ahead. On the Monday he was confined to his bed and the local doctor attended him and diagnosed Bronchopneumonia, he was looked after by a nurse day and night. Over the next few days his illness fluctuated from being a bit better to being really poorly however, on the Thursday he was described as being dangerously ill and such was the concern about his health a telegram was sent to his wife and to his brother Harold, the celebrated Principal Trombone player, at Callendars Cable Works, Erith in Kent. By the Monday Pleurisy was also a problem for him and on Tuesday the 5th February he died. It was the sad duty of E.F.Woodhead his long standing friend who in his official capacity as the Registrar of Births, Deaths and Marriages in St Austell to formally register the death of his friend and visitor, a most brilliant player and a splendid gentleman. The following day he was conveyed the 400 miles back to Earby and his grieving family and the funeral took place on Saturday February 9th at Thornton Church (All Saints) in Earby.
It is now 77 years since Arthur Laycock performed in what was to be his last performance, accompanied by the St Austell Town Band. The last surviving member of that band who died quite recently was the band's former Soprano cornet player Cecil Brewer who on the day of that concert was 20 years old. A few years ago I was in contact with Cecil and whilst he could not remember Arthur's actual performance he could remember playing with the band at that time when someone really special came as a guest soloist.
The concert was held in what were described as the Public Rooms and on the Sunday there was a larger audience than usual for these particular concerts with the news about Arthur's appearance having swept through the local banding community.
At his funeral it was attended by a veritable who's who from the brass band world - the Earby Band played a number of hymn tunes including 'Old Earth' the last piece they played under his baton. Floral tributes were received from as far away as Whitby in the north to Eastbourne in the south. A memorial service was also held in the St Austell Baptist Church on the Sunday. The hymn 'O God our life in ages past' was sung and the St Austell Town Band under Mr E. F. Woodhead played 'Nearer my God to Thee' and 'Lead Kindly Light'.
In his address at the Earby Baptist Church the Reverend J.R.Tinker paid tribute to a fine man and described him as '…a man with a true musical gift…' his interment at Wheatlands Cemetery in Earby where the Earby Band played '…Death March in Saul…' and '…Deep Harmony…' at the graveside. His wife received over 200 letters and telegrams in tribute to her husband.
On the 16th of June 1935 the St Hilda Professional Band had been engaged to play at Colne and took the opportunity of travelling over to Wheatlands Cemetery to pay their respects to their former principal cornet player. Whilst it was their intention to have a small church service to mark their visit this had not been possible however, a small impromptu service was held at his graveside and under the baton of their musical director Alf Gray the band played 'Deep Harmony' and the hymn tune 'Rimmington'. Whilst it was not possible for Mrs Laycock to attend as she was away in Durham her four brothers and sister was there to represent the family.
Mrs Maggie Laycock who was for many years a Vice President of the Earby Band passed away 41years after her husband's death when she too was interred on the 6th May 1970 aged 86 years. The inscription on their grave says:

'…In loving memory of Arthur Laycock of Todmorden – who died 5th February 1929 - also his wife Maggie who died 6th May 1970 in her 86th year.
'…Trumpeter what are you sounding now...'
There is sculptured trumpet embossed into the head stone and the column is broken across at a height of about five feet, symbolising his tragically early death at the age of 41.
During his comparatively short life Arthur Laycock became the world's renowned cornetist, he was the winner of 40 medals, 3 silver Challenge Cups, also 4 Championship Crystal Palace Medals, Performed Cornet Solos at Command Performances for his Majesty the King and Queen Mary at Buckingham Palace also at Lambton Castle the home of the Earl of Durham. He had played in numerous oratorios as trumpet soloist in the 'Messiah' including at Todmorden Town Hall for many years as well as performing at Blackpool, Newcastle, Sunderland and London. He was also a regular on the brass band contest adjudication circuits – he had declined many offers including those from Amercian bands, orchestras and London Jazz bands. In the December and January prior to his death he played six weeks at the Carlton Theatre in the Haymarket, London at George Robey's new musical.
From his initial starting point as a 'learner', with zeal, perseverance and through the tortuous path of musical drudgery he worked his way up step by step to the topmost rung of the ladder. Modest in his bearing, yet in his later years he was fully conscious of his power and acknowledged talent – Arthur Laycock was a true legend of the brass band world.
I would like to take this opportunity of thanking and acknowledging the help I have received with research material from Mrs Olga Knight, the daughter of Harold Laycock the famous St Hilda Colliery Band and Callendars Cable Works Band Trombone player and her daughter Mrs Jillean Walsh and Mr Bob Wray the acknowledged expert on the St Hilda Colliery Band.
In 1983 Bob Wray and his good friend the late Charles Round produced a vinyl Long Playing record from some of the records produced by the famous St Hilda Colliery Band with two of the tracks featuring Arthur Laycock playing William Rimmer's '…Titania…' and '…The Bostonian…'A small number of the 1983 LP's are still available for sale and can only be purchased by contacting me on E-mail: chrishelme@brighouse.fsnet.co.uk or on 01422-205763 and are priced at £5 + p/p.
© Chris Helme
chrishelme@brighouse.fsnet.co.uk
---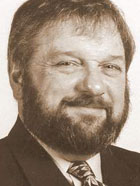 Previous 'Thanks for the Memory' articles:
• No. 9: Arthur Oakes Pearce
• No. 8: James Scott
• No. 7: Sounds of the 70's - Yorkshire Imps
• No. 6: David Read
• No. 5: Derek Southcott
• No. 4: Rowland Jones
• No. 3: Louis Allison
• No. 2: Willie Barr
• No. 1: Derek Garside