2004 All England Masters Championship - The Dedicated Service Award - John Berryman
26-May-2004
4BR pays its own tribute to John Berryman, who is the recipient of the 2004 All England Masters Dedicated Service Award. A tremendous musician and a very fine man to boot.
---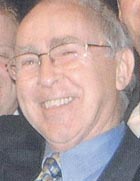 John Berryman ALCM, LTCL - All England Masters Dedicated Service Award Winner
It is always a pleasure to be able to report that a thoroughly well respected and genuinely nice man has gained recognition from others for his service to the brass band movement - for John Berryman is one such man.
The movement as a whole is sometimes overawed by the raw statistical measurement of success; National titles, British Opens, European Championships won. It is of course the nature of our contesting heritage that the baubles of victory hide what is really important: it is the music making that counts, and ever since he picked up the cornet at the age of eight after being presented it by his father in Camborne, John Berryman has been a purveyor of high quality music making, first as a cornet player, secondly as a conductor and lastly as an educator and teacher. Plenty of others may have won more titles, but there are very few around who have given so much pleasure to those lucky enough to come in contact with this man of Cornwall.
Ask anyone who has had either the pleasure of playing with him, being conducted by him or being taught by him. The replies will always by of the positive variety, for this is a man who has no "side", no inflated ego or sense of misplaced self importance. John Berryman is a very well respected, thoroughly decent chap who happens to be a damn fine musician - full stop.
His early career was forged as a player with the Camborne band where he started playing at the age of eight, following in the footsteps of his father, grandfather and two uncles who were all members of the band. The Berryman progeny continue to make a mark in the music world what with his own son Andrew the Principal Trombonist of the Halle Orchestra and his two grandsons also now taking up brass playing.
By the age of 15 he had become the band's Principal Cornet and this dapper young tyro was ambitious enough to test his mettle and character by becoming a member of the National Youth Brass Band of Great Britain. It is easy to forget, but this was a cornet player not from the traditional heartland of the brass band in Yorkshire or Lancashire, but Cornwall. Players from these parts came with reputations gained from playing with the best bands in the country, but after just two years John Berryman had become the Principal Cornet of the NYBBGB, a position he was to hold for five years and nine courses. That is some achievement given the standard of his fellow cornet playing peers of his day.
That led to him moving from home and joining the famous Munn and Felton's Band under the guidance of the great Stanley Boddington and he played Assistant Principal Cornet to none other than James Scott before taking over the end chair after Scott left for Cammel Lairds. At Munn and Feltons he won three Nationals in 1960, 1964 and 1966 as well as three highly regarded Quartet Championships of Great Britain in successive years and performed as guest soloists at the National Finals Festival Concert.

In 1969 he embarked on the second part of his musical career when he took up the conducting baton first with the Bodmin Band in Cornwall and then with growing success with bands further afield such as William Davis Construction Group Band in the Midlands with whom he directed to the 1980 BBC Radio 3 Band of the Year. He also further enhanced his reputation as a fine band trainer and contest conductor with the Grimethorpe Colliery Band, with whom he led to the 1974 Mineworkers Championship before he was appointed Musical Director back at his Alma Mater at GUS in November 1985.
During this subsequent period he made a once fading giant back into a real contesting force, whilst he also found time as a teacher and educator with the Northampton County Council to direct their County Youth Band to two "Outstanding Performance" Awards at the National Festival of Youth Music as well as appearing at the Schools Proms.
His conducting talents have taken him far and wide, and bands from Wales and almost every region of England have benefited from his experience and sympathetic approach to creating music. You have to go a long way to meet a player of any band who won't say they haven't enjoyed a rehearsal or contest performance with him at the helm.
His contribution to the movement was first recognised with him being the 34th recipient of the Isles Medal at the 1987 British Open Championships, but his is a contribution that has had a fine past, an impressive present and for sure, an equally exciting and fulfilling future to come.
In recent years he has worked mainly with the Kibworth Band who he has steered into the Championship Section in the Midlands Region and whom he has to just a few weeks ago made an impression at high profile contests such as the Grand Shield, where they came fourth this year. He has also become a well respected adjudicator who has judged at the All England Masters Championship as Pontins and many other high profile contests.
We can't think of a better man to have been given the 2004 All England Masters Dedicated Service Award. John Berryman has given a lifetime to his love of music making, and countless thousands have enjoyed his talents and his skills in the process. Congratulations to a very fine musician and an equally fine gentleman.