2004 European Championships - European Soloist Competition and Concert
12-May-2004
We have a quick look back on the evening when three tremendous solo players gave us a feast of quality playing and Stavanger showed us how to entertain.
---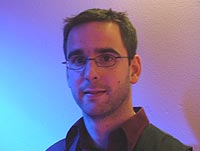 Whilst the focal point of the week in Glasgow was obviously the final of the 27th European Brass Band Championships, there was, all through the week a range of activities to both see and hear.
The 4barsrest team arrived in Scotland early evening Thursday and immediately began work; well there should be no time to rest for the wicked should there, you might say!
Entering the Glasgow Royal Concert Hall that evening you got an instantaneous positive impression with the layout of the peripheral rooms, foyer and lounges. Organised to allow lots of space for the seminars, trade and information stands, they were placed without making you feel cramped or claustrophobic and you immediately knew that the SBBA had taken a phenomenal amount of care in preparing for these Championships. These areas were indisputably a real hive of activity whenever there was a break in the contest or concert programme.
There are some privileges that seem to have come with development of 4BarsRest and on this occasion it was the opportunity to take in the Final of the European Solo Competition and Gala Concert by Stavanger Brass Band from the wings on stage right of the platform.
Not content with that we ensured that we had our 'spies' on the stage with the Whitburn Band, actually playing along with the finalists giving us an unprecedented inside impression of the solo contest.
It was pleasing to see a strong attendance not just for that evening but also at all the events and there was unquestionably a wonderful warm wave of welcome continually washing over the GRCH.

In Frank Renton the brass band movement has without question a very fine compère. His professionalism, stage presence, delivery and ready wit were quite simply superb as he imaginatively added colour to not only the Gala Concert & Final of European Solo Competition but at most of the events held in the Symphony Hall.
3rd European Solo Championship for Brass Instruments
From an original entry of 30 competitors' 28 players from 8 countries contested the 2004 contest. The competition consisted of three rounds and the final where 3 players took the stage accompanied by the Whitburn Band.
A special word of praise must go to the Whitburn Band for their contribution to this final. With nine different solo instruments represented in the contest the band had to be prepared to play any one of nine different brass concertos selected for the eventual finalists to perform. An amazingly committed rehearsal schedule and just one evening on which they were joined by the soloist, they truly showed why they are one of the best bands in Scotland and the UK
The three finalists were Bert Van Thienen (Belgium) - Eb Soprano Cornet, Raf Van Looveren (Belgium) – Bb Cornet and Andrew King (England) – Tenor Trombone.
Order of Performance
Bert Van Thienen (Belgium) - Eb Soprano Cornet
Concerto for Cornet and Brass Band – Bertrand Moren
The performance of this concerto got off to a bright start with just a touch of insecurity creeping into the quiet passage quite near the start of the piece. Over this blemish, the movement continued and was most technically accomplished. Overall the slow music was well handled but some momentary loss of security may have cost, but overall brilliance in his sound and lovely smooth style of playing were quite splendid. A brilliant opening to the third movement and the good form continued to outstanding finale. Those few minor slips early in the piece may have proved costly but overall this was a quite outstanding opening performance and work to begin this final.
Raf Van Looveren (Belgium) – Bb Cornet
Cornet Concerto – Denis Wright
Allegro: With a lovely smooth cornet sound of highest quality we were blessed with some lovely lyrical playing matched by great technique in playing this difficult music by Raf Van Looveren.

Canzonetta: In this slow section again the clear lyrical qualities of the player were simply outstanding. If one looked for an area to question there may have been the mere hint of relaxed production in the long note phrases but consistently bright playing hallmarked this movement.

Rondo: Opened with a bright tempo and the listener was again overwhelmed by the lyrical playing that showed through the music which was technically well mastered in bringing the music to a gloriously exiting finish.

Andrew King (England) – Tenor Trombone
Trombone Concerto – Derek Bourgeois
This performance opened extremely well with a smooth style where everything technical was simply taken for granted. A quality of sound and musical range was indisputably impressive through this difficult but well controlled movement. It would be difficult to convey in words the beautiful control that this music unfolded.

Andrew King demonstrated electrifying command and a complete control of the pianissimo music. A bright but not exaggerated tempo was just caught by a sticky moment at a change of tempo when the band and soloist didn't quite pull together. This was extremely well recovered as Andrew King demonstrated just how gifted a player he is going on to produce another fantastic conclusion.
This contest saw solo playing of a very high standard indeed perhaps in the final analysis it was not only cornet playing of the highest standard but also the feeling of a band and soloist being at one with each other that saw the judges award the title of "European Brass Soloist Champion 2004" to Raf Van Looveren.
Full Results
Final
1st - Raf Van Looveren (Belgium) – Bb Cornet - Cornet Concerto – Denis Wright
2nd - Andrew King (England) – Tenor Trombone - Trombone Concerto – Derek Bourgeois
3rd - Bert Van Thienen (Belgium) - Eb Soprano Cornet - Concerto for Cornet and Brass Band – Bertrand Moren
Concert performance by Stavanger Brass Band
To quote Ulf-E. Rosenberg, Chairman of Stavanger Brass Band.
"In this concert we want to present some of the entertainment concepts our band has developed with inspiration from many sources. We can promise you a rather substantial change from the conventional and traditional brass band contest setting."
This the band achieved with a stage presence that must surely be singularly unique to this band. Through a long established co-operation with the jazz musician Jan Magne Forde, the band presented a concert programme that featured many of his arrangements that went all too quickly and simply left you wanting more.
This unique brass concert was vibrant, colourful and a joy to the ears. If you haven't had chance to see this band live or see the excerpts of the Gala Concert performance on the DVD of the European Championships of 2003 then a word of explanation. The band do not remain seated, rather they adopt a standing formation encircling the percussion allowing them to choreograph movement, position, dance and swing that wholly compliments their music.
It would not be a lie to say that as soon as the band took centre stage the audience and concert hall lit up and it must be said so did this correspondent. The band is quite simply unique in brass band concert terms bringing a brilliant glow and smile to an auditorium.
Their concert opened with 'Mardi Gras in New Orleans' a self-explanatory title for a wonderfully extrovert opening to the concert. For those of you who have heard the famous "Dirty Dozen" Brass Band from New Orleans you will know how this item went – brilliant stuff.
Three soloists were to feature in the concert, the first being Margrethe Tønnesen on Flugel Horn who played with lovely rounded tone in a gentle piece entitled 'Domen'. This was stunning playing of the flugel – not a hint of excessive vibrato, a pure clear tone throughout the range of the instrument. Some playing indeed.

The unique sounds of the band's bass soloist Pål Magne Austnes followed as he once more brought the house down with his instrumental dexterity in a self-penned arrangement entitled 'Synnehallingen'.
Smiles and cheers for a traditional 'Reel' brought the concert round to another burst of jazz that saw Espen Westbye take his trumpet and complimented by terrific band timing brought laughter, cheers and bubbling enthusiasm to Jan Magne Foerde'a arrangement 'Cool T'.
Bringing the concert to its conclusion with Dolly Parton's song 'Saving All My Love' (made famous by Whitney Houston) the audience were in no mood to let the band leave the stage and an encore performance of the delightfully exuberant 'Kongolela' a highlight of their concert at the European's in 2003 brought with it a deserved standing ovation.
Bring on the 2004 DVD when we can relive some moments from this marvellous concert.