2004 European Championships - Kenneth Downie - St. Magnus
12-May-2004
John James was on hand to hear the illuminating talk given by the composer of St. Magnus, Kenneth Downie.
---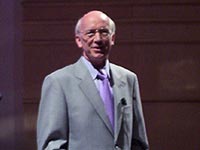 Those of us who were present to hear Kenneth Downie, composer of the test piece St.Magnus came to appreciate a side of the composition that was both as illuminating as it was insightful.
This engaging and charming composer presented a stimulating talk before the contest and when he spoke to you it was as though he could get his music to speak directly to you from his composers' language.
The musical illustration of the story behind his composition and his musical awakenings was perhaps as colourful a word painting as anything that could be painted on canvas and to add to this he introduced to the gathering Alistair Massey, his early music tutor, to whom the piece is dedicated.
A most touching introduction that saw him give an overview of his musical development was illustrated with anecdotes of his earlier 'Variation' works. From a youthful piano work "Jesus Wants Me For A Sunbeam" illustrated on the Hyundai piano provided, which he joked - "I wonder if it came with a three year service" to more senior works illustrated with full band compact disc excerpts.
A main deliberation which gave an insight into how he masterfully, from a simple 8 bar phrase, constructed the most complex articulations required in the score was to follow.
The St.Magnus score makes several demands on members of the band to participate as soloists and he explained how their playing, if successfully executed, would link his musical ideas.
It was during one interlude, as he discussed his awakening to Brahms use of harmony and variation in the 2nd Symphony, he quipped, "Harmony always interested me. I would get exited about it; quite sad really isn't it," he then joked, quickly adding "I did begin to become exited about one or two other things though"
Having composed several sets of variations, a musical form he described as feeling more at home with than programmed music, he explained that he had used the rising 4th's at the opening of the hymn, the falling 3rd's that follow and the octave leap (D to D in bar 7) as a main focus of his musical development before then adding " but don't the little quavers stand out a mile" (bar 8).
He pointed to the descending bass line figure in the bar before [A] and the timpani figure in the bar before [B] as crucial musical arguments to carry the music line forward.
Projecting a copy of the score onto a screen he singled out the euphonium section (page 4) as "a coiled spring with a rhythm section 'nibbling' away " and particularly highlighted the descending figure passed around the lower band that followed as particularly important.
He concluded this section by paying tribute to Wilfred Heaton and the influence his style had inclined this opening section. "Yes it's Heatonesque", he said, concluding "...and I make no apologies for that."
Moving to Variation 2 his thoughts immediately turned to that of the cornet opening, "I haven't had any death threats from rep players yet", he said with a smile in his voice but pointed to the influence of Rachmaninov on this section of writing. He had tried in this section of music, he explained, to allow room for "lovely expressive playing". He had used the horns in particular and aimed to make "all comfortable".
Variation 3 was largely concerned with the opening with the 3rd's setting up the rhythm. The use of tubular bells was of particular importance as the tune was in diminution above them and although he had moved away somewhat from the 4th's he found "them too tempting so they come back again". Once again the links with William Heaton became evident.
The next figure discussed was the important figure especially in the cornet at the Piu mosso (page 19) setting the mood for this section.
"My interest in harmony comes out again in this variation", he reflecting in turning the pages through Variation 4 giving "scope for solo and instrumentalists" this is a "reflective variation" he concluded.
Variation 5 saw him place "3rd's everywhere again". To draw this particular aspect of his discussion to a conclusion he added too modestly that he felt his musical construction was "not terribly original" using counterpoint to convey his musical ideas.
As his description continued he focused on the accel. [bar 278 – page30] where he turned his attention to elements of the tune passed around the band he felt he had "neglected" and took time in pointing to the trombones that you "couldn't possibly miss."
With that and the piece having unfolded it was time to hear the tune again. He looked at his watch and there was a sad realization that time had gone all too quickly.
Too conclude, on being asked about the use of music in the upper register, he answered earnestly that he had no particular player or band in mind. "The music was number one", he said.
Whilst agreeing that the music was difficult that wasn't at the forefront of his mind, he wanted to reward this prestigious request to compose a piece that was challenging but engaged conductor, composer, players and listeners.
This marvelous talk was a must see, or rather must hear.

John James