European Championships - Five best and the five worst moments
26-Apr-2004
The European Championships like any other institution has had its memorable moments. We have therefore cast our very selective memory over events since 1978 and picked the 5 best and the 5 worst moments.
---
Let us know if you can select some better examples than the ones that we have here though. We did this for a first time in 2003, Bergen, but nothing has really changed our minds about these selections. See if you agree or disagree.
---
The 5 Best...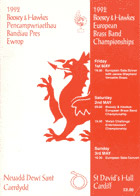 1. Year of the Dragon - Britannia Building Society Fodens 1992
In all its history the European has witnessed many great performances of both test pieces and own choice works, but Howard Snell and Britannia's scintillating rendition of The Year of the Dragon by Philip Sparke at St. David's Hall was perhaps the greatest of them all.
Written for the Cory Band in 1982, Snell had used it memorably with Desford to win the own choice section in Nottingham in 1987, but that performance didn't have the breathtaking precision, clarity of purpose and technique or ultimately the performance of a life time from Nick Hudson on trombone. This was playing on a different level – and on the day, a level above Black Dyke, Eikanger and Desford themselves. Desford won in 1997, but BBS Fodens performance will always be the "The Daddy".

It was awarded 98pts by the adjudicators Roy Newsome, Markus Bach and Gareth Wood and set up the band to win the contest by a six point margin from Black Dyke in second place. It is Fodens only European win.
---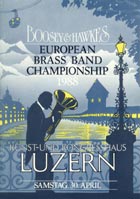 2. Eikanger win in Lucerne – 1988
The victory that finally confirmed what many had thought for quite a while – the Europeans were every bit as good, if not better at the contesting game than the Brits.
Eikanger had performed at the Championships before, but the combination of Snell at the long peak of his powers and two performances that won both sections of the contest ahead of Black Dyke (although they tied in the own choice section) and Desford proved that they were now one of the very best bands in Europe – if not the best.
They won by just a point (they were awarded 1st place as well on the set work Connotations), but what a point it was. The Europeans would never be the same again and the contest had finally come of age. A year later they retained their title to prove that it wasn't a one off (by a 3 point margin) but this was the defining moment of the contest – 11 years after it had started.
---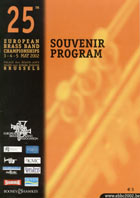 3. Concerto Grosso – Yorkshire Building Society 2002
Truly great performances are rare things indeed, so for us this one had to be very special for it to make our list. Ten years after BBS Fodens had performed on a different plane to their rivals, YBS and David King did the same to confirm their seventh European title in Brussels.
This wasn't technically perfect but it was still one of those moments when the hairs on the back of your neck stood on end. Peter Roberts was unsurpassable, and the rest of the YBS stable of soloists from flugel to Eb bass were exceptional; but it was the sense that this was a band and conductor stretching themselves to the very limits of their abilities, digging as deep as they could into their character to win a title that meant so much to them that made this so very special. It felt as if an indescribable force was with them, demanding victory – it was breathtaking.

The judges thought so as well as awarded the band an amazing 99pts to secure YBS a six point winning margin overall and a two point margin over Black Dyke in the Own Choice section.
---
4. Black Dyke win in Copenhagen 1985
Many will possibly think this to be an odd choice but 1985 was the last truly great year of complete dominance of the Black Dyke/Peter Parkes partnership that had for ten years had an almost unsurpassable hegemony at all the major banding contests.
Dyke of course went on to win all the contests they entered in 1985, but it was the European victory that perhaps their hardest win of that amazing year. Just one point ahead of Cory and a further point ahead of Sun Life - Dyke came 2nd on the set work and 4th on their own choice "Volcano".
This was the band of McCann, Clough, Smith and Crockford and with a bass end that could wake the dead – yet it was the only time in fact that they won a contest but didn't win a contest if you know what we mean. There would have been no "Grand Slam" year though if they failed here, so that was a real mark of their greatness as a band.

The combination won again 1987, but this was the real last hurrah of the last great Black Dyke Band.
---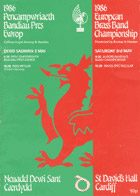 5. Daphnis and Chloe – Desford Colliery Dowty 1986
Howard Snell's third entry into our top five – and why not? Dapnis and Chloe simple tore up all the old and outdated ideas about brass band contesting.

Snell looked at the rules and saw that there was nothing written about using a transcription as an own choice, so he set about making a masterful one of an exceptional work by Ravel. It simply brought the house down in Cardiff - a brass band playing colours and timbres that many thought impossible.
Amazingly the judges put it second behind Black Dyke's traditional Contest Music – although that too was a piece thought to be too way out just ten years previously in Britain. The rules were changed to stop it happening again, but the genie had been let out of the bottle and Snell had once more set a new standard to which all others would have to follow. We should be eternally grateful.
---
And the 5 Worst...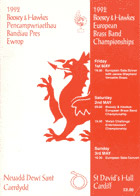 1. The Results - Cardiff 1992
1992 may have been The Year of the Dragon from BBS Fodens but it was also the "Year of the Great Cock Up" from the Welsh organisers come results time.
There was no overall contest controller and due to ill health there were only two scrutineers for the results. The outcome was entirely predictable. The announcer stated there were that there was no 6th place, no 5th place and three bands in 4th place. Eikanger were completely missed out and it took Ray Farr to notice that a huge mistake had been made. The organisers and Boosey then compounded things by getting things wrong about the overall third placed band.
The next day it was sorted out – Eikanger were third, Willebroek fourth, Berneroberland fifth and BTM sixth. Boosey and Hawkes stumped up another £1000 to help ease Willebroek's disappointment and the competiton has never been back over the Severn Bridge.
---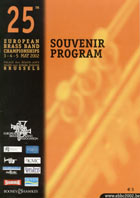 2. Maurice Andre – Brussels 2002
For those who grew up with tales of the legendary trumpeter as being the greatest performer on his instrument the world had ever known, the Celebration Concert on the eve of the contest will remain in the memory for all the wrong reasons.

Andre was simply past it. All the glories of his career were just memories as an almost shambolic figure started terribly and ended almost farcically. It was cruelly embarresing to see and hear a great, great player reduced to musical penury.
All this and his ego allowed his son to perform just as badly as well. It was the ultimate reminder of every players performing mortality.
---
3. Blitz - Yorkshire Building Society, Kerkrade 1998
YBS and David King on the verge of only the second hat trick of wins in the contest's history. They had already won the set work section by two clear points from Brighouse and Rastrick and were drawn number 2 – primed to produce the performance that would give them victory on their own choice selection, Blitz.
To all and sundry they gave it an immense performance – all except the judges that is. Jan de Haan, Hakon Hesthammer and Peter Parkes thought it worthy of 88 points and 8th place and the hat trick and the chance to equal Black Dyke's record and that of Peter Parkes was well and truly "Blitzed" to kingdom come.
YBS had to be content with 4th place and had to qualify for the next contest by coming runners up at the Nationals in London later that year. The conspiracy theorists had a field day, especially as the musical equivelent of the Zaprudder JFK film has now been released on CD. This one will run and run for years to come.
---
4. Desford Colliery – Bergen 1989
Desford were the current triple National Champions, European Champions in 1986 and one of the best bands around. They came to Bergen hell bent on winning the trophy for a second time and cementing their greatness under James Watson once and for all.
They played well but not well enough and found themselves in 4th place overall. Come results time the disapointment was too much for their representative and as they were announced in fourth place he refused point blank to accept the trophy which to double the misfortune was being presented on behalf of the Midlands Brass Band Association – their home region.
It was a terrible moment of mis judgement that led to the band being barred from the contest – they have never qualified since. Pierre de Coubertin's saying "It's not the winning, it's the taking part that counts" wasn't in the vocabulary that awful day. It remains one of the contests blackest moments.
---
5. Ciacona Seria, Five Blooms in a Welsh Garden and Le Chant de l'Alpe – 1983, 1992 and 1994
A threeway tie for the fifth place in our worst list, and although these are perhaps not the all time worst test pieces in brass band history, they certainly would feature in most players lists of European test pieces.
That being said, the European has given us some superb pieces, so three out of 26 ain't bad – and consider some of the rubbish we Brits have had to play over the years; but these three offerings would fail to score "Nil Points" in the Eurovision Song Contest.
It would be very cruel of us to nominate just the one from this lot to take the all time award, but suffice to say these are pieces you won't get to hear again in a hurry.