European Championships - Frozen in Time
26-Apr-2004
4BR has delved into the archives to unearth three photos of winning bands from three different decades. These would have laid gathering dust until we did our Lord Caernavon/Howard Carter impression and did a bit of music archaeology.
---
The three bands come from 1979, 1986 and 1993 and are the European Champions of Black Dyke, Desford Colliery and Williams Fairey. What we need is some help in identifying all the members of those winning bands. Waistlines may have expanded, hair may have been lost and some of the fashions are best forgotten, but winning a European is something that should be remembered.
Have a look and see you can identify anyone?
---
Black Dyke 1979: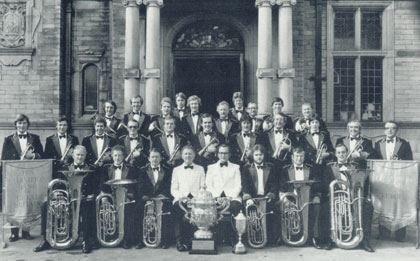 The most obvious thing that strikes you about this photograph is how old the players look. Banding at the end of the 1970's was a man's business – and these were some men (no females in this Black Dyke Band).
Lots of famous faces in the playing ranks – McCann, Clough, Berry, Evans, Wadsworth, Jackson, Slinger and Pogson to name a few, but who were the other not so well known winners of the second European title, and where are they now?
---
Desford Colliery 1986: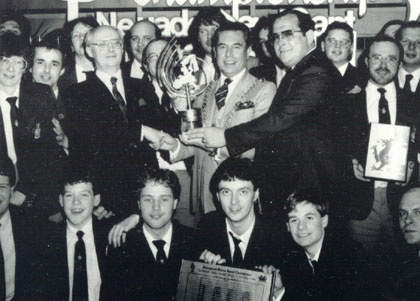 Desford's historic win in Cardiff will long be remembered for their performances of the Howard Snell arrangement of "Daphnis and Chloe" and of the set work, "Year of the Dragon", but who were the players who delivered those fantastic performances? The age of the band on view is so much younger than that of Black Dyke just seven years earlier and there are a few familiar faces in the photograph that are still playing today.
Howard Snell is accepting the trophy of course, but you can also make out the young fresh faces of Martin Winter (complete with glasses), Chris Jeans, Stephen Mead, Simon Gresswell, Carole Crompton and Keith Britcliffe. Who are the others though – and for us at 4BR, who is the young chap in the front who looks uncannily like a very young Alex Hurricane Higgins.
---
Williams Fairey 1994: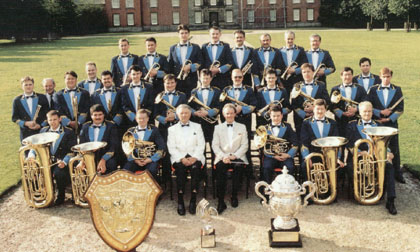 A decade ago Williams Fairey were "Triple" Champions and they posed very comfortably with the National, British Open and European Championship trophies for this photograph.
Not a lady in sight, but still some familiar male faces wearing the "Flying Fox" band badge. Major Parkes was celebrating his last European win, whilst there is also a MD of one of today's competing bands tucked away in on of the rows. Interestingly there are at least a couple of faces that appeared in the Black Dyke photograph of 1979 – Derek Jackson on Bb bass and Peter Christian on baritone.
We think at least three or four of the players here are still playing with the band today whilst others have moved to rivals and are still blowing. You can see Brett Baker, Phil Chalk, Brian Taylor, Sandy Smith and Shaun Crowther, did who are the others who were part of this band?