2004 European Championships - The Adjudicators
26-Apr-2004
Six men (no women) will this year make the decision to choose the 27th European Champions. No notes will be produced to scrutinise afterwards, so clear heads and lots of musical experience will count.
---
Championship Section Set Work: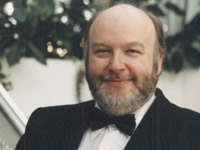 Nigel Boddice
Nigel Boddice, Hon A.R.A.M, enjoys a busy, impressive and enterprising international conducting career. Among the highlights so far, are concerts, recordings and a live CD project for Naxos with the BBC Scottish Symphony Orchestra and some highly enjoyable children's concerts with the Ulster Orchestra in Northern Ireland.

For the last seven years he has been regularly commuting to Norway, having accepted the role as Chief Conductor to the Royal Norwegian Navy Band [ K.N.M.M.], and led the ensemble to a new and much admired international standing. He studied at the Royal Academy of Music, London and later with both the distinguished Scot Sir Alexander Gibson and the Polish Maestro Jerzy Maksymuick.

Currently he is on the staff at the Royal Scottish Academy of Music and Drama. Nigel has been honoured in the past by the Worshipful Company of Musicians, London, being the inaugural recipient of the Mortimer Medal for his beloved work in musical education principally for West Lothian, and also by the Society of Scottish Composers for his prolific presentation of contemporary works. Over the last five years he has worked with countless orchestras and bands of every combination, which has formed the basis of a strong repertoire in several mediums.

He has recorded much for Radio and TV and has also completed several CD`s for Naxos, Doyen and Polyphonic. Recently, through his Scandinavian connections, he has been especially lucky to have collaborated with Ole Edvard Antonsen, Christian Linberg, Michaela Petri and Solveig Kringlebotn.
Back home in the UK, Nigel has continued with his distinctly versatile approach to work by directing and presenting the Salon Orchestra throughout Scotland and making New Year's Day appearances with the Philharmonica of Scotland.

Throughout the years, choral music has been an additional interest and featured in many a concert with for example, the Edinburgh Royal Choral Union, the National Norwegian Girls Choir from Oslo and Norway's legendary Silverboys. Future travel and concerts are planned and anticipated in Argentina, Germany and Denmark. Future Summer Schools include return visits to the National Youth Wind Ensemble of Scotland, Glasgow Schools Orchestra , Moray and the R.S.A.M.D. Junior Orchestra.

Finally a brand new venture has just newly developed in Molde, where Nigel will direct their three orchestras amid the panoramic mountain landscapes of Middle Norway. He has conducted once at the European Contest, in 1979 when he led CWS Glasgow into 7th place overall. He has adjudicated at the contest on two occasion – in 1997 and 2000 on the Own Choice Section.
---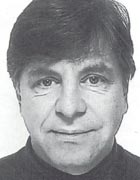 Tom Brevik
Tom Brevik was born in Fredrikstad in Norway and has lived in Bergen since 1967. His initial musical studies were in Bergen Teacher Training College where he passed with the highest degree in musical performance from the Bergen Music Conservatory with flute and recorders as his main instruments.
He was a full time primary school teacher for two years and taught full time at Bergen Teacher Training College Music Department for a further five years, with part time teaching of music theory, arranging and conducting at Bergen Music Conservatory for a further eight years.
He has since developed many more strings to his bow, including a successful television career and has been one of the leading lights behind the development of the European Championships since its inception in 1978. He has been a member of the Music Commission of the European Brass Band Championships and was the founder of the Norwegian Youth Brass Band.
As a conductor he has won National Championships in Norway with Manger Mussiklag Band in 1980 who he conducted at the very first European Championships in London in 1978. He was appointed Musical Director of that band in 1975. He has also conducted Eikanger Bjorsvik Mussiklag.
He conducted Manger at the Championships again in 1979 when they came 9th, followed by Eikanger in 1984 and 1985 when they came 13th and 6th respectively. In 1987 he returned to Manger to take them to 8th place before his final appearance with Tertnes in 1996 when the band under his direction came 6th.
He has appeared as an adjudicator at the European Championships on three occasions – 1994 in the Own Choice Section and again in 1997 and 2000 in the Set Work Section.
---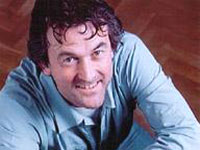 Johan de Meij
Johan de Meij (Born in Voorburg, 1953) studied trombone and conducting at the Royal Conservatory of Music at The Hague and has earned international fame as a composer and arranger.

His catalogue consists of original compositions, symphonic transcriptions and arrangements of film scores and musicals.

The Symphony no. 1 The Lord of the Rings, based on Tolkien's best-seller novels of the same name, was his first substantial composition for symphonic band and received the prestigious Sudler Composition Award in 1989. In 2001, the orchestral version was premiered by the Rotterdam Philharmonic Orchestra.

His other larger compositions, such as Symphony no. 2 The Big Apple T- Bone Concerto (for trombone and wind orchestra) and Casanova (for violoncello and wind orchestra) are also on the repertoire of the better bands all over the world. Casanova was awarded the First Prize at the International Composition Competition of Corciano [Italy] in 1999, and a year later, De Meij won the Oman International Composition Prize with The Red Tower.

Besides composing, Johan de Meij is also very active in various musical fields. He serves as trombonist with the Orchestra De Volharding (The Perseverance), The Amsterdam Wind Orchestra and as a regular substitute with the Radio Chamber Orchestra. He is much in demand as a guest conductor: he conducted concerts and seminars in almost all European countries, in Japan, Singapore, Brazil and the United States.
---
Own Choice Section: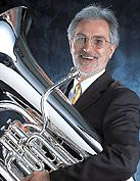 James Gourlay
James Gourlay is internationally recognised as a soloist and chamber music player of distinction, whose performances of the Vaughan Williams Tuba Concerto, both in London at the Henry Wood Promenade Concerts and in Japan, have been greeted with critical acclaim.

He also gave the first British performances of Lachenman's Harmonia (with the BBC Symphony) as well as Penderecki's Capriccio for Solo Tuba. World premieres given by him include works by Horovitz, Sparke, Newton and Steptoe.

James Gourlay was also a member of the English Brass Ensemble and the Philip Jones Brass Ensemble with whom he has toured the world.

He was formerly Principal Tuba with the Zurich Opera, BBC Symphony Orchestra and the City of Birmingham Symphony Orchestra as well as Musical Director of Brass Band Berner Oberland in Switzerland whom he conducted to victory at the Swiss National Brass Band Championships in 1991, 1992, 1993 and 1996. On his return to Britain he first conducted the BTM Band in Wales before being appointed Musical Director of the Williams Faireys Band who he led to victory at the British Open in 1998 and also the All England Masters Championships in 1996 and 1997.
He has also conducted many of the best brass bands in the UK and has directed contest performances of the Fodens Richardson Band, Grimethorpe Colliery, CWS Glasgow and from 2004 the Brighouse and Rastrick Band.
He has appeared as a conductor at this contest on five occasions – 1992, 1993, 1994, 1997 and 1998 and as a judge in the Own Choice Section in Brussels in 2002.
---
Frode Amudsen
Frode Amundsen is a Norwegian musician who conducts in Denmark, but who lives and works in Sweden. This multi talented performer is currently the Principal Tuba of the Malmo Symphony Orchestra.
Frode was born in Norway in the small region of Masfjorden near Bergen. Aged 6 he first started to play the euphonium but soon graduated onto tuba. In 1993 he studied at the Norwegian Music High School and at the age of 15 he joined the Eikanger Bjorsvik Mussiklag Band and became a student at the Bergen Conservatoire where he studied under the experienced tuition of Niels Ejvind Nikolaisen. He finished his studies in the Spring of 2000.
Since graduating he has performed as a soloist with the Kringhastings Orkestret and the Trondheim Orchestra as well as with the Bergen Symphony Orchestra. He was the first Norwegian brass player to win the prestigious Princess Astrid Music Award in December 2000 and since that time has performed in masterclasses by Patrick Harald, Howard Snell, Paul Humpel of the Berlin Philharmonic Orchestra and Donald Blachslay of the Amsterdam Concertgebouw.
He has become a very popular freelance conductor in all Scandinavian countries and has a keen interest in the development brass bands in Denamark and beyond. He is currently the Musical Director of the 9th. Concord Brass Band from Copenhagen who he conducted at the European Championships in Brussels in 2002 when they came 9th. It is the first time that he has adjudicated at the contest.
With thanks for the translation to 4BR from Kim Brinck of the Concord Brass Band.
---
Armin Bachmann

Armin Bachmann completed his studies in Switzerland, Germany and France. He received a diploma in teaching tenor trombone and followed this with a soloist's diploma on bass trombone as well as on conducting. He worked as a freelance musician with many different orchestras in Europe. His great
passion is chamber music (Swiss Brass Consort, Klangwerkstatt Weimar, Duo Pazzo). Armin Bachmann already became a member of the internationally renowned Slokar Trombone Quartet during his studies.
As chamber musician and soloist Armin Bachmann appeared all over Europe as well as in Japan and America. In addition to all these activities he has participated in many radio and television programs and produced numerous recordings.
Armin Bachmann is especially interested in teaching and has given many masterclasses in Switzerland and elsewhere (Paris, Helsinki, Vienna, Stavanger, Manchester, Tokio etc). He teaches at the Universities of Berne, Switzerland and at the University "Franz Liszt" Weimar, Germany.