2004 European Championships - Band by band analysis
26-Apr-2004
4BR casts it eye over the bands who will be locking horns at the Royal Glasgow Concert Hall on the weekend. This year there is a fantastically strong line up of bands from around Europe who will compete to become the 27th Champion Brass Band of Europe.
---
Fairey FP (Music) - England
Conductor: Allan Withington
Principal Cornet: Ian Porthouse
Principal Euph: Morgan Griffiths
Principal Trombone: Simon Cowen
Soprano: Kevin Crockford
4BR Ranking: 1
European Appearances: 5 (1987, 1993, 1994, 1995, 2004)

European Record: (set work/own choice)
1987: 2nd overall – 4th/ 2nd
1993: 2nd overall – 6th / 1st
1994: 1st overall – 3rd/ 1st
1995: 2nd overall – 4th/ 1st

Performances have been directed by Roy Newsome in 1987, whilst Major Peter Parkes directed the band in 1993, 1994 and 1995. Allan Withington directs this year.
Own choice works used:
Dances and Arias – 1987
Cambridge Variations – 1993
Masquerade – 1994
Cambridge Variations – 1995
Best Performance: Winners in 1994
Last Year: Withdrew
The Double National Champions of Great Britain make their first appearance at the Europeans since 1995 when they were runners up under the baton of Peter Parkes. They should have been here last year, but that is old news and all that is behind them now and they should be confident of mounting a very strong challenge for a second title here.
There have been rumours and rumblings about discontent in the Stockport camp but they have an amazing array of talented players in their ranks and a superb MD in the shape of Allan Withington. They didn't perform to their best form at the recent regional championships, but you would still get short odds on them picking up the trophy here once more.
This is only their fifth appearance at the Europeans – but what a tremendous record. Three second places and a win shows the bands undoubted class and they will make the journey to Glasgow confident of doing very well indeed.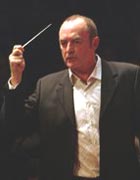 Conductor: Allan Withington
Allan Withington is one of the nicest conductors in the banding world as well as being one of the most successful. His playing career saw him play Principal Cornet at many of the top bands in the country including Wingates and Fodens, whilst he currently the Principal Trumpet of the Bergen Philharmonic Orchestra. He studied at Salford College under the tuition of Roy Newsome and has also played for the London Symphony Orchestra.
His conducting career really blossomed when he took over the role of Musical Director of the Brighouse and Rastrick Band and in his long association with them he led them to two National titles, three All England Masters titles, a European success and two Yorkshire titles. He was appointed Musical Director of the Williams Fairey band in 2002 and led them to the National title later that year and repeated the feat twelve months later.
He has lived in Norway for many years and has been one of the most successful conductors in their banding scene leading firstly winning three National 2nd Division titles in a row with Tertnes twice and Krohnengen once between 1984 and 1986 before winning the Elite title in 2002 with Manger.
---
Brass Band De Waldsang - Netherlands
Conductor: Rieks van der Velde
Principal cornet: Willem van der Leest
Principal euphonium: Marco Middelberg
Principal trombone: Jelle van der Wal
Soprano: Harro de Beer
4BR Ranking: 79
European Appearances: 16 (1980, 1981, 1982, 1983, 1984, 1985, 1987, 1988, 1989, 1990, 1991, 1993, 1995, 1998, 2000, 2004)

European Record: (set work/own choice)
1980: 4th overall – 5th/ 3rd
1981: 3rd overall
1982: 4th overall – 6th/ 4th
1983: 5th overall – 9th/ 3rd
1984: 8th overall – 6th/ 10th
1985: 12th overall – 12th/ 7th
1987: 7th overall – 7th/ 6th
1988: 6th overall – 6th/ 4th
1989: 6th overall – 4th/ 9th
1990: 3rd overall – 5th/ 3rd
1991: 8th overall – 7th/ 8th
1993: 8th overall – 9th/ 5th
1995: 5th overall – 7th/ 2nd
1998: 5th overall – 4th/ 7th
2000: 5th overall – 5th/ 5th
Performances have been directed by T. Brouwer from 1980 to 1983. D. Lautenbach led the band from 1984 to 1987. B. Ijlstra conducted the band from 1987 to 1989. Since 1990 Rieks van der Velde had directed the band at the contest.
Own choice works used:
James Cook Circumnavigator – 1980
Triumphant Rhapsody – 1981
John O'Gaunt – 1982
Land of the Long White Cloud – 1983
Connotations – 1984
Blitz – 1985
Contest Music – 1987
Harmony Music – 1988
Year of the Dragon – 1989
Cloudcatcher Fells – 1990
Harmony Music – 1991
Paganini Variations – 1993
Diversions on a Bass Theme – 1995
Volcano – 1998
On Alderney Edge- 2000
Best Performance: 3rd in 1981 and 1990
Last Year: DNQ
Brass Band De Waldsang make their sixteenth appearance at the European Championships this year (only Black Dyke can equal this in the contests history), but even though they have been perennial strong contenders their best result still remains the second places they achieved in London in 1981 and Falkirk in 1990.
On each of their last three appearances they have come 5th and in 1995 they were runners up in the Own Choice Section at the contest when they gave a cracking performance of "Diversions on a Bass Theme".
They qualified for this contest by winning the Netherlands Nationals playing "Chivalry" by Martin Ellerby late last year, their 11th title since 1982, but their first since 1999. Rieks van der Velde takes the band once more (this will be his 7th appearance) and they will be hoping to improve on those last three outings. They could well do it.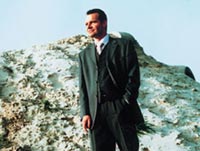 Conductor: Rieks van der Velde
Rieks van der Velde was born in 1961 has been the Musical Director of the De Waldsang Band since 1989. In addition to conducting brass bands he is a music teacher and has an extensive catalogue of arrangements and original compositions for brass and wind ensembles.
In his early teens he was a member of the Dutch National Youth Fanfare Orchestra and went to take lessons at the music school in De Waldsang it self. It was here that he was identified as an euphonium player of talent and became a member of the De Waldsang Band.
He studied euphonium and conducting at the "Muziek Pedagogische Academie" in Leeuwarden. As a conductor he is one of the most successful in the Netherlands with seven National titles to his credit as well as leading twelve bands to National titles in the Dutch Lower Sections.
---
Stavanger – Norway
Conductor: Stephen Bastable
Principal Cornet: Rune Gundersen
Principal Euph: Sindre Skjold
Principal Trombone: Alexander Lindboe
Soprano: Espen Westbye
4BR Ranking: 37
European Appearances: 6 (1982, 1985, 1986, 1993, 1996, 2004)

European Record: (set work/own choice)
1982: 5th overall – 8th/ 3rd
1985: 5th overall – 6th/ 2nd
1986: 5th overall – 7th/ 5th
1993: 9th overall – 7th/ 8th
1996: 9th overall – 7th/ 10th
Performances have been directed by K. Larsen in 1982, 1985 and 1986. Richard Evans directed the band in 1993 and Garry Cutt in 1996. Steve Bastable directs this year.
Own choice works used:
Fantasy for Brass Band – 1982
Dances and Arias – 1985
Contest Music – 1986
English Heritage – 1993
Essence of Time – 1996
Best Performance: 5th place overall in 1982, 1985 and 1986
Last Year: DNQ

Stavanger are certainly on the crest of a winning wave at the moment – earlier this year they were commanding winners of the Norwegian National Championships under the direction of Professor David King for a second consecutive time, and that rounded off a twelve month of contesting success that also included the 2003 North American Brass Band Championships and the 2003 Knall Brass Entertainment Contest.
They were exceptionally good in Bergen against a very high-class field and they will be hoping to bring that form with them here under the baton of Steve Bastable, the former MD of the Tredegar Band and a one time pupil of Professor King at Salford University.
They certainly have the players to do well and perhaps their time has come to improve on the three fifth places they have achieved at the contest in 1982, 1985 and 1986. They could well be the band to look out for this weekend.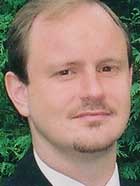 Conductor: Steve Bastable

The former full time Musical Director of the Tredegar Band, Steve Bastable is one of the clutch of talented and exciting breed of aspiring young conductors who are now forcing their way to the top of the banding tree. With the Welsh band under his command he led them to second place at the 2003 National Championships of Great Britain – a result which many felt could and should have been the winner.

A product of Salford College and the tuition of David King and Roy Newsome, he played at the top level with Black Dyke and Williams Fairey in major contest winning performances before concentrating on his conducting first with the Flowers Band and from 1999 with Tredegar, whom he took to the Welsh Regional title in 2001. His talents were also recognised by the Williams Fairey Band who he took to second place at the 2003 North West Regional Championships, whilst he also scored a remarkable runners up place with the unfancied Staffordshire Band at this year's Midlands Regional Championships. He is now a much sought after freelance conductor.
He has also conducted in Norway and earlier this year he led the Sola Brass Band to victory in the First Section.
---
Brass Band Gothenburg – Sweden
Conductor: Bengt Eklund
Principal Cornet: Tone Fossum
Principal Euph: Patrik Randefalk
Principal Trombone: Andreas Kratz
Soprano: Mattias Ekberg
4BR Ranking: 93
European Appearances: 5 (1992, 1993, 1998, 2000, 2004)

European Record: (set work/own choice)
1992: 12th overall – 8th/ 12th
1993: 11th overall – 11th/ 11th
1998: 8th overall – 9th/ 4th
2000: 6th overall – 9th/ 4th
All performances have been directed by Bengt Eklund up to 2000. David Glaeneskog directs for the first time this year.
Own choice works used:
Cloudcatcher Fells – 1992
Trittico – 1993
Connotations – 1998
Paganini Variations – 2000
Best Performance: 6th in 2000
Last Year: DNQ
Gothenburg prepare to make their fifth appearance at the contest – they haven't been able to attend on every occasion they have won their National title, but it is still a fine achievement given they were only formed in 1982 by their Musical Director Bengt Eklund. Their website shows that they are a band formed of at least 14 music students, 6 freelance musicians and 2 music teachers, so sight reading the test piece shouldn't have been a problem.
This year's appearance was due to them winning their National Contest in November last year by a clear two points playing an own choice selection programme that included the test piece, "Montage" and amazingly, "Carnival Overture" and "All in the April Evening". It was their second successive victory.
The good news for the band is that on each of their last three appearances they have improved their overall final position in the prize list (whilst they also had the most glamorously dressed female players), so can they better the sixth place in Birmingham? We will wait and see.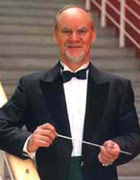 Conductor: Bengt Eklund
Bengt Eklund is Professor of Trumpet at the School of Music and Musicology, Gφteborg University, Sweden, and in 1992 was appointed Professor of Trumpet at the Norwegian State Academy of Music in Oslo. He performed as principal trumpeter of the Εrhus Symphony and as alternate principal trumpeter of the Gφteborg Symphony. Considered a premier pedagogue in Scandinavia, Bengt Eklund is one of the founders of the "Scandinavian brass school", prominently illustrated by the Bengt Eklund Baroque Ensemble and world-famous Gφteborg Brass Band.

Many of his current and former students occupy positions in numerous professional symphony orchestras and military bands throughout Europe.
Bengt Eklund has served as an adjudicator for many important international competitions. In 1994-2000 he served as President of the European International Trumpet Guild. For nearly a decade he also served ITG as International Membership Coordinator and still works actively for ITG in Europe with special emphasis on Eastern Europe. As such, he hosted the very successful 1993 Euro-ITG conference and 1997 ITG conference in Gφteborg, Sweden.

Being an active pedagogue, he has also organized several prestigious pedagogical events in Sweden with international artists as guest teachers and performers. These courses have contributed to raise the standards of Scandinavian brass music.

Bengt Eklund's intention in forming the Gφteborg Brass Band was to bring that traditional ensemble form - with its technical virtuosity but limited artistic horizon - into a relationship with mainstream music of all kinds. For this purpose he blended the talents of the best of his students at the School of Music with motivated amateurs of high brass band skills. Their first concert was warmly received, their activities grew, and their fame spread far and wide. Within five years, the band achieved the title of 1988 World Champion Band during their Australian tour.

Bengt Eklund΄s insistence on tonal perfection through ideal intonation, and his intuitive feeling for what the brass band can achieve, have provided the perfect training for young players. Through his untiring enthusiasm for nearly two decades his Gφteborg Brass Band has reached the pinnacle of performance in brass bands.
---
Brass Band BML Lucerne – Switzerland
Conductor: Ludwig Wicki
Principal Cornet: Christian Balmer
Principal Euph: Marco Schneider
Principal Trombone: David Engel
Soprano: Patrick Ottiger
4BR Ranking: 81
European Appearances: 6 (1983, 1989, 1994, 1995, 1996, 2004)

European Record: (set work/own choice)
1983: 11th overall – 5th/ 11th
1989: 5th overall – 7th/ 5th
1994: 9th overall – 8th/ 7th
1995: 8th overall – 5th/ 10th
1996: 7th overall – 9th/ 6th
Performances have been directed by Yves Illi in 1983 and 1989, Ray Farr in 1995 and Allan Withington in 1996. Ludwig Wicki directed in 1994 and again this year.
Own choice works used:
Belmont Variations – 1983
Land of the Long White Cloud – 1989
Harmony Music – 1994
Variations on an Enigma – 1995
Harmony Music - 1996
Best Performance: 5th in 1989
Last Year: DNQ
Brass Band Burgermusik Lucerne make a return to the European contest after a break of eight years after they won the Swiss National Championships late last year. That was their fifth National victory, but their first since 1995 when Allan Withington led them to their second successive title.
Under the baton of Ludwig Wicki they beat off a strong field playing Oliver Waspi's test piece, "Lands End" and so they will travel to Glasgow with high hopes of doing well – their best performance to date was the 5th place they achieved in 1989. They are certainly an improving band – they won the 2002 Swiss Open so can they become the first Swiss band to take the title?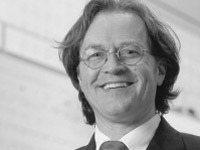 Conductor: Ludwig Wicki
Ludwig Wicki was born in Hellbόhl and lived in various regions of the canton of Lucerne during his youth. After attending the Kantonsschule he studied at the Konservatorium Luzern under Rolf Bodendorfer, where he was awarded the Lehrdiplom (teaching diploma) for trombone. Afterwards he continued his studies with Professor Branimir Slokar in Berne, achieving the Performance Diploma. Subsequently he turned his attention to conducting and completed a course of study for choir conducting and orchestral direction under Professor Martin Flδmig and Dr. Edwald Kφrner. Various study trips to Dresden, Manchester, London, Boston, Chicago, Vienna, Italy and Norway followed. Between 1987 and 1991 he took a course of studies in orchestral conducting at the Academia Musicale Pescarese in Italy under Professor Donato Renzetti.
From 1982 to 1989 Ludwig Wicki was trombonist in the Orchestra der AML Luzern (Lucerne Symphony Orchestra). Alongside membership of various chamber ensembles he was a founder member of the Philharmonic Brass Quintetts Luzern, in which he played until 1996.
Between 1991 and 1994 he held the position of full-time conductor of Brass Band Bόrgermusik Luzern, A-Band. With this band he gained titles in all the prominent brass band competitions in Switzerland: 1992 Champion, Swiss Open Contest, 1994 Champion, Swiss Entertainment Contest and Swiss Champions at the National Brass Band Championships in Montreux.
In 1994 followed a change in direction, including further studies in trombone in Boston, Chicago and Cleveland. In summer 1996, Ludwig Wicki returned to Brass Band Bόrgermusik Luzern as conductor. Since October 1998 he has also held the position of Stiftskapellmeister der Hofkirche Luzern.Ludwig Wicki is founder and artistic director of the 21st Century Orchestra and the Renaissance ensemble Il Domicello in Lucerne. Since 1989 Ludwig Wicki has taught trombone and chamber music at the Musikhochschule Luzern. As conductor and trombonist he has performed several times on television and radio as well as having been involved in a number of CD productions. He has been a prize winner in numerous solo and ensemble competitions.
---
First Old Boys, SeaCat – Northern Ireland
Conductor: Stephen Cairns
Principal Cornet: Mark Bingham
Principal Euph: Alan Haworth
Principal Trombone: Jim Kitchen Jn
Soprano: David Whiteside
4BR Ranking: 106
European Appearances: 3 (1991, 2000, 2004)
European Record: (set work/own choice)
1991: 12th overall – 12th/ 12th
2000: 11th overall – 11th/ 10th
Performances have been directed by W. Shields in 1991 and Richard Evans in 2000. Stephen Cairns directs this year.
Own choice works used:
James Cook Circumnavigator – 1991
Paganini Variations - 2000
Best Performance: 11th place in 2000
Last Year: DNQ
The Irish Champions make their third appearance at the European after they were unable to attend last year in Bergen due to the immense cost of the travel they would have had to meet. This year it is a shorter trip across "The Giants Causeway" means they will arrive hoping to improve on a best ever placing of 11th in 1991.
In 2000 they competed in Birmingham where they came 12th, but they come to this years contest on the back of a very fine win at the Irish Championships where the adjudicator Goff Richards described their performance of "Variations on a Theme of Brahms" as "Blistering". That meant they had retained their title and made it three victories in the past five years and their tenth overall.
A wonderful bunch of brass band players and supporters, they are sure to enjoy the trip, whilst their playing won't be out of place either.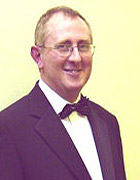 Conductor: Stephen Cairns

Following a period as Principal Trombone of the Agnes Street Band, Stephen embarked on his conducting career with the 55th Old Boys Band during the early 1980's. He subsequently went on to be conductor of both the Agnes Street and Laganvale Bands before joining forces with the 1st Old Boys (Seacat) Band in the Autumn of 2003.

He continues to maintain an interest in playing the trombone by performing with Festival Brass. When he is not working with brass bands Stephen is Head of Music at Belfast High School.
---
CWS Glasgow – Scotland
Conductor: Dr. Nicholas Childs
Principal Cornet: Jim Hayes
Principal Euph: Tormod Flaten
Principal Trombone: Paul Kiernan
Soprano: Alexandra Kerwin
4BR Ranking: 11
European Appearances: 11 (1979, 1989, 1990, 1991, 1992, 1997, 1998, 1999, 2001, 2002, 2004)

European Record: (set work/own choice)
1979: 7th overall – 7th/ 6th
1989: 2nd overall – 3rd/ 2nd
1990: 5th overall – 4th/ 7th
1991: 9th overall – 5th /9th
1992: 7th overall – 7th/7th
1997: 2nd overall – 3rd/2nd
1998: 6th overall - 5th/6th
1999: 6th overall – 9th/ 2nd
2001: 4th overall – 5th/5th
2002: 8th overall – 8th/ 7th
Performances have been directed by Nigel Boddice in 1979, Richard Evans in 1989, John Hudson in 1990 and 1991. Stephen Sykes conducted in 1992. Howard Snell directed the band in 1997, 1998 and 1999. Ray Farr conducted the band in 2002. Dr Nicholas Childs directed in 2001 and again in 2004.
Own choice works used:
Triumphant Rhapsody - 1979
Dances and Arias - 1989
Contest Music - 1990
Partita – 1991
English Heritage – 1992
Pageantry – 1997
Connotations – 1998
Masquerade – 1999
Harrison's Dream - 2001
Revelation - 2002
Best Performance: 2nd in 1989 and 1997
Last Year: DNQ
Scottish Co-op are back – not only in a return to the famous name they held before the advent of the non de plume CWS Glasgow, but also as a significant major contesting force. After a couple of lean years when the glories of two National titles and a runners up spot at the European in London in 1997 seemed distant memories, they rocketed back in 2003 and early 2004 with a series of performances that were every bit as good as those years when they challenged (and won) the top most prizes in the banding world.
A return to the British Open and National Finals in 2004 saw them provide evidence of that new form whilst they were deserved winners of the inaugural Scottish Open Championship which was held at this Hall in November last year.
A very impressive victory (under Dr. Nicholas Childs) at the Scottish Regional Championships has already set the band up for the 2005 Europeans and with a very impressive line up of star soloists that includes a guest appearance by the Norwegian Tormod Flaten on euphonium could well signal a determined effort to make history and become the first Scottish band to be crowned European Champions. They will surely be in the mix come results time.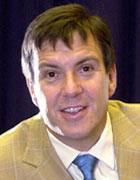 Conductor: Dr. Nicholas J. Childs DMA, MA, FLCM, ARCM (Hons)

Heralded as a leading figure in the worldwide brass community, Dr. Nicholas Childs has rightfully achieved the highest international reputation as a performer, teacher/clinician, conductor, interpreter and advocate of new music, and producer of pacesetting recordings.
In recent years he has premiered with Black Dyke Band new works by leading British composers, including Philip Wilby's Concerto 1945 for Cornet and Brass Band. In June 2000 he directed Fodens in the premiere of Edward Gregson's, Trumpets of the Angels.
He has pursued a series of pace-setting recordings of Doyen releases showcasing the music of Michael Ball, Arthur Butterworth, Peter Graham, and, with the International Staff Band, the music of Wilfred Heaton. With Black Dyke Band as Band-in-Residence at the RNCM, Childs has been able to promote the widest range of literature, several concerts of which have also led to broadcasts on BBC Radio 3. .

With his roots in the British brass band tradition, having first been trained in the Tredegar Youth Band, he continues to give important emphasis to the development of the brass band movement. He has served as the director of The National Youth Brass Band of Denmark, and has gained national championships in France, Norway, Wales and Scotland. He has reached the pinnacle of success with two recent National Championships of Great Britain, 1999 with Fodens, and 2001 with Black Dyke Band. His company, Doyen Recordings, in cooperation with SP&S, Ltd., maintains the largest catalogue of brass band recordings, The World of Brass, with Doyen recording the widest range of ensembles, from Wind orchestras to the finest Brass Bands.
---
Brass Band Willebroek - Belgium
Conductor: Frans Violet
Principal Cornet: Raf Van Looveren
Principal Euph: Stef Pillaert
Principal Trombone: Walter Hoeckx
Soprano: Bert Van Thienen
4BR Ranking: 26
European Appearances: 13 (1986, 1987, 1988, 1990, 1991, 1992, 1993, 1994, 1995, 2000, 2002, 2003, 2004)

European Record: (set work/own choice)
1986: 8th overall – 5th/ 10th
1987: 5th overall – 2nd/ 9th
1988: 7th overall – 8th/ 7th
1990: 10th overall - 10th/ 8th
1991: 4th overall - 6th/ 1st
1992: 4th overall – 4th/ 5th
1993: 1st overall – 5th/ 2nd
1994: 6th overall – 2nd/ 9th
1995: 3rd overall – 2nd/ 5th
2000: 7th overall – 7th/ 7th
2002: 2nd overall – 2nd/ 3rd
2003: 3rd overall – 3rd/ 3rd
All performances have been directed by Frans Violet.
Own Choice works used:
Fantasy for Brass Band – 1986
Pageantry – 1987
The Year of the Dragon – 1988
Frontier – 1990
Variations on an Enigma – 1991
Partita – 1992
Variations on an Enigma - 1993
Harmony Music – 1994
Sea Pictures – 1995
Between the Moon and Mexico – 2000
…Dove Descending - 2002
…Dove Descending - 2003
Best Performance: Winners 1993
Last Year: 3rd place
In the last two years at the Europeans, Willebroek has been the European band most likely to break the British stranglehold on the contest which has been in place since 1994. This will be the bands 13th appearance at the contest and they have a very impressive track record of achievement to boast about.
Apart from the historic win in Plymouth in 1993, they have come runners up once and third twice in their last four appearances and twelve months ago in Bergen they gave both YBS and BAYV Cory the fright of their lives when they pushed them all the way to the winning tape with two outstandingly good performances.
It must be said however that Willebroek are not a traditional brass band in the British sense – they don't have two rehearsals a week – but when it comes to picking up National titles they are up there with the very best around Europe. In November they picked up their third consecutive National title, and their twelfth since 1985 with an outstanding performance of the set work and own choice of "Montage" to set them up for another European title offensive. Great players, fine MD, they will be confident of being there or thereabouts once more come results time.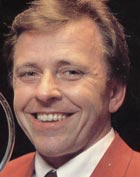 Conductor: Frans Violet
Frans Violet has been the driving force behind the emergence of Brass Band Willebroek as one of the leading bands in Europe since he helped found the band in 1979. His father was a musician of note and started Frans on the trumpet at the age of eight. One year later he enrolled in the music academy in the evening to take further tuition and played in a fanfare band with saxophones, flugel horns, trombones and basses.
At the age of 15 he attended a Conservatoire where he graduated within two years receiving 100% pass rate in the main musical exam. Upon leaving he joined BRT – Belgium Radio and Television orchestra where he stayed for five years. He then started to teach in Willebroek and starting with just four players he increased it to a full band compliment and BB Willebroek was born. Sine then he has directed the band in all of its successes, including the 1993 European success as well as their 12 National titles.
He is also a familiar face to those band lovers in the UK and took CWS Glasgow to 3rd place at the 1993 British Open and 10th place in 1995. He also directed SWT Woodfalls at the 2002 National Championships of Great Britain where they came 18th.
---
Yorkshire Building Society – England (Reigning Champions)
Conductor: Professor David King
Principal Cornet: Stuart Lingard
Principal Euph: Michael Howley
Principal Trombone: Chris Jeans
Soprano: Peter Roberts
4BR Ranking: 2
European Appearances: 9 (1996, 1997, 1998, 1999, 2000, 2001, 2002, 2003, 2004)

European Record: (set work/own choice)
1996: 1st overall – 1st / 2nd
1997: 1st overall – 2nd/ 3rd
1998: 4th overall – 1st/ 8th
1999: 1st overall – 4th/ 1st
2000: 1st overall – 1st/ 2nd
2001: 1st overall – 3rd/ 1st
2002: 1st overall – 1st/ 1st
2003: 1st overall – 1st/ 2nd
All performances have been directed by Professor David King
Own choice works used:
Revelations – 1996
Pageantry – 1997
Blitz – 1998
Harmony Music – 1999
Dove Descending – 2000
Montage – 2001
Concerto Grosso – 2002
Concerto Grosso – 2003
Best Performance: Winners in 1996, 1997, 1999, 2000, 2001, 2002, 2003
Last Year: Winners
The reigning European Champions come to Glasgow on the back of perhaps the best contest winning performance of the recent Regional Championships. Their victory in Bradford was irresistible stuff and even against an exceptionally strong field of contenders, on the day they were a class apart. If they play like that again it will take a superhuman effort for them to be beaten.
The band and their conductor seem hell bent on creating even more history here though and they seem to have the knack of winning at least one section of the contest, which invariable means that at least one hand is on the trophy before the Own Choice Section is played. Three times in the last four years they have won the set work section, so anyone wanting to beat them had better be quick and fast out of the blocks to get a lead into the home straight sprint that is the Own Choice selection.
Over the years they have seemed to have got stronger and stronger at the contest, but no one is unbeatable. They are the band to beat – so will it be six in a row come Saturday night?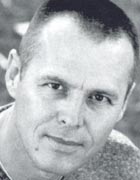 Conductor: Professor David King
Australian by birth, David King is regarded as one of the most dynamic figures in the world of brass today. With an enviable record of musical accomplishments and successes both as an instrumentalist and conductor he is at the forefront of music education and is Head of Performance Studies at the University of Salford, the largest music department in the British university sector.
David King studied Trumpet and Cornet at the Sydney Conservatorium of Music and music education at Avondale College, NSW, where he studied choral conducting with Alan Thrift, graduating in 1978. In 1982 as Australian cornet champion he was awarded a scholarship to study band musicianship at Salford College, Manchester, where he graduated with distinction in Performance in 1985.
In Britain David King pursued a distinguished career as a cornet soloist and was 'North of England Solo Champion' on three occasions (1983/84/85). He represented the United Kingdom as 'British Open Solo Champion' and won the prestigious title 'International Brass Musician of the Year' in Auckland, New Zealand in 1992.
In December, 2000 David King graduated from the Institute for Social Research, University of Salford, with a Doctor of Musical Arts degree majoring in Performance and has since been awarded his professorship.
As a conductor Dr David King holds a prominent position in Europe and is revered as one of the most successful conductors on the concert and contest platform in the last decade. He has represented England in the European Brass Band Championships on eight occasions as a conductor and has won the title seven times, twice with Black Dyke Mills Band (1990 & 91) and seven times with the Yorkshire Building Society Band (1996/1997/1999/2000/2001/2002 and 2003)
---
Brass Band Lyngby Taarbaek – Denmark
Conductor: Ray Farr
Principal Cornet: Connie Trolle
Principal Euph: Bo Bollmann
Principal Trombone: Mette Kruger
Soprano: Lars Haedersdal
4BR Ranking: 82
European Appearances: 4 (1997, 1998, 2003, 2004)

European Record:
1997: 9th overall - 8th/ 10th
1998: 11th overall – 11th/ 10th
2003: 9th overall – 9th/ 9th
The performances of 1997, 1998 and 2003 were directed by Jesper Juul Sorensen.
Own Choice works used:
1997 – An Epic Symphony
1998 – Fantasy for Brass Band
2003 - Montage
Best Performance: 9th place in 1997 and 2003
Last Year: 9th place
Lyngby Taarbaek make their fourth appearance at the Europeans this year and on this occasion they will be directed by the Ray Farr, the current MD of the (Reg Vardy) Ever Ready Band.
Last year they were directed by the talented Jesper Juul Sorensen, who also took them to their National victory where they performed "…Dove Descending" and a short entertainment programme. That was their fourth title overall since their formation in 1989 and their second in succession, whilst the MD went on to claim a finalist's place in the 2nd European Conductors Competition in Bergen.
They haven't really broken through at the contest as yet, but there is plenty of talent around the stands and Ray Farr will surely drill the band well in preparation.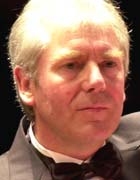 Conductor: Ray Farr
Ray Farr (b. 1948) was educated at the Birmingham School of Music and at the Royal Academy of Music. After 10 years as a professional musician with the BBC Radio Orchestra he started his career as a conductor. Ray has appeared in hundreds of concerts around the world and in some of the finest concert halls including the Royal Albert Hall and the Sydney Opera House and has gained a reputation as a stylish conductor and a planner of interesting concert programmes ranging from light music to "avant-garde". He is equally adept in Classical and modern music and has conducted opera, ballet and oratorio. In 1988 Ray won a special Arts Council Award to study contemporary music with Edward Gregson and Jorma Panula, Professor of Orchestral Conducting at Helsinki's Sibelius Academy.
He has conducted at Leeds Music Festival, Harrogate Contemporary Music Festival, Aldeburgh Festival, Adelaide Festival and the Bergen Festival and has made several L.P.'s, C.D.s and T.V. appearances. Ray has appeared with BBC Radio Orchestra, Norwegian Radio Orchestra (on five occasions), the Stavanger Symphony Orchestra (on a World Wide TV program), Sandnes Symphony Orchestra (as Principal Conductor) and Kristiansand Symphony Orchestra in an exciting concert of French music.
Today, Ray is a busy, freelance conductor, based back in the UK and now as Musical Director of the (Reg Vardy) Ever Ready Band and heading an exciting new music course at Durham University, whilst he still works with amateur and professional bands and orchestras around the world.
---
Brass Band Normandie - France
Conductor: Phillippe Gervais
Principal Cornet:
Principal Euph:
Principal Trombone:
Soprano:
4BR Ranking: 198
European Appearances: 6 (1996, 1997, 1999, 2000 – 1st Section, 2003, 2004 – Championship)

European Record:
1996: Winners 1st Section – 1st/1st
1997: 4th 1st Section – 4th/4th
1999: 2nd 1st Section – (no split placings)
2000: Winners 1st Section – 1st/1st
2003: 11th overall – 11th/ 11th
All performances directed by Philippe Gervais
Own Choice works used:
1996 – The Plantagenets
1997 – Salute to Youth
1999 – Essay
2000 – English Heritage
2003 - Spectrum
Best Performance: 11th place in Championship Section: Winners 1st Section 1996 and 2000
Last Year: 11th place
Brass Band Normandie were formed in 1994 after their conductor, Philippe Gervais came to London for the National Finals and found that he was a convert to the British brass band. As Director of a Music School in Deville he formed the band and they took off immediately with success. France it seems had been bitten by a very British bug.
In 1996 they entered the 1st Section of the European Brass Band Championships in Bergen and won in style with two performances including the set work "Occasion" by Edward Gregson that saw them victorious by a point from Toolo Brass from Finland. In 1997 they came to London where they came 4th overall before returning once more in 1999 in Munich were they came runners up to BB Frosch Hall.
In 2000 they won the 1st Section for the second time, on this occasion by a ten-point margin from Toolo and last year they made a very favourable impression on the knowledgeable banding audience in Bergen. They may have come last, but they were certainly not overawed, or out of their class. If they have kept up their amazing progress then don't be surprised if they make their way further up the prize list.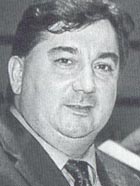 Conductor: Philippe Gervais
Philippe Gervais received a rich and diversified musical education – firstly from his father an organ buider and then as a student of Georges Bleu at the Conservatoire National de Region of Rouen under Pierre Pollin and Marcel Lagorce and finally under Pierre Thibault at the Conservatoire of Paris.
He became a full time musician with the Ensemble Orchestral de Normandie and took part in recitals with Maurice Andre and Jean Pierre Berlingen. He is currently teaching at the Conservatoire of Lillebonne Notre Dame de Gravenchon and is the Director of Orchestras of the Music School of Deville, where he formed BB Normandie in 1994.
---
Buy As You View Cory - Wales
Conductor: Dr. Robert Childs
Principal Cornet: Ian Williams
Principal Euph: David Childs
Principal Trombone: Christopher Thomas
Soprano: Steven Barnsley
4BR Ranking: 3
European Appearances: 15 (1979, 1980, 1981, 1982, 1983, 1984, 1985, 1986, 1987, 1989, 1993, 1999, 2001, 2003, 2004)
European Record: (set work/ own choice)
1979: 2nd overall – 3rd/ 3rd
1980: 1st overall – 1st/ 2nd
1981: 6th overall
1982: 2nd overall – 3rd/ 2nd
1983: 3rd overall – 7th/ 2nd
1984: 2nd overall – 3rd/ 2nd
1985: 2nd overall – 4th/ 1st
1986: 3rd overall – 3rd/ 4th
1987: 8th overall – 8th/ 7th
1989: 3rd overall – 1st/ 4th
1993: 3rd overall – 3rd/ 4th
1999: 5th overall – 5th/ 4th
2001: 2nd overall – 1st/ 3rd
2003: 2nd overall – 2nd/ 1st

Own Choice works used:
1979 – Judges of the Secret Court
1980 – Triumphant Rhapsody
1981 – Connotations
1982 – Fireworks
1983 – Variations on a Ninth
1984 – Contest Music
1985 – Dances and Arias
1986 – Ballet for Band
1987 – Dances and Arias
1989 – Diversions on a Bass Theme
1993 – Harmony Music
1999 – Of Men and Mountains
2001 – Harrison's Dream
2003 - Revelation
Denzil Stephens directed the performances of 1979, 1980 and 1981. Arthur Kenney directed the performances of 1982, 1983, 1984, 1985, 1986 and 1987. Brian Howard conducted in 1989. Michael Antrobus led their attempt in 1993, whilst Jeremy Wise conducted in 1999. Robert Childs has directed the performances since 2001.
Best Performance: Winners 1980
Last Year: 2nd place
BAYV Cory come to the European knowing that in the last two years they have missed winning the trophy by the very narrowest of margins. Both in Montreux and especially in Bergen there wouldn't have been many in the audience who would have complained if they had been crowned champions – by the slimmest of margins did their name miss out on being engraved on the famous musical stave trophy. That will surely give them the incentive to finally return to South Wales with the only available "Major" that they haven't won under the direction of Dr. Robert Childs. It would take a brave man to bet against them doing it.
Player for player they are perhaps the strongest outfit in the banding world and with a MD who is possibly the most thoroughly prepared in the business they will surely come close, if not, win it this year.
Their record is second to none, their form ominous, whilst there is a feeling that their time has finally come to repeat the historic win of 1980. If they can (and it is a real possibility), then the disappointments of Montreux and Bergen will quickly fade away. A new chapter in BAYV Cory's – and the European's history may be about to open.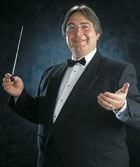 Conductor: Dr. Robert Childs
Dr. Childs is an associate of the Royal College of Music, a Fellow of the London College of Music and gained a distinction in a Masters Degree from the University of Leeds. He also holds a Post Graduate Certificate in Education from the Open University.
He is Director of Brass Band Studies at the Welsh College of Music & Drama, Professor of Euphonium at the Royal Northern College of Music and the University of Leeds, where he also conducts the Brass Band. Robert is a tutor and council member to the National Youth Brass Bands of Wales and Great Britain and is also a council member of the National Youth Wind Orchestra of Great Britain.
Robert conducted and performed with the Yorkshire-based Black Dyke Band for almost ten years and conducted them on several important occasions. He has also performed with many of the UK's leading orchestras. As a clinician for Boosey & Hawkes Musical Instruments, he regularly gives solo recitals in prestigious halls at home and abroad.
In May 2000, Robert was delighted to accept an invitation to become the Professional Musical Director of the Buy As You View Cory Band from the Rhondda in South Wales, thus re-uniting him with Wales and associating him with the band he has held in such high esteem since he was a boy. In a short space of time he revitalised brass banding in Wales by steering his new band to win the British Open Championship, the National Championship and runner-up at the European Championship in a single season.
In 2002, Robert was awarded the title 'Doctor of Musical Arts' from the University of Leeds. Robert is part of a very musical family, both his children and wife play brass instruments. His son, David recently appeared on television as the Brass Finalist in the Young Musician of the Year competition and his brother Nicholas is also an accomplished conductor.