4BR Roadtest: Woodwind & Brass Bauhaus/Walstein cornet and trumpet cases
21-Sep-2010
4BR takes a closer look at the new Bauhaus/Walstein cornet and trumpet cases from Woodwind & Brass.
---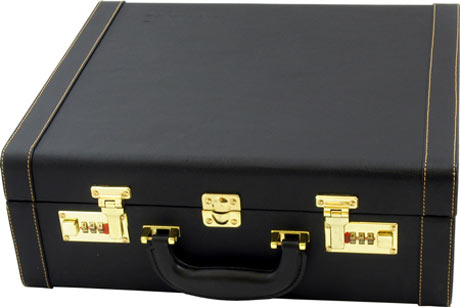 The new Bauhaus/Walstein hard shell cornet case

The fashion nowadays for buying an expensive instrument only to house it in a padded gig bag so that it can be slung over the shoulder to take to band practice seems to have sounded the death knell for bespoke hard shell instrument cases.

The result may have saved us from the awful sight of sweaty tuba players with arms as long as an orang-utans lugging articulated wheeled coffins behind them up stairs to contest venues, but it has undoubtedly meant a host more instruments with the types of clumsy dents in their bodywork than a learner driver in their first car.

Origami

Ease of transport is one thing – loss of second hand value through turning your instrument into a bit of origami, quite another.

It doesn't really matter what type of instrument you have either – from soprano cornet to Bb tuba. Forking out a lot of dosh for an instrument should mean that you take care of it when you are not playing it too.

All these gig bags and soft top carriers are all well and good of course, but none we have ever seen will stop the denting effects of a badly placed bit of luggage thrown causally on top of it by an inebriated Spanish hotel porter or airport baggage handler (or a miffed driver chucking instruments into the back of the band bus after a concert).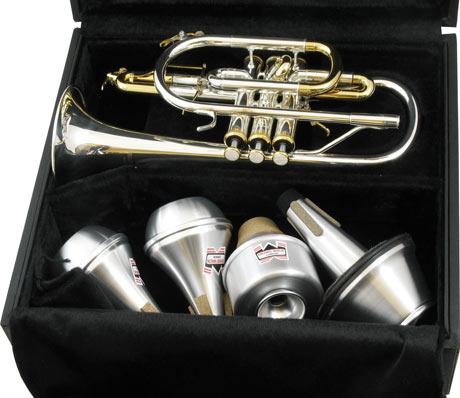 Does what it needs to do...

Pros and Cons

When you weigh up the pros and cons, having a quality hard case for when you really need it is therefore a must.

4BR has had its hands on two affordable hard cases that are available from Woodwind & Brass – one for cornet and one for trumpet.

Locks and combinations

The Bauhaus Walstein cases are made from a very sturdy wooden shell, and come with fully padded interior, room for up to four mutes, a generous space for music, mouthpiece pouch, and all important security locks.

Gropius

Although they are not designed by Walter Gropius, who was the founder of the Bauhaus School of architecture and design, they are still nifty piece of work - easy on the eye and practical to use (unlike most of his architecture)

There are instructions for the pre-set combination locks too, so you can use your personal 'pin number' in them (although for security reasons don't try and make it the same as your Visa card).

The trumpet cases have room for music inside the case lid in the form of an extending pocket.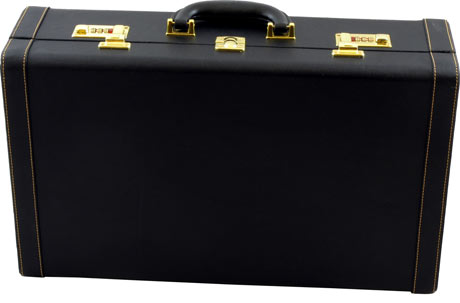 The trumpet version of the Bauhaus/Walstein hard shell case

Compact

Finished in faux leather, with solid handles and standing studs, it is compact, attractive and does the job it was built to do.

And although we didn't deliberately set about smashing them with 2lb lump hammers, we did ask our guinea pig players to treat them as they would normally do – ie. Casually flung onto the back seat of the car, or in the hallway of the house, crammed full of mutes, music and cans of pop and generally given the once over.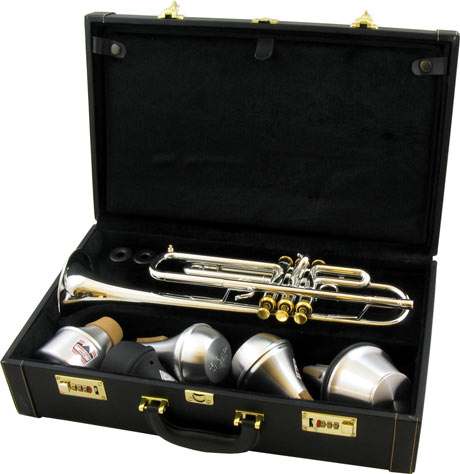 More than holds it own...

Wear and tear

And although the results were not totally scientific, the responses were very favourable, with both the cornet and trumpet cases more than coping with the usual banding wear and tear as well as being safe and secure.

All types of modern cornet and trumpet fit snugly into the moulded interior too – so everything from the latest top of the range cornet to something that came from a swap ticket at Cash Converters can find a safe home.

Both cases took a full set of four mutes in comfort, and whilst the busy cornet player found that the usual huge portfolio of rehearsal music they now carry with them would be still carried in a separate folder, contest and concert music could easily fit in without a problem (there was no problem with the trumpet case with its internal expanding lid pocket.)

Special offer

All this and for a limited period they cost only £55.00 (inc VAT) – a pretty good investment when your cornet or trumpet can cost up to £2,000 or more…

For more information go to: www.woodwindandbrass.co.uk/acatalog/special_offers.html
4barsrest Classifieds
Newark Town Band
NTB have a vacancy for a Principle Euphonium. We are a happy non-contesting band who would welcome players of all abilities,...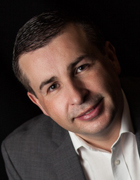 Mark Wilkinson

Cornet Soloist, Teacher, Adjudicator, Conductor