4BR Music Review: We look at the latest releases from PLC music
11-Nov-2010
4BR takes closer look at the batch of recent Paul Lovatt-Copper releases.
---
4BR looks at the latest releases from the pen of Paul Lovatt-Cooper
Paul Lovatt-Cooper, or PLC as he is affectionately known, has made a startling impact on the brass band movement in the past few years.
No concert programme from a championship section band to a youth ensemble is complete it seems without a piece from Black Dyke's composer in residence.
It has been said a million times before; the man with the musical Midas touch has his Sibelius finger manipulating the zeitgeist of popular banding repertoire.
Not even Simon Cowell produces sure-fire hits at his rate.
His latest batch of compositions are sure to be welcomed by bands all over the world, with their transparent mix of easy lyricism and catchy rhythmic pulses.
As we have come to expect with the PLC output, the parts and scores are very well presented and easy to follow, whilst each work comes with helpful programme notes to help any MD in the compere stakes too.
4BR managed to its hands on his latest batch of seven new releases and took a closer look to find out if we could identify the winning PLC formula…
---
Canzona Bravura
Euphonium Solo
Duration: 5.00 mins approx
Cost: £34.95
This euphonium solo was commissioned by Louise Martin for Martin Smith, and is aimed at providing a compact showcase (its around 5 minutes in length) for the soloist through three interlinked sections – one fast, one slow and one fast again.
It's modern, flashy and highly effective, with the usual mix of pulsating rhythms allied to lyrical leading lines and plenty of interplay between soloist and band.
To play this piece the soloist needs to be of around a Grade 6 Associated Board standard.
The opening section is pacy – 160 crotchets, but is within the capabilities of competent players who have a solid technique, decent range (with the exception of the final fizzing glissando) and a touch of showmanship about them.
The accompaniment needs to be precise and balanced, but with a bit of detailed rehearsal this is a piece that can be buffed up to really shine for soloist and band with ease.
Further information on this music can be found at:
www.plcmusic.co.uk/plcshop_page.php
---
Jack in the Box
Xylophone Solo
Duration: 2.30 mins approx
Cost: £29.95
This xylophone solo was commissioned by the Bilton Silver (Rugby) Band for the talented young percussionist Jack Fisher – hence the clever title.
And a real little box of flash, bang, wallop tricks it is too (its around two and half minutes long), which is guaranteed to bring the house down for a soloist with the ability to really make the most of it.
As you would expect it's a quick paced showcase, full of fun and games (the nursery rhyme Pop Goes the Weasel is heard) all played at a breakneck tempo (around 150 crotchets or faster as the instructions declare!).
A competent soloist needs to be around Grade 5 Associated Board to play it with a bravura flourish, whilst the band also needs to be in full concentration mode too – accompanying a xylophonist can be a tricky business.
Some neat changes in tempo will need to be sorted out in rehearsal, but the end result is a little show stopper.
Further information on this music can be found at:
www.plcmusic.co.uk/plcshop_page.php
---
Pound the Streets
Concert Piece
Duration: 3.30 mins approx
Cost: £34.95
This concert work was commissioned for the National Youth Band of Scotland for the Tartan Heart Festival of 2010 – an outdoor event that sees many famous pop and rock acts such as Feeder, Amy MacDonald and Badly Drawn Boy strut their stuff to adoring fans.
Anyone over the age of 30 will perhaps not have an idea who any of those artists are – but young players will – and this concert opener (around 3'30" in duration) will ensure that the audience is quickly brought up to speed with its inspiration.
Full of drive, energy, rhythmic pulse and breathless percussion it literally pounds out its feel good message from first note to last.
If you want to make an immediate impression you can't go wrong with this piece, as it has some fantastic riffs in it to get your feet tapping away. Ideal for solid Third Section bands and above.
Further information on this music can be found at:
www.plcmusic.co.uk/plcshop_page.php
---
On the Castle Green
Grand Concert March
Duration: 4.00 mins approx
Cost: £34.95

If on the other hand you are looking for something a little more traditional, then this concert march provides an equally effective starting point.

Commissioned for the Third Carrickfergus Band to mark their Golden Jubilee it's a traditional opener with a bit of a twist – two marches in one so to speak.
The first has a darker swagger feel, bold and robust, whilst halfway through it changes into something approaching a breezy Osterling foot tapper, before catching its breath and finishing in grandiose fashion.
Around 4 minutes long it will need a bit of detailed rehearsal, but should be within the scope of most bands from Second Section level upwards.
The soprano will need to be on top form though to ensure their part is played with sprightly clarity and precision.
Further information on this music can be found at:
www.plcmusic.co.uk/plcshop_page.php
---
Wall of Sound
Concert Showpiece
Duration: 8.00 mins approx
Cost: £44.95
Commissioned for the National Children's Band of Great Britain, this concert showcase fuses together a variety of musical genres – from rock and pop to Latin, funk and dance and is aimed squarely at providing an audience with sheer vibrant entertainment.
At just under 8 minutes in duration it gives an opportunity for soloists within the band to show off their talents, and the piece is well within the capabilities of a solid lower section ensemble or a talented youth band.

The music enfolds slowly, but soon becomes a riot of colour and syncopated rhythmic patterns, all backed by a pulsating percussion foundation.
Individual lines are asking testing technical questions but ones that can be overcome with a bit of hard graft and determination – challenges younger players will love.
Bold, bright and breathtaking it has the signature PLC hallmarks throughout.
Further information on this music can be found at:
www.plcmusic.co.uk/plcshop_page.php
---
Emerald Skies
Flugel/Cornet Solo
Duration: 4.00 mins approx
Cost: £29.95
This solo was originally composed for Bandmaster Ross Johnson and the Camberwell Citadel Band, and is a lyrical solo for either cornet or flugel that will showcase the playing of a competent performer.
The band parts pose no real problems, but the soloist needs to be capable of playing with a keen ear to the melodic shape of the extended phrases and show plenty of sensitivity during the quieter moments.

It's a beautiful piece that is an ideal solo for a player who wants the experience of getting on their feet without the stress of worrying about demanding technical issues.
Further information on this music can be found at:
www.plcmusic.co.uk/plcshop_page.php
---
Enchanted Kingdom
Concert Finale
Duration: 7.30 mins approx
Cost: £44.95
If your band is looking for an all bells and whistles concert finale; 'Enchanted Kingdom' ticks all the right boxes.
Composed for Brighouse & Rastrick to perform at Brass in Concert in 2009, it is a high end top section work that although demanding in terms of technique and stamina, is well within the scope of good quality First Section bands (or large youth ensembles) and above, willing to put in the hard graft to make it come off.
There is a bit of choreography, plenty of excitement, soaring lyrical tunes and plenty PLC inspired va va voom.
The story sets the picture – it is up to the band to make it come to full 3D Technicolor life.
Further information on this music can be found at:
www.plcmusic.co.uk/plcshop_page.php
4barsrest Classifieds
LGB Brass
LGB Brass based in Lewes East Sussex is looking for an additional front row cornet player due to job relocation. Third sectio...
Newark Town Band
Date: 26-May-2013
Venue: AEC Commercial Vehicle rally at Newark Showground, Nottinghamshire NG24 2NY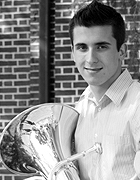 Grant Jameson

Euphonium Soloist, Clinician and Tutor