Phil Lawrence
ARCM PGRNCM MFTCL ARCM B.Mus.
Composer and conductor

More about Phil
Having already gained two ARCM's in teaching & performance at 19 in Liverpool, Phil gained a place as a postgraduate at the RNCM in trumpet and conducting, and joined Manchester CWS on arrival in Manchester leaving his old band Edge Hill British Rail, under the baton of Bob Dean. This CWS period was just after Alex Mortimer, the principal conductors at the time being Maurice Hanford, Frank Renton & Jim Scott. Within the time at the RNCM he worked with the BBCPO, The Halle, Opera North, Liverpool Phil, Scottish Chamber & Manchester Camerata. Also, at that time he composed fanfares for the Duchess of Kent, and ditties for BBC Northwest Nationwide.
On moving to London Phil worked with the Royal Opera, Philharmonia, Wren Orch, BBCSO, Philamusica, Saddlers Wells and various sound tracks and two West End shows. He took the solo platform for two years and became an endorsee of Signature (DEG) Trumpets, and appeared at the Cheltenham Festival, Bromsgrove, Alsager, recorded a piccolo album with Ian Tracy at the Liverpool Anglican Cathedral, and performing the Arutunian Concerto at the Liverpool Philharmonic Hall, which got rave reviews in the Daily Telegraph.
Now a full time composer and studio owner with over 200 TV & radio credits inc. ad's such as Nike & The Times, and creating "Victorian Virtuosi" the Arban play-a-long album, Phil runs his publishing company, ELMS. This publishes music for brass bands in general, and educational music for AS level, band trainers & wind band. All of this music can be seen and heard at his web site listed below. This year has seen 14 premiers from his pen, Richard Marshall premiered Phil's cornet concerto in New Zealand and in the same concert, 11 other works inc. his new Championship test piece "Gregoritas" were played by Waitakere. Also in June 2003 was the premier of his "Letchworth Suite" commissioned by Letchworth Band & Council to celebrate 100 years of the 1st Garden City this piece should stand well as a 1st sec area work or even national finals.
More recently he has had a Radio 2 World Premier broadcast on "Friday Night Is Music Night" and presently working on two commissions from The Coldstream Guards Band, and in the near future two small films. Phil also conducts (part of his PG at the RNCM) having worked/conducted with Manchester CWS, Sun Life, Desford, Leyland, Aveley & Newham, Sellers, and the Liverpool Philharmonic, the English Phil & the New London Orchestra. As regards adjudication, Phil had resided/adjudicated over three contests so far and it has been reported that he has an honest, reliable ear
4barsrest Classifieds
The Corsham Band
The band are currently looking to recruit either second or third cornet players to further strengthen our friendly and enthus...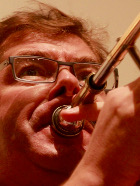 Nicholas B. Hudson
FTCL LGSMD (Hons)
Musician | Trombonist | Educator