Brett Baker
BSc (Hons), ARCM, PG Dip
Rath clinician, conductor, teacher and adjudicator

More about Brett
Brett is viewed as one of Europe's leading brass performers and educators; he has been clinician for Michael Rath Brass Instruments since 2006 and Principal Trombone of Black Dyke Band since 2000. At the age of twenty-three he had won every major brass band competition available and he is currently the most recorded trombone soloist in the brass band movement. Brett is a past Trombone Solo Champion of Great Britain and an Associate of the Royal College of Music, London. He has performed with a huge wide variety of musicians from celebrated singers such as Alison Goldfrapp and Hayley Westenra to sharing the stage with other world class trombone soloists such Ian Bousfield, Wycliffe Gordon and Joseph Alessi.
Originally from the Forest of Dean in Gloucestershire, Brett was introduced to the trombone at the age of ten by his father. His early teachers were Bryan Nelmes, Robert Morgan and Ken Harmon during which time he played for the Bream and Lydbrook Silver Bands. In 1989 he moved to the Flowers Band and the National Youth Brass Band where he was principal trombone for two years in both. Competition successes included wins at the Cheltenham and Bath Festivals and becoming a finalist at the British Open Solo Championships in Wigan. His teachers at this time were Danny Hannaby, Steve Walkley and the Euphonium player Lyndon Baglin.
In 1992 Brett became a Brass Finalist in BBC's Young Musician of the Year and in the same year moved to Manchester to study Economics at Salford University. He simultaneously joined the Fairey Band in Stockport. Brett was British Open Trombone Solo Champion in 1993 and 1994 and became the trombone tutor at Salford University from 1993 to 1996. He studied musical performance with Professor David King and played in Salford College Band whilst also studying Business Economics. Brett's first solo recording "Bone Idyll" with the Fairey Band was completed in 1996; his advisor at this time was Denis Wick.
In Manchester, Brett established a reputation as one of the finest players of his generation. At Fairey's he won every major brass band contest including a historic treble in 1993/4. The Fairey Band also won the North-West Area competition and Brass in Concert where Brett was the featured soloist. In 1996 Brett was awarded "Performer of the Year" by his fellow players at Fairey.
In 2000 Brett began studies in performance at the Royal Northern Conservatoire under Chris Houlding, John Iveson and John Miller, and soon afterwards joined the Black Dyke Band. Under the Direction of Dr Nicholas Childs, Brett has played on over 100 CD's and highlights with Black Dyke have included two trips to the USA and Bermuda and a historic tour to Australia in 2009. Whilst at Black Dyke Brett has so far won the National Championships of Great Britain four times, the European Championships in 2005 and the British Open Championships twice.
Assuming a hectic playing schedule Brett also enjoys presenting workshops and lectures specializing in solo performance techniques as well as the education of younger players. Brett has been trombone tutor on Star Lake Music camp near New York and the Swiss National Youth Band. Brett is currently trombone tutor of the National Children's Brass Band of Great Britain and the International Brass Band Summer School and has been trombone tutor of the Northern Brass Band Trust in Durham since 1992; Course Director since 2000. In 2006 he became Chairman and Vice-President of the British Trombone Society and then President of the Society in 2010 taking over from Bob Hughes. Brett is also Chair of the Awards committee of the International Trombone Association after previously serving as Secretary on the executive board from 2006-2008.
As a brass clinician Brett has toured from Brazil to Canada and from New Zealand to Western Europe. Brett has given workshops and recitals at Birmingham Conservatory, Leeds University, The National Arts Club USA, the New York Brass Conference and the University of Toronto. He has been a guest soloist with bands in Switzerland, Australia, New Zealand, Holland, Canada, and the USA and most recent a seven week tour of Australia and New-Zealand. Brett has been a guest player with Grimethorpe, Fodens, YBS and Leyland Bands and has regularly performed in Sydney Opera House, the Royal Albert Hall and the Royal Festival Halls in London, the Symphony Hall, Birmingham, the Sage in Gateshead and the Bridgewater Hall, Manchester.
Over the past fifteen years Brett has been keen to promote new music for the trombone including a joint project with Leeds University and Dr Philip Wilby. He has been involved in commissioning over 50 works for trombone from composers such as Robin Dewhurst, Philip Sparke, Philip Harper, Andrew Duncan, Darrol Barry, Paul Lovatt-Cooper, Rob Wiffin, Simon Wills and Martin Ellerby. Brett lives with his Wife Sarah in Cheshire and is increasingly building a reputation as a conductor and adjudicator in the contesting arena.
"Brett is a trombonist who combines robust flair with delicacy, technical accomplishment with a warm audience personality. I have worked with him and thoroughly enjoyed the experience." Howard Snell
"Brett Baker is surely at the pinnacle of his glittering career—his strength and depth of sound can give way in an instant to the most heart-warming delicacy, and his phenomenally flawless technique is equally matched by an elegant ability to enhance a melodic line with musicianship and responsiveness." Anthony Leggett Brass Band World
4barsrest Classifieds
Stannington Brass Band
A SOLO TROMBONE player required for this 1st Section Stannington Brass, Sheffield. Sensible balance of concerts & contest...
Newark Town Band
Date: 26-May-2013
Venue: AEC Commercial Vehicle rally at Newark Showground, Nottinghamshire NG24 2NY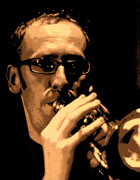 James McCabe
MSc, PGCE, LRSM
Cornet/Trumpet Soloist and Tutor