Alan Fernie
DRSAM, Dip.NCOS
Arranger, composer, adjudicator, conductor

Contact details
Craiglea, 48 Mill Street, Selkirk, Scottish Borders TD7 5AD
email: alanfernie@btinternet.com
website:
home: 01750 725213
mobile: 07947254961
work:
fax:
More about Alan
Alan Fernie was born in the Scots mining village of Newtongrange. He learned to play trombone both at school and also with the local brass band, and went on to study music in Glasgow and London. After a short peroid as an orchestral musician, he moved into instrumental education, spending over 20 years teaching brass in schools all over the East of Scotland.
It was during this time that he began to conduct, and he has since gone on to direct bands at all levels, winning many awards.
He wrote his first music for brass whilst still a student, and his compositions and arrangements are now played, recorded and published all over the world.
In 2009, he was honoured with "The President's Award" from the Scottish Brass Band Association" for his services to banding. He is also very proud to be writer in residence to two charities; Brass for Africa, for whom he spent 2 months teaching in Kampala, Uganda, and also the acclaimed "Boobs and Brass" project.
Alan lives in the Scottish Borders, where he works as a freelance musician, finding time to write, teach, conduct, judge, perform and act as compere throughout the UK and beyond.
4barsrest Classifieds
Garforth Brass
If you are a conductor who is not involved with the upcoming round of Regionals, but would still like to keep your hand in, y...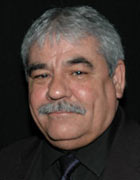 Stan Lippeatt
BA, LRSM
Conductor, adjudicator, tutor