2004 4BR Awards - 2004 Contest Performance of the Year
13-Dec-2004
Here is a real tricky one for you to vote on. What was the very best contest performance you heard during 2004 - and we don'y just mean one that took the winners prize either. There is a possible endless selection to choose from...
---
Literally hundreds to choose from for you here isn't there? Any winning performance - be it in the Fourth Section or Championship level deserves a mention, as well as those performances where the players and especially the audiences thought thrilled the pants off them, but didn't get even a mention from the adjudicators. This could have been an endless list, but we narrowed out choices down to the five which we thought deserve consideration, and they were; Yorkshire Building Society on 'Tristan Encounters' at the Yorkshire Regional Championships; YBS again on 'Music of the Spheres' at the Europeans; Buy As You View on 'St. Magnus', also in Glasgow at the Europeans; Black Dyke on 'Montage' at the British Open and Grimethorpe Colliery (UK Coal) at Spennymoor Brass in Concert.
We would add that we could have easily replaced all five with some or all of the following; Brighouse at the Masters; Fodens Richardson at the Open; BAYV at the Open; Black Dyke at London; Reg Vardy (Ever Ready) at London; Stavanger at the Norwegian Championships; Dalewool Auckland at the New Zealand Nationals; Willebroek and Fairey FP (Music) at Glasgow on their own choice selections; Staffordshire at Pontins; Hathern, Pemberton Old, Hoover (Bolton) and Potters Bar at Harrogate….. the list can go on and on, so put your thinking caps on.
---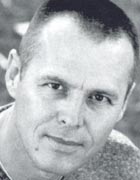 Yorkshire Building Society performing 'Tristan Encounters' at the Yorkshire Regional Championships
This was quite simply the best performance of Martin Ellerby's test piece of the whole Regional Championships. The composer was there in person to witness a performance of such clarity and purpose that it obliterated the opposition and gave them the title for just the third time in eleven years and the first since 2000. David Read and Roy Roe were enthralled and gave them the title by a massive margin of three clear points from Black Dyke and five ahead of Brighouse and Rastrick – it was that good.
Yorkshire Building Society performing 'Music of the Spheres' at the European Championships
YBS again – this time in defence of their unyielding grasp of the European title. There were rumours flying around that one of the bands were going to do something a bit different, and once more it was David King and his band. After the heroics of 'Concerto Grosso' in the previous two years, where could they go? The answer was 'Music of the Spheres' and a performance that had people picking up their jaws off the floor of the Glasgow Hall when they finished.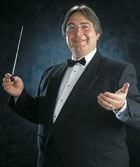 Buy As You View performing 'St. Magnus' at the European Championships
If a performance could be judges by the reaction of the audience after a bad had played, then BAYV would most probably be the 2004 European Champions now. Theirs was a stunning technical tour de force that sent musical electricity coursing through the veins of the packed Royal Concert Hall. The problem was that the adjudicators – Tom Brevik, Nigel Boddice and Johan de Neij had the equivalent of rubber wellies on and were so insulated from the experience to such an extent that they placed the band 6th. It was almost a criminal act.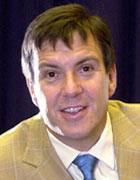 Black Dyke Band performing on 'Montage' at the British Open Championships
And if you thought that was a bad 'un, then what about Black Dyke at the Open? This was a spellbinding performance of Peter Graham's 'Montage' that was as near to perfect as you would have wished for. Great soloists, brilliant ensemble and a degree of thoughtful leadership that surpassed just about anything that went before or after. Not so for the judges, and Mr Read, Mr Ball and Mr Sparke placed them 6th – they weren't even the best 'Montage' on the day according to them, and the subsequent booing at the result sent a cold shiver down the spine and killed off the multiple choice test piece contest for good.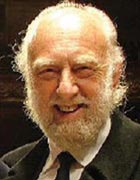 Grimethorpe Colliery (UK Coal) at Spennymoor Brass in Concert Contest
Sometimes you just have to sit back, relax and enjoy the sheer professionalism of a class act on the top of their game. Richard Evans and Grimethorpe were like a Rolls Royce amongst a pack of Ford Mondeo's – for all their efforts and gimmicks, the rest weren't even at the races with Grimey at Spennymoor this year and it was perhaps out of kindness and respect that Grimey didn't win all the prizes on offer. Brilliant arrangements, brilliant playing and brilliant leadership from the 'King of Entertainment' himself. Tricky Dicky even wore a cravat again – sheer class from start to finish.
Past Winners:

2003: Buy As You View Band - 'Revelation' at European Championships
2002: Yorkshire Building Society - 'Concerto Grosso' - European Championships
2001: Fodens - 'Les Preludes' - British Open Championships
4barsrest Classifieds
Pemberton Old Wigan DW Bands
Following promotion to the Second Section, and with recent player changes, the B Band are seeking to complete our team with:....
SEWBBA Ebbw Vale
Date: 18-May-2013
Venue: Ebbw Vale Leisure Centre, Municipal Offices, Civic Centre, Gwent. NP23 6XB
South London Fellowship Band
Date: 4-Jun-2013
Venue: Mini Tour (4th June to 7th June 2013).. See 'Concert details'.. Further information to follow.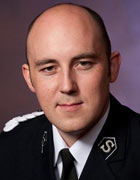 Jonathan Corry
MMus, BMus (hons)
Conductor & educator