Oxford closing date looms...
7-Jan-2013
If you the chance to give your Area test piece an early season run out, then make sure you enter the Oxford & District BBA Contest - now!

---
4BR has been informed that the closing date for entries to the Oxford & District Brass Band Association Winter Contest, to be held on Sunday 24th February at Marlborough School in Woodstock is fast approaching.
March & Test
This contest, which hasn't been run for many years, is an own choice March & Test Piece event, so it should give bands an ideal opportunity to give the Area test piece an early season run out.
The adjudicator David Hirst, and the closing date for entries is Monday 14th January.
Registration
Because of the on-going debate about registration cards the ODBBA has decided to run the contest without the use of any registration cards. Bands will be asked to complete a signature sheet prior to the contest.
Entry forms and rules can be obtained by emailing me at
For more information go to: www.odbba.org
---

Foden's with Michael Fowles

Featuring the British Open and
National Championships test pieces



4barsrest Classifieds
Middleton
Vacancies have arisen for a 2nd Trombone and Front Row / Repiano Cornet player with this friendly and enthusiastic 2nd Sectio...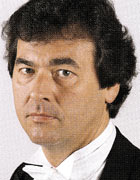 Peter Bassano
FRCM, HonRCM
Conductor, adjudicator, lecturer, writer