World Rankings: August/September update
18-Sep-2009
The latest World of Brass—4barsrest.com Rankings see Cory Band consolidate its position at the top.

---
Following wins at the World Championships in Kerkrade and the British Open Championship in Birmingham, Cory lead the table with a massive lead - virtually guaranteeing that it will finish the year as the world's number one band for the third year in succession.
The main battle now is for second place overall, with Grimethorpe, Black Dyke and Foden's well clear of the other contenders as they approach the National Final and Brass in Concert, at which only Foden's of these will contend both.
Top 10 bands
1. Cory
2. Grimethorpe Colliery
3. Black Dyke
4. Foden's
5. Brighouse and Rastrick
6. Leyland
7. Brass Band Treize Etoiles
8. Stavanger
9. Fairey
10. Eikanger-Bjørsvik
The other contests taking place since the last update were:
Irish Championships—won by Arklow Shipping
World Championships—won by Cory
Picnic in the Park—won by GT Group Peterlee
Welsh National Eisteddfod—won by Beaumaris
Penrith Eisteddfod—won by Warringah
New South Wales Championships—won by Warringah
Victorian State Championships—won by Kew Band Melbourne
South Australia State Championships—won by K&N Spring Gully Brass
Land O' Burns—won by Whitburn
Exmouth Festival of Brass—won by Phoenix Brass Crewkerne
The next update will follow the National Final at the Royal Albert Hall in October.
To view all the ranked bands, go to:
www.4barsrest.com/­rankings/­default.asp
More news stories from this band
---

Foden's with Michael Fowles

Featuring the British Open and
National Championships test pieces



4barsrest Classifieds
Cheshire Constabulary Band
We are looking for a good cornet player who can make a real difference to our otherwise full band. Our smart friendly band ha...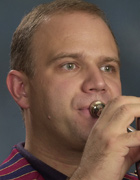 David Daws

Cornet tutor, Conductor