2012 North of England Regional Championship - Second Section retrospective
15-Apr-2012
Malcolm Wood looks back at the Second Section Area contest in Darlington.
---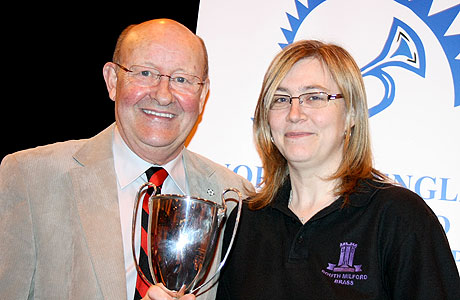 The smile of success for South Milford as they head to Cheltenham
Picture: Steve Jack

The opening competition of the second day saw seven Second Section contenders tackle Dr Goff Richards' 'Cross Patonce'.

As has been the case around the country, all of them found the piece a difficult one to master, but to their credit each dug extremely deep in their committed efforts to produce performances of real merit.

Sympathetic

Adjudicator, David Horsfield was sympathetic towards their efforts. Having reminisced about days gone by with his association with the composer, the former Black Dyke man knew they'd had been faced with a very tough test.

Two in particular stood out for the way in which they managed to capture just the right degree of French folk song inspired style.

Aloft

Clare Bramley of South Milford Brass, screamed with delight as she lifted her arms aloft in celebration, as her band claimed the honours, thanks to a well crafted performance under the excellent direction of MD, Martin Hall.

They delivered some fine ensemble and solo playing (winning the prizes for 'Best Soprano' and 'Best Bass Section), with an intelligent approach from the middle which ensured that none of the tempos were over ambitious.

Having just missed out last year, it was no wonder there was understandable joy as the band celebrated at the back of the hall with the Regional Trophy in their grasp.

Return trip

Making a Cheltenham return trip was York Railway Institute.

Twelve months ago they won the Third Section and on this occasion they showed that they had continued their improvement under the baton of Gordon Eddison with a solidly delivered performance.

They did have their moments of unease, but despite the occasional hiccup they never lost collective or individual confidence (with a cracking prize winning effort from their solo euphonium).

Pipped

Just behind them came Cockerton Silver, who made it through to the Finals last year, but were just pipped on this occasion, despite a fine marker of a performance from the number 1 draw under the baton of the vastly experienced George Nicklin.

Meanwhile, David Hirst, brought all his years of top level experience to bear as he led Durham Miners' Association with a clearly defined appreciation of his band's obvious strengths and weaknesses.

It never quite had enough about it to really put itself in the qualification frame, but it was nonetheless a performance that showed a great deal of potential.

Promise

A very exciting, if somewhat scrappy performance from Northumbrian Water Ellington Colliery also held promise in coming fifth.

The talented Jonathan Fenwick seems to be a young man in a hurry at times – and just a little more appreciation of tempo would have given his free flowing musicality more of a chance to have made a mark on the man in the box.

Brave

That just left Murton Colliery and Ferryhill Town, both of whom struggled with the piece on this occasion.

Brave efforts, helped by sympathetic MDs who certainly knew what their bands could and couldn't do meant that that they both ended in the credit side of the performance ledger.

A difficult work meant that we didn't get to hear some solid bands perform with real consistency.

All can be proud of their efforts with the two qualifiers in particular seemingly in good shape to make a mark at the Finals.

Malcolm Wood
4barsrest Classifieds
Skelmanthorpe Band
The Skelmanthorpe Band are looking to appoint a first class Principal Cornet after the All England Masters. The band rehearse...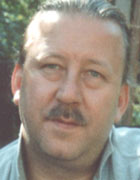 Phil Lawrence
ARCM PGRNCM MFTCL ARCM B.Mus.
Composer and conductor