Thanks for the Memory No 8:
JAMES SCOTT - '…one of life's true gentleman and
someone who believes self praise is no praise…'
By Chris Helme
---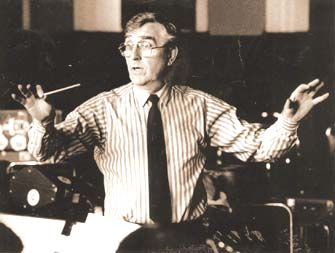 James Samual Scott - conducting
James Samuel Scott was one of the three children of Archie and Annie Scott and was born on the 29th March 1925 in Brackley Street, Farnworth near Bolton, a house that he discovered had been demolished in recent years and now forms part of a car park at a new Supermarket.
He was born into a musical family – whilst his father Archie was employed as a miner he was also a member of the Bass section in the famous Besses o'th Barn Band. From his childhood days James well remembers walking the eight miles regularly to Besses band room with his dad where he would sit and listen on a wicker basket, a place where in those days the band kept their music. Enoch Jackson was their Principal Cornet in those days and on Solo Euphonium was Bert Sullivan someone James was to get to know very well following his invitation to join Munn and Felton's and Bert was then their Solo Euphonium. It was whilst watching Enoch Jackson that James said to his dad 'I want to do that…' – not just play like him but able to commit solos to memory and yes, this was something that in his later years as both he and his cornet playing matured did in fact achieve – no music was ever used for any of his solo performances.
It was as a young cornet player with Eccles Borough that he heard Munn and Felton's playing their 'lap of honour performance' at the Crystal Palace in 1935 once again James said to his dad '…I want to play in that band…' little did either he or his dad know at that time but within twelve years he would be their cornet soloist.
Some of those early memories from his childhood days also included in particular the visits to the all day Sunday rehearsals before Besses tour of Canada in the 1930's when they were to play at the Canadian National Exhibition.
The first local concert he attended was with his dad and that was to hear the Wingates Temperance Band at a local cinema following their success at becoming the 1931 Crystal Palace Champions. That old cinema in those days was just a short tram ride away from their home and even today almost 70 years ago he can still sense the excitement of that tram ride with his dad, little did he know then what he would achieve in his later life in the cut and thrust of contesting in the world of brass bands.
Another lasting memory was being taken by his dad to hear the mighty Fodens Band at Bolton Town Hall, on that day he heard them play 'Seven Suite' which had been written by Edward Elgar for the 1930 Crystal Palace Championships. It was Fodens under their conductor Fred Mortimer who were crowned champions for that year. Another treat for young James at that performance was hearing Harry Mortimer play 'Alpine Echoes' – and all this before he had even started at school.
He attended the local junior and infant St Gregory's Boys School in Farnworth but with his family leaving the district and moving to Nuneaton he left that school on the 27th March 1936. James would be the first to say that he preferred playing his cornet than his school studies.
He had his first cornet lesson with Herbert Brookes a local man and a well respected cornet player back in those days - his first cornet was given to him on his eighth birthday. He made rapid progress under Herbert's tuition, so much so that he was then given lessons by Clifton Jones the famous Irwell Springs Principal Cornet player and someone who later held the same prestigious position with the Bickershaw Colliery Band.
At the age of nine he was taken to join his first band the Ellenbrook and Boothstown Band and remembers going out carolling during the Christmas of 1933. This band is still going strong today and over its long history has produced a number of top class players – including Mark Wilkinson the current principal cornet player with Foden's.
At the ripe old age of ten James was on the move – he joined the Eccles Borough Band and as their new 3rd cornet player, this was also the band his father had joined after he had left Besses. He was now a member of the band that for almost twenty years had competed along side some of the leading names in the brass band world at that time. It was on Monday 2nd September 1935 when he stepped out on to the stage at the Kings Hall, Belle Vue to take part in his first British Open Championships as the youngest member of Eccles Borough aged ten playing Dr Thomas Keighley's 'A Northern Rhapsody'. He is the youngest player to have done that but then on Saturday 28th September 1935 at the Crystal Palace he took part in his first National Brass Band Championships, playing Kenneth Wright's test piece 'Pride of Race' once again under the baton of their conductor the legendary cornet player Clifton Jones.
Life was tough during the 1930's particularly for mining families – in those uncertain times miners would move from one community to another seeking work. James well remembers when he was 12 years old his family moved to Nuneaton where his father got a job working down the Griff Colliery in Nuneaton and also a place in the Griff Colliery Band. James in the meantime became the Principal Cornet of the Ibstock United Band, a band which many years later became the nationally successful Desford Colliery Band.

As he got older he continued to make excellent progress, in 1940 then aged 15 years old he was invited to be the Principal Cornet player with the City of Coventry Band under the baton of George Thompson. Readers of this profile will see a common thread running through his story - all the bands he has been involved with he has always enjoyed his stay irrespective of how long or short that stay might have been and the City of Coventry Band was no exception - James well remembers playing at the band's first radio broadcast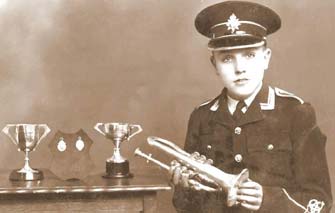 James Scott - 12 years of age. Photograph taken in Nuneaton in 1937 after James had joined the Ibstock United Band, a band which many years later became the nationally successful Desford Colliery Band.
In 1942 George Thompson left Coventry to take over as the Musical Director at Grimethorpe. It was after he had gone to Grimethorpe that George approached James's father and asked him if he would bring him along to one of their rehearsals – that was in June 1942. After that rehearsal and at the age of eighteen James was then appointed as the Principal Cornet of one of the brass band movements rising stars Grimethorpe Colliery Band. It was during the tenure of George Thompson that Grimethorpe was transformed into one of the foremost brass bands in the country – a reputation that is still maintained to this day.
Moving to Grimethorpe saw James move into lodgings at home of Mr and Mrs Dean at 37 Ladywood Road – the White City end of Grimethorpe. This was a popular street for Grimethorpe players with the late Brian Cooling - the cornet player who it has been said could play almost all the Arban studies from memory, living at the same address some years later. At number 39 lived Barry Thompson the band's 1st Horn for many years. Initially James sat next to Wyn Moore the principal cornet player but was soon moved up to the 'end chair...'
It was however, his eventual move to Munn and Felton's Band in 1947 that developed him from simply a good player into one of the foremost cornet players of his generation. It was whilst in this position that as their Principal Cornet he won the Cornet Championships of Great Britain in 1959 and 1960. Initially he was second man to Hugh Huggins and played all the 'stand up' solos but musical director Stanley Boddington moved James onto the '…end chair'.
In 1963 through a venture into sponsorship Munn and Felton's Band became known as the GUS (Footwear) Band and then following a further change of sponsor the band became known for a short while as the Rigid Container Group Band and then reverted back to its more familiar name of the GUS Band. Times have moved on again with the band now called the Travelsphere Holidays Band.
Looking back to those early years it all began with a telegram he received whilst playing for Ransome and Marles asking him to go for an audition at Munn and Felton's – a telegram might sound rather grand but remember few householders had a telephone back in those days.
Arriving at Kettering on the following Saturday James played two solos for their conductor Stanley Boddington – the audition took place in what was called the Leather room. James remembers being surrounded by roll upon roll of new leather waiting to be moved in to the shoe factory. The smell of leather is something that has never left him not just from that day of the audition but once having accepted the invitation to join the band he worked in that same room for the next ten years.
It was Fred Felton who took James to one side after the audition and told him that Stanley was very enthusiastic about him becoming a member of the band and then invited him to join – Stanley never said a word - those that knew Stanley will remember he was a man of few words. Joining the band also meant that the job in the leather room as well – and all for £6.10 shillings a week. Even at twenty two years old James was still one if not the youngest member of the band in 1947 – these days at the day age you're as good as an old timer…
The bandroom was at the top of some stairs high in the factory roof – punctuality was the primary concern for Bertie Felton – he would be standing outside the bandroom door expecting everyone to be there no less than three minutes before the rehearsal was time to start. You knew as you walked up the wooden staircase that if he had his gold watch and Albert chain in hand you were pushing your luck and literally ran up the last few steps. His attitude towards punctuality was a constant reminder in the bandroom itself with a large wooden clock hung on the bandroom wall bearing the inscription '…Harmony sublime…always on time…' this is a maxim James often thinks about these days.
The Munn and Felton's factory was not all that big but it was generally felt that the name was so big because of the stature of the band. They employed about 250 people and included the twenty seven members of the band – which amounted to little more than ten percent of the entire work force. So you could imagine with that percentage missing during the band's summer season the work load for the remaining employees when up considerably.
James recalls 'Working on one of the cutting machines was frightening just to watch – manually operated – the steel knife as it came down could quite easily taken the finger ends of one of us new boys…'.
Youngsters often complain about having to wear a uniform these days but back in the early days at Munn and Felton's the uniform James had to wear was one modelled on the Dragoon Guards style of uniform – a tight jacket with the Austrian style knots across the front, the kind of jacket the lion tamer at Belle Vue would have been more at home wearing. Shiny leather belt with a shiny black pouch was fastened on the back and there had to be no finger marks on the shiny leather either…and that was only half the uniform of course the tight trousers had the traditional wide red tape running down the outside of each leg and of course the elasticated strap that went under each of the black shiny boots and to finish it off you had to wear a cape with the red silken like lining as well.
Today you often see band personnel walking about after they have played without their bow tie or long tie and even their top shirt button gaping open. This situation would never have been tolerated in those early post war years – even the starched neck collars had to be kept firmly in place, held together with a hook and eye fastener - the order of the day irrespective of the weather. The cape of course was not for inclement weather for those occasions each band member was issued with a great coat a coat so big that it almost touched their ankles – those were the days when deportment really mattered.
There was a big day in 1948 James recalls, it was when finally the days of the heavy uniform were numbered because they were issued with a new but more importantly it was the much lighter Mess type jacket uniform. James thinks that it was Fodens who where the first brass band to go down that road for their 1936 South African tour and participation at the Empire Exhibition in Johannesburg.
For every job they were issued with very strict instructions on times, venue and which of their eventual four uniforms they would have to take with them.
James also recalls their gruelling concert schedule – in a three week season of concerts in Scarborough for example they used to do three concerts every day with just a Saturday evening off and there was a carefully worked explanation for having that evening off as well – the turn around. Let me explain – think back to the days of your own holidays you would leave on a Saturday and arrive on the coach later that day have a week or a fortnight and then leave by the same coach on the Saturday morning – turn round day.
The first concert of the day was in the morning playing for one and a half hours around the swimming pool. From there they had to man handle the instrument cases and drum kit down the Cliff Gardens that was because the coach could only get them to the Esplanade at the top of the cliffs. A short break for lunch back at the digs and then on to Peasholme Lake and perform from 3pm through until 5pm another short break and then back again for another concert 7pm through till 9pm.
James remembers those were the easier jobs – the resting jobs involved playing in Princess Street Gardens in Edinburgh – onto the coach and travel through the night to Eastbourne. The band arrived with just enough time for the members to have a wash and shave and a spot of lunch and then to the stage for the afternoon concert. The dash from one engagement to another was often a hair-raising experience.
On one occasion whilst the band was playing under the protective cover of a marquee in Plymouth and the weather outside was almost at gale force conditions. It became so bad that it almost blew the marquee away taking the band with it. Once the concert was finished the band members made the dash for the coach and onto their next concert which was in Scarborough. In the comparative comfort of the coach James and the rest of the lads were looking forward to get a few hours sleep. This was short lived because whilst travelling down a steep hill through Exeter the brakes failed on the coach - but for the driver continually driving into the grass banking at the side of the road actions which gradually brought the wrecked coach to a stand still. Just what Bertie Felton thought about it as he followed the coach in his Rolls Royce has never been recorded but he made the dash to Exeter to organise another coach having failed to secure the services of an aeroplane to take the band. Throughout all this the band still had to be in Scarborough for the next day's concert – in the end they missed the afternoon concert which in the eyes of Bertie was a disaster mind you James heard later that the marquee they had played in Exeter had been blown into the sea.
Those were the happy days of touring and days that James will never forget – particularly the camaraderie and friendships many which have stood the test of time - would the bands of today cope and have the stamina for such a tight schedule of engagements probably not.
James Scott is a gentleman who believes self praise is no praise; therefore it is left to others to extol his virtues as a cornetist. His technique was flawless, his sound was sweetness itself, yet powerful and incisive when required on a rare recordings of him playing Del Staigers arrangement of 'Carnival of Venice' and 'Silver Threads Amongst the Gold' which had been arranged specially for James by Stanley Boddington. Both these solos were recorded in 'one take' at the famous EMI Abbey Road Studios where Munn and Felton's recorded all the Bandstand series of records. His early retirement from playing particularly after winning the Solo Championship of Great Britain twice – in 1959 and 1960 came as a shock to many people. It has been said many times since by commentators that his early retirement at the age thirty-five cheated us all of hearing the best of James Scott, cornetist. Now I have put these on to a CD I find it a pleasure to listen to his masterful playing and for making it sound so easy.
In 1953 for a couple of years James left Munn and Felton's and joined a new band the J. H. Whites (Footwear) Band as its principal cornet. This band had been formed by John White himself who had a factory at Rushden near Kettering and had recruited players from all over the country. However, as a manufactured band it did not work out and by 1955 the band was disbanded. It was during this time that Alan Smith joined Munn and Felton's as the new Principal Cornet. However, following the demise of John White's Band James went back to Munn and Felton's and after Alan left he was given the '…end chair…' James recalls some happy times during those two short years – in 1954 CWS (Manchester) Band came to perform a joint concert with our band at Rushden. All the members of the CWS were put for the night by members of Whites and James well remembers that it was Derek Garside who lodged at his home on that night.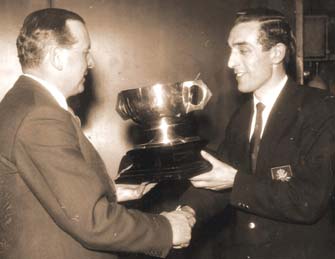 James accepts the Solo Champions cup for the second time in 1960
So why did he decide to retire at a time when the same commentators were saying '…at his peak…' with the urge to try his hand at conducting James says that he felt it was the right time. The spring of 1960 saw the arrival of a letter from the managing director of Cammell Lairds at Birkenhead asking him if he would be interested in moving to become the musical director of their works band. This took a great deal of serious thought – it was a gamble of course with no guarantee of success however, he decided to take the plunge, his desire to conduct a band had to start sometime.
He moved back north where he began what was to become a successful conducting career and at the same time was gaining valuable experience as a Trumpet player with the major northern symphony orchestras which included the Liverpool Philharmonic, City of Birmingham Symphony Orchestra and the BBC Northern Symphony Orchestra (now the BBC Philharmonic Orchestra).
During his 1960 solo performance, the occasion he became the Solo Champion of Great Britain for the second time a young cornet player was standing in the wings watching and waiting to follow James on stage - this was young man was Roy Curran the current musical director of the famous Wingates Band.
Roy has vivid memories of those far off days – the golden age of star cornet players, each one a role model to those up and coming players. As Roy watched him play he recalls that James always played to the highest standard in a manner that could only be described as effortless. His presence on stage was that of a refined gentleman, immaculately turned out and the consummate professional at all times and a player that stood head and should above the rest.
Having watched and listened to James in action in the 1960 solo contest it was then a pleasure to have the opportunity of sitting next to him and listening to him play as a freelance member of the orchestra – even as his bumper-up. This gave Roy the ideal opportunity to tap into James many years of knowledge and experience in the brass band world. During the 1970's Roy was the highly credited musical director of the Birmingham School of Music Band who in 1979 were awarded 3rd place at the National Brass Band Championships at the Royal Albert Hall and that was playing off number one. The following year he was there again but on that occasion the band was not in the prizes. Throughout this period Roy received a lot of help and sound advice from James – something he has always appreciated and never forgotten.
By now James was in great demand by many of the top bands and his time was also spent adjudicating at many contests throughout the country the demands on his time finally became too much for him to continue with his freelance trumpet playing.
Since that time he and Roy have regularly met on the contest circuits and was very pleased when James agreed to be a special guest conductor at Wingates 130th anniversary concert as one of Roy's oldest friends and of course one of Wingates former musical directors.
Those first few months with his new Cammell Laird Band were hardly the success he had hoped for and thought to himself that he had made a huge mistake in accepting the position. The band was in the third section band when he first joined them as bandmaster and Rex Mortimer as their professional conductor – James still thinks of it today as his apprenticeship into the world of conducting. Rex stayed a couple years and then it was left to James and gradually they began to improve.
During the mid 1960's they did particularly well climbing the contest ladder – James attributes this improvement to the fact that the membership of the band remained stable throughout those years with the exception of a couple of policemen who moved on through their police work – the band was a team.
James led the band to their first appearance in the National Finals at the Royal Albert Hall in 1964 when the test piece for that year was Gilbert Vinter's 'Variations on a Ninth' - the band played off number 24 and was the last band on that day. They played far beyond their expectations to come through and took 4th place behind GUS (Footwear) Band – (conductor Stanley Boddington); Black Dyke Mills Band – (conductor Major C.H.Jaeger) and CWS (Manchester) Band - (conductor Alex Mortimer).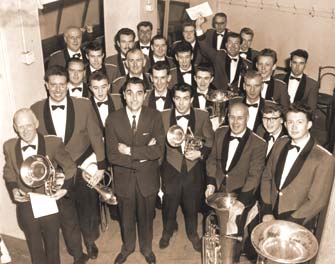 All smiles for James and the members of the Cammell Lairds Band as they wait their turn back stage at the Royal Albert Hall
The peak for James with the Cammell Laird's Band was the following year when the test piece was Gilbert Vinter's 'Triumphant Rhapsody' when they came through to take the runners-up prize behind the champions for that year Fairey's and their conductor Leonard Lamb.
Further visits to the National Championships in London followed in 1966 when again they were placed fourth behind the winners GUS (Footwear) Band - (conductor Stanley Boddington) with Black Dyke Mills Band - (conductor Major C.H.Jaeger).
Although they were not placed in the 1967 final and failed to qualify for the 1968 final James took them again in 1969 on Eric Ball's test piece 'High Peak' and led them home to sixth place behind Brighouse and Rastrick – (conductor Walter Hargreaves); Black Dyke Mills Band – (conductor Geoffrey Brand); CWS (Manchester) Band – (conductor Alex Mortimer); Grimethorpe Colliery Band – (conductor George Thompson) and GUS (Footwear) Band – (conductor Stanley Boddington).
The band's final visit to the Royal Albert Hall was in 1970 (the test piece was Gordon Jacob's 'Pride of Youth') being led by James for the last time – sadly on that occasion they were not placed. By this time shipbuilding was in decline and the Cammell Laird directors decided that band had to go.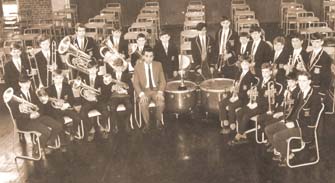 An old school photograph of the Moreton Secondary School Band taken in 1968 in the school hall after the band won the Crosby Music Festival. James Scott was the conductor. Former cornet player with this band Stephen Cooke remembers the music they played to win '…Puppet on a String…' and '…The Golden Cockerel…' – happy days!
Over his long and distinguished career he has conducted many of the best British brass bands including; Brighouse and Rastrick; Grimethorpe Colliery Band; Fodens; Wingates; Whitburn; Tredegar; Yorkshire Imperial Metals Band and in 1994 took Northop Silver when they played Peter Graham's 'The Essence of Time' to become first section champions.
In 1972 he had an unsuccessful year at the Nationals with Rochdale Wilson's Band although he did stay long enough to make a long playing record with them, one of about thirty he did throughout his career with the various bands he has been associated with.
Following the departure of Professor Walter Hargreaves after the 1972 National Finals the search was on to find a replacement at Brighouse and Rastrick. In January / February of 1973 an approach was made to James. He made an impact immediately when he led the band to first place at the Royal Albert Hall on Hubert Bath's test piece 'Freedom'.
There are many stories told about James Scott during his days at Brighouse and Rastrick– all of them emanating from his friends. One of the famous examples involved a number of the Brighouse and Rastrick players who were taking part in a friendly 'slow melody' competition in their hotel room on their 1973 Swiss tour – whilst the person who revealed the story suggested perhaps he and his fellow bandsmen were not at their best after socialising most of the evening to take part in such a competition they still tried. James was present but initially could not be tempted to take part pointing out that he had not played seriously for some considerable time. Now unlike the slow melody competitors Bobby Platt, Jeff Hirst, Tony Whittaker, Brian Evans and Les Beevers, James was immaculately dressed as usual in his shirt, tie, blazer and smoking his familiar pipe however he did finally agree with, a high degree of reluctance to take part in this impromptu slow melody competition. He borrowed a cornet and played 'Shylock' from top to bottom without any music and also played the tutti parts as well – needless to say his friends just sat there open mouthed and little option but to award him ten out ten – and this was close to five in the morning.
In 1975 following Brighouse and Rastrick's success at becoming the Granada Band of the Year he left to take a similar position at Fodens Motor Works Band. His Midas touch soon followed when Fodens were crowned Champion Brass winners – BBC TV North West, similar success however did not follow that year or in 1977 either at the Nationals.
Steve Cooke has had connections with Fodens Band for over twenty five years and recalls life under the baton of James Scott:
"…I first met Jim Scott when I was in my early teens (around 1965). He was appointed brass tutor for Wirral schools and I was fortunate enough to have weekly lessons from him. He was a terrific tutor, with bags of experience and ability plus a seemingly endless knowledge of the subject.
He was the conductor of the Wallasey Youth Brass Band and the Brass Tutor for the Wallasey Youth Orchestra. The youth orchestra held an annual week's residential course at Burton Manner on the Wirral and Jim Scott was the brass tutor. It was a week where we learned a tremendous amount from him and had the opportunity of playing as a brass group tackling varying types of music.
I also played under him at Cammell Lairds for a couple of years. I believe he then spent some time with Brighouse before coming to Fodens. He invited me to come to Fodens in 1976 where he had been given the task of rebuilding the band. The band had been together for quite a long time and played to a very high standard but unfortunately players were looking to retire and new blood was required. This can be a long job when several replacements are made and it took a while for the band to gel. He was very keen to instil pride in the players and to bring the name Foden back to the very top of the banding movement.
It is difficult to remember much detail of his time at Fodens as it is over 25 years ago but I can remember that only the highest quality playing would be accepted and the band was worked very hard to try and achieve this…".
In 1977 James was awarded the 'Iles Medal' by the Worshipful Company of musicians of the City of London in recognition of his contributions to the brass band movement.
The following year playing the Sir Arthur Bliss test piece 'Checkmate' off number 15 they were awarded fifth place. He also took Grimethorpe Colliery Band to the Mineworkers Contest (areas) that same year. He was back again with Grimethorpe in January of 1979 and stayed with them until November 1980 during which time they took first place at the Mineworkers Contest in Blackpool playing 'Connotations' as their own choice test piece and first again the following year at the Mineworkers Contest playing 'Plantagenet's…' This was as in addition to the Yorkshire Area Finals where in 1979 they were not placed playing 'Variations for Brass Band' but the following year were placed 3rd playing 'Beatrice and Benedict'. In 1980 at the British Open Championships they were placed 6th behind winners Yorkshire Imperial Band playing 'Energy'. That same year at the Nationals playing 'Carnival Overture' OP92 they were awarded 4th place behind the winning band and one of his former bands Brighouse and Rastrick. In 1983 following their earlier success at Blackpool they were awarded third place at the British Open Champions once again playing 'Connotations' but at the Nationals that year playing 'Ballet for Band' they were placed 4th behind Cory Band.
In 1984 sitting alongside William Relton and Sir David Willcocks was the first time James was invited to adjudicate at the National Finals at the Royal Albert Hall. That year saw Cory under the baton of Major Arthur Kenny take the coveted title for the third consecutive year playing Edward Gregson's test piece 'Dances and Arias'.
The following year he was back at the Royal Albert Hall only this time he was conducting Yorkshire Imperial Metals Band and took them to a third place behind winners Black Dyke Mills Band playing John McCabe's 'Cloudcatcher Fells'.
In 1986 James was once again at the helm of another famous band – Wingates who were then called – British Aerospace Wingates – incorporating the then name of their then sponsor. James conducted them at the North West Area Championships contest but they were not placed and were also unsuccessful at the British Open Championships in the same year.
Later that year James was back at Leeds conducting the then named IMI Yorkshire Imps Band at the Yorkshire Area Championships contest but were not placed. It was whilst conducting Yorkshire Imps that what can only be described as a conductor's nightmare happened. The band was performing at a prestigious concert in Warrington and the band having already gone to the concert platform left James in his dressing room waiting to be introduced by the compere. He left the dressing room as the band had now gone onto the stage. Suddenly he heard '…and presenting their musical director Mr James Scott…' rather than waiting for James to arrive and see him in the wings and then introduce him James was still making his way from the dressing room to the stage and suddenly found himself lost in a maze of corridors and false trails to the stage. What seemed like hours but was probably nothing more than a few seconds James found him self suddenly at the stage where the audience were quite oblivious to his plight but as James recalls it was plain to see the band were more amused about it that anyone else.
In such a long career these kind of problems are bound to happen now and then – for example on another occasion at a venue many older readers will recall from their own playing days - Peasholme Park in Scarborough not long after the war. It is certain that James will not have been the first or the last to have made that treacherous rowing boat journey across the Peasholme Park Lake to the central island bandstand. For those not familiar with this engagement – players were ferried across the lake in groups six or seven at a time. As the rowing boat arrived back at the jetty the next group would step off on to the waiting boat – James stepped out but suddenly found the boat had moved and in he went although it was only up to his knees he had fallen in completely and was soaked from head to foot – ah, the joys of banding…..!
It was during the early 1990's that the concept of a band comprising of the older end of the brass and world was being discussed by some of these veteran players in the dark corners of local hostelries. Light hearted conversation and banter about the old days in the world of top class banding. It was during these nostalgic reminiscences that someone would always suggest it would be a good idea to put a band together of some of these legendary players and personalities from the past.
The conversation became more serious when the same people began putting a list of names together as possible people to invite to join. The first thirty names were easy but this also brought in the doubters about what seemed a good idea – at least whilst talking about it in the pub. The doubts were set aside and the result was the birth of the 'Kings of Brass'. The qualification to being in this living tribute was a) the individual must have at least 40 years in brass banding at the highest level and b) by reputation and c) Bald, grey and still able to maintain a distinguished appearance – not having your own teeth was acceptable. Who should conduct such a musical team was probably the easiest task of all – who were the two names that meant so much to that era of brass banding and still command the respect of everyone. Without doubt the two were James Scott and Geoffrey Whitham (perhaps on another occasion we will delve back into the past of this legendary character). During the seven years that James was associated with Kings of Brass until the members decided to call it a day at their final concert in the Isle of Man in May 2001. He describes those years as a joy not only for the musical pleasure they all had from it but also the camaraderie and social pleasure that spending time again with old friends and colleagues.
This was not the first time that James had been involved with a band of this kind. During the late 1960's and early 1970's he was involved with the Virtuosi Band of Great Britain. Whilst it is widely known that he was the musical director conducting on the fifth recording of the nine the band made. It is however, hardly remembered at all that on the second recording the band made he was a playing member of the recording and was sat down on second cornet.
Whilst James now spends much of his time adjudicating and conducting at band contests and music festivals at both home and abroad, his services are still in demand at the highest level. This year he was invited to conduct the CWS (Glasgow) Band at the British Open Championships and the National Championships which will mean that since his first tentative step onto the Belle Vue stage at the British Open in 1935 and now at the Symphony Hall in Birmingham in 2003 will see a span of sixty eight years something that has never been matched.
Reflecting back on his long and distinguished career he has thought about the contest results that passed him by when even he thought - that one might have gone our way. Over the years he has become quite philosophical about these results and usually in the cold light of day, a day or two after the performance and the adrenalin has subsided and a reassessment of the performance follows – just may be it was not quite as good as we first thought. Having been on the adjudicating circuit for so long and remembering these disappoints they have helped him to make a more balanced perspective on these events.
I have asked James about his own personal favourite players and bands – for ever the diplomat he says that there are a few players of outstanding ability in all instruments and would be hard pressed to pick out an individual favourite. He gave a similar response when pressed about his favourite band. There are three or four bands that have astonishing technical ability any one of them can give immense pleasure at different times.
Does a man who has had his level of success over such a long period of time have any unfulfilled ambitions? Through his conducting career surprisingly he never managed to conduct the winning band and Belle Vue or the British Open Championships. However, with almost all his ambitions having been achieved from wanting to play with the Munn and Felton's Band to being a freelance Symphony Orchestra trumpet player there is one non musical achievement that his really proud of.
James left school at the age of 14 with few academic qualifications – something that he always regretted however, for the rest of his life when he was not practising or performing he could always be found with his head in a book becoming an avid reader over the years. At the age of 69 he saw an advertisement about the Open University and decided immediately to enrol for a degree course. He began a study course at Liverpool University and after five years of painstaking hard work he finally stepped out with a degree in Art which had a major emphasis on both history and literature.
I am sure that his parents Archie and Annie would never have believed that one day not only would young James leave a lasting memory on the world of brass bands but would also graduate from a University with an arts degree, something that a poor mining family from Farnworth would ever have dreamt of happening to anyone in their family.
Previous 'Thanks for the Memory' articles:
• No. 7: Sounds of the 70's - Yorkshire Imps - more...
• No. 6: David Read - more...
• No. 5: Derek Southcott - more...
• No. 4: Rowland Jones - more...
• No. 3: Louis Allison - more...
• No. 2: Willie Barr - more...
• No. 1: Derek Garside - more...
© Chris Helme 2003
© 4BarsRest
back to top