Thanks for the Memory No 6:
DAVID READ - 'the quintessential British Bandsman'
by Chris Helme
Taking part in the second section contest at the Yorkshire regionals brought back memories to that first time - is it really forty two years ago, where have all those years gone.
I remember back in those days all the older players talking about the different adjudicators who would be tucked away out of sight whilst each of the participating bands came out and played their best. I am sure just as this year's area contestants would hope they had not left their best performance back in the bandroom.
As a youngster I would scour the programme the names of the adjudicators would catch my eye - most of the names meant nothing to me - who were these mystery men in grey suits, what did they know, had they ever played and were they any good. Knowing a bit more now than I did in 1961 they were the highly respected elder statesmen of a thriving national movement of the time.
Whether today's youngsters look through this year's programme and think the same thoughts we did all those years ago I cannot say but do the names of the adjudicators mean anything to them.
This story is about one of the brass band movements most respected adjudicators and will give an insight into David Read. He is always or seems to be at all the big contests - once you have read my story about David I am sure you too will agree that the respect he is given is richly deserved.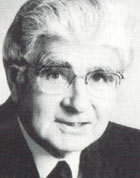 David Read FLCM; FTCL; LRAM; ALCM

David Read was born on the 28th September 1933 in a Welsh mining village called Senghenydd which is situated between Pontypridd and Caerphilly (the site of the biggest mining disaster ever recorded in Great Britain when 440 miners were killed on the 14th October 1913). He was the only son of George and Elsie Read. He came from a mining family which began with his grandfather Jack Read who worked in the colliery at the time of the accident but was not killed - his father was also a miner. David only lived in Senghenydd for two months when the family moved north to Askern a small mining village near Doncaster in South Yorkshire.
School life for David began at the local Sutton Road Infants School in Askern and then moving up to the Selby Road Junior School and then in 1945 went to Percy Jackson Grammar School, Adwick-Le-Street. As a child he often heard the Askern Band playing in parades during the war years and in 1943 then aged nine he decided that he wanted to play the cornet.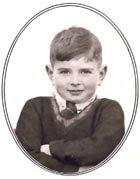 David Read - School days of the 1940's
Many of the Askern bandsmen lived on the same street as David which made it all the more easy for his father to arrange with one of the bandsmen to take him down to their bandroom.
Askern Band was formed in 1921 and its first conductor was William Tamms whose son Robert (Bob) is still alive and remains a close friend of David. He recalls that it was Harry Bellamy a neighbour and member of the band that took him in hand and gave him his first instrument and promptly told him to go home and blow it. This advice from Harry did little to help him because he had no idea how to produce a sound. Things gradually began to improve when along with a few other youngsters Harry gave David his first lessons on a Saturday morning in his kitchen. Of course back in those days brass tuition given in schools was a thing of the distant and certainly not available in those far off days. After about twelve months and David was making reasonable progress another man George Broadhurst, took over his tuition.
George was an excellent tutor and spent many hours with David teaching to play slow melody's up to a standard where he could enter the local slow melody contests which in those days were almost weekly events in the South Yorkshire and Nottinghamshire areas. George took David to one of these competitions almost every couple of weeks where he became quite successful in the Under 16 age section, winning a few prizes and then going to be reasonably successful in the Senior Section as well. Back in those days the regular winner was William (Bill) Skelton. We all called him the '…Prince…' because one critic wrote of him, "surely this man is the Prince of Horn players" and the name stuck even into his adult life.
Following on from George Broadhurst his tutor was then Eddie Pearce who was also the conductor of the Askern Colliery Band. David still has the greatest respect for his old tutor because he feels that his early technique which was taught by Eddie laid him in good stead for his future long and very successful career.
Jack Boddice who had been a very fine Euphonium player and conductor in the North East became the conductor of Askern Band which following the 1947 Nationalisation of the mines became the Askern Colliery Band. The band had a reasonable amount of success under Jack particularly in the West Riding Contests and the Spring Belle Vue Contests. David had progressed from the 3rd cornet position to the Assistant Principal Cornet player. For many years before the Second World War the professional conductor of Askern Band was the legendary Harry Mortimer who also had a degree of success with them. Needless to say this was many years before David came on to the scene.
At the age of 15 following his successes in the solo competitions he was beginning to be noticed by the bigger bands in the area and following an approach by the Carlton Main Frickley Colliery Band he was invited to join them.
Another of his tutors who he remembers so well was Wilf Hardy who had been the Principal Cornet player of the famous Callendars Cable Works Band before the Second World War and was a cornet player when David first joined at Carlton in 1949.
Carlton Main rehearsed in South Elmsall which was nine miles from his home and with there being no direct bus route David had to cycle too and from the rehearsals with his cornet strapped to his back.
As a 15 year old moving up from Askern Silver Prize Band David recalls '…I found the sound produced by Carlton Main quite breathtaking this being my first taste of first class banding...' The first item we played at that first rehearsal was the overture 'Beautiful Galatea' by Sousa (preparing for a BBC broadcast) A name that needs little introduction particularly in the North of England is that of James Hickman (who in later years was the Bandmaster of Brighouse and Rastrick Band for many years) was the Resident Conductor at Carlton at that time having taken over from Albert Baddrick with Eric Ball as the band's professional conductor. These were good days for David and he still remembers the happy times he spent at Carlton and has a number of close friends today that he first met all those years ago. Jack Wesson, a member of the famous Wesson Trombone family who is living in Australia now and Alec Garbett are just two of those from the old days. Alec Garbett played 2nd cornet throughout his playing career and knew all the second cornet parts inside out and has been a marvellous teacher and responsible for teaching many of our best players such as Roger Webster and Stan Lippeatt just to name two.
His first September Belle Vue, which of course is now known as the British Open Brass Band Championship contest, which is held at the Symphony Hall in Birmingham these days, was in 1949 with Carlton under the baton of Eric Ball when the test piece was 'Rhapsody for Brass' by Dean Goffin. Although they were not in the prizes that year they had been placed third behind winners CWS (Manchester) Band playing 'Music for Brass' the year before.
The band was very progressive for the time being one of the first bands to organise and tour abroad along with Fairey's and Fodens. In 1949, 1950 and 1952 they toured Holland which was certainly a new experience for a young David Read.
After the 1949 contest David was promoted from playing Repiano Cornet to Assistant Principal Solo Cornet sitting alongside Principal Cornet player George Dunn. In 1950 the September Belle Vue contest piece was another piece by Eric Ball 'Resurgam' - the band was now conducted by George Hespe, who went on to conduct Cresswell Colliery Band, Ferodo and Black Dyke Mills Band, on this occasion Carlton were placed third. The band also qualified for the National Brass Band finals at London in 1952 at the Empress Hall. The test piece that year was 'The Frogs of Aristophanes' and although playing off number two the band who were again under the baton of George Hespe was not in the prizes.

During the early 1950's the band also had William Scholes who was the conductor of Rushden Temperance Band and Alex Mortimer who was the conductor of Black Dyke Mills Band as their Professional as well as George Hespe. Playing under these giants of the post war band world gave David valuable experience in his very early years.
With Carlton David took part in many massed band concerts which gave him the opportunity of playing under top class conductors which included: Denis Wright, Charles Groves (later Sir Charles), Sir Adrian Boult, Sir Malcolm Sargent. One of the most memorable massed band concerts from that period was in Huddersfield Town Hall when alongside Brighouse and Rastrick, Fairey's and Carlton under the direction of Sir Charles Groves
Willie Lang who had recently left Black Dyke as their Principal Cornet player to join Brighouse & Rastrick sat next to David at that concert. He can still remember being absolutely thrilled with his playing particularly during one of the movements from Denis Wrights 1940 concert piece 'A Handelian Suite' called 'The Air'. David describes it still as one of the most beautiful and memorable pieces of playing he heard from any one before and is one of those lasting memories that still stand out all these years later.
Another memorable performance was at the same venue when he heard the guest cornet soloist Ken Smith, who had come over from New Zealand to play with the Fairey Aviation Works Band as Assistant principal Cornet between 1949 and 1954 - a truly magnificent player, whose performances changed the style of our solos previously played by our own soloists.
On the band's third trip to Holland in 1952 David had to take over as Principal Cornet because on that trip the sun was out all day and everyone had the opportunity of sunbathing out on deck. One of those was the band's Principal Cornet player George Dunn who ended up with a nasty sun blister on his lip which prevented him from playing at all. So for the duration of that two week tour David had to play all the solos that George had rehearsed - a daunting task but one that gave him tremendous experience. George's problem lasted from early August right through to the September Belle Vue contest which meant that David had to rehearse the Principal Cornet parts right up until the night before the contest when George walked into the bandroom announcing that he felt he was now fit enough to play - George Hespe was far from pleased having been very happy with the way David had played the part. The test piece was 'Scena Sinfonica' by Henry Geehl and was the Centenary Contest that year and was won with a memorable performance by CWS (Manchester) Band and their conductor Eric Ball.
In April 1953 saw a turning point in his musical career when he joined the Regimental Band of the Welsh Guards for his National Service. David did not have to be auditioned to join the band as he came highly recommended by George Hespe who had written to Captain Statham the Regimental Bandmaster. Shortly afterwards David received a letter from Captain Statham which directed him to go straight to the Guards Depot at Caterham to carry out his initial twelve weeks training and then join the
Welsh Guards second band up in London where he would play Solo Cornet. At this time the first band was away on its summer tour of the British seaside venues.
In August 1953 David recalls having to leave the second band to travel to London to join the first band at Heathrow Airport for a tour in Canada. At the airport whilst waiting for their departure time David and the band looked around and mingled with the other passengers. Suddenly he was approached by an elderly gentleman - David explained that he and the others were members of the Welsh Guards - the elderly gentleman looked at him some what quizzically - David went on to explain that they were members of the Welsh Guards but were all in civilian clothes and were going on a tour of Canada. The elderly gentleman said 'Do you know who I am' - 'No' came the reply - 'I am Captain Statham the director of music' - David was left speechless because he had never actually met him - Captain Statham put him at ease and said' I have heard some good reports about you Read and I look forward to hearing you play'
The Principal Cornet player with the Welsh Guards in those days was a very fine player who some readers may remember - Rowland Cobb, who was also the Principal Cornet player of the International Staff Band of the Salvation Army. When they got to Canada and were rehearsing on the band show which was for the Canadian National Exhibition he looked down the row of front row cornets and said 'Read, do you know this trio we are going to play…' the music was 'Three Jolly Sailor Men', a piece regularly played on brass band concerts and one that David had recorded with Carlton but was a piece comparatively new to the military band circuit. 'What part have you played…?'
'The second part' David replied. With this he was told to join him out at the front with Musician Piumarta to play the second part of this trio. Neither Captain Statham nor the band knew the piece but David did and consequently at the concert made a good job of it - so much so that he was invited to become a regular member of the first band of the Regimental Band of the Welsh Guards.
A gentleman called Tommy Morcambe was the well known secretary of the Morris Motors Band in Cowley, Oxford and he knew that David had joined the Welsh Guards and wrote to him inviting him to come along and join their band. At this time he was playing with the Odhams Press Band who in those days was conducted by Jim Thompson but once having received the letter he decided to leave them and join the Morris Motors Band during his service with the army in London - some readers may be surprised to hear that but in those days it was quite within the army regulations to play with a civilian band at the same time as the army band.
That move brought David in contact with Harry Mortimer and a lasting friendship right up to Harry's death in 1992. This friendship with HM developed during the twice weekly train or car journey they both took together up to Cowley. During his years with Morris Motors under the baton of HM the band won the area championships three times and played in the finals with him in 1954 when the test piece was 'Sovereign Heritage' written by Jack Beaver and had been arranged by Frank Wright although the band played off number 3 that day but they were not in the prizes.
In 1955 the band gained a creditable 6th place playing off number 18 with Eric Cundalls test piece 'Blackfrairs'. In his days at Morris Motors David was the Assistant Principal Cornet player sitting along side the highly respected Principal Cornet Gwynne Davies who at this time was in the RAF and had been a member of the Cory Workman's Band.

Interestingly in 1950 when David was Assistant Principal at Carlton and were placed third at Belle Vue - in second place was Cory's with Gwynne Davies on Principal Cornet.
By 1956 David had left the Welsh Guards and returned to working as a miner at Frickley Colliery. The conductor of Carlton during this period was Jack Atherton and led the band through a truly purple patch of success. Under his direction they were awarded 3rd, 2nd, 1st and 2nd at the September Belle Vue Contest and won the Edinburgh Contest three times and were regular participants in the National Finals in London - in 1957 on 'Variations for Brass Band' they were awarded 3rd place, 1958 they were unplaced, 1959 they were second on 'Le Roi d'Ys' and again in 1960 with 'Three Figures' were placed 2nd.
The Principal Cornet player through this period was Ken Aiken-Jones who was a very good cornet player - there is a story that in 1960 when David and his wife Pat were in bed at home there was a terrific knock on their front door - it caused quite a stir as you can imagine - was there a fire, was it burglars or some other emergency who on earth was it calling at such an unearthly hour. Once having gathered themselves together David looked out and saw it was none other than the legendary Euphonium player Bert Sullivan - apart from Bert being a fabulous player he was also know as 'the fixer' for the Munn and Felton's (Footwear) Band. Having opened the door and being invited in Bert pulled no punches and said that they wanted David Read to join their band.
Next day later David and his wife Pat went to Kettering with Bert Sullivan to see Stanley Boddington who he had met before during his Morris Motors days. Stanley explained that Harry Mortimer the band's professional conductor wanted him to join and be the Assistant Principal Cornet player to their new Principal Cornet player John Berryman who had joined them from Cornwall. It was HM who insisted that David joined the band as their new assistant and so in 1960 he became a member of the GUS (Footwear) Band. It was also the same year that he won his first National Brass Band Championship contest on Herbert Howells test piece 'Three Figures'.
The Munn and Felton (Footwear) Band was formed in 1933 and in 1934 were awarded first place in the Grand Shield Contest at the Crystal Palace under the baton of their first musical director William Halliwell. In 1935 and playing Kenneth Wright's test piece 'Pride of Race' they were awarded the coveted first prize and crowned as the National Brass Band Champions of Great Britain, the band was once again under the baton of the legendary conductor William Halliwell.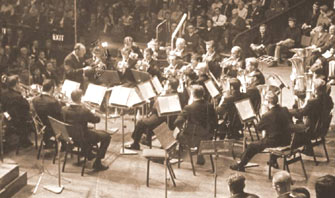 The GUS (Footwear) Band performing at the Royal Albert Hall during the 1970's with David Read playing the Principal Cornet and Stanley H. Boddington conducting.
David Read had now joined a brass band that was a legend in its self - Bert Felton had started a musical tradition and although the band name has changed over the years from Munn and Felton, G.U.S. (Footwear), Rigid Containers Group then to The GUS Band and now The Travelsphere Holidays Band, the sound that originated in Kettering has rung throughout Britain, Europe and America in concert halls, on television, radio and in the recording studio.
David recalls 'My first impressions on joining Munn and Felton's was the precision playing, it seemed like a well oiled machine working and not a weak link in the band. The first piece with the bands was that well known contest march 'Knight Templar''.
Following on the 1960 success at London Munn and Felton's again took part in 1961 but were not placed and this was the last time they appeared under the name of Munn and Felton the name they had carried since 1933. Munn and Felton's or GUS (Footwear) Band as they became known in 1962 also took part in the National Finals
that year too playing 'The Force of Destiny' but once again they missed out on the prizes. They did however go on to take 3rd place in 1963 playing 'Belmont Variations' by Sir Arthur Bliss but went on in 1964 to take the National title once again. In 1965 they were placed 3rd playing 'Triumphant Rhapsody' by Gilbert Vinter but in 1966 playing Frank Wright's arrangement of Hector Berlioz 'Le Carnival Romain' and playing well down the draw at number 19 once again they took the coveted championship title again. In 1967 they were not placed but in 1968 playing 'The Mastersingers' they were placed 3rd and 5th the following year playing 'High Peak'.
In 1967 David left the Kettering factory and moved house to Huntingdon in Cambridgeshire because he was appointed Head of Brass for the Huntingdon and Peterborough County Council. This new teaching role saw him going to the county's school to teach students how to play brass instruments or how to play them better. This new role also saw him leave GUS for a short period but he kept playing by being appointed the Principal Cornet of the Cambridge Band.
It was also an opportune time for him to seek advice on how to play the trumpet - thinking back to his Carlton days and those massed band concerts at the Huddersfield Town Hall he went to see his is own musical hero Willie Lang who by this time was playing Principal Trumpet at the London Symphony Orchestra - who gave David a few lessons on the art of orchestral trumpet playing and its repertoire.
It was Willie Lang who suggested that David consider entering the Solo Championship of Great Britain - David had been a member of the successful GUS quartet that had become the Champion Quartet of Great Britain two years running playing Gilbert Vinter's 'Elegy and Rondo' and 'Fancy's Knell' which was written for us at my request - with John Berryman, John Cobley and Trevor Groom.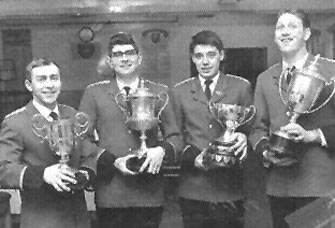 From left to right: John Berryman, David Read, John Cobley and Trevor Groom. The Champion Quartet of Great Britain with some of their awards
After a four months absence from GUS (Footwear) Band David was approached by Stanley Boddington about going back to join them as he could not get players of a similar high calibre. So he returned which also gave the GUS quartet the opportunity of going for the hat trick of wins. On the day of the quartet contest GUS had an engagement in Cardiff but David had to tell Stanley that he might not be able to go as he had entered the Solo Championship which was after the quartet contest and if he was fortunate enough to get through to the finals he would not be able to play at Cardiff - Stanley was quite happy with that.
David was one of sixty contestants in the preliminary round and came out with top marks. Being the highest placed cornet player saw him awarded the best Cornet player cup and a place in the final. Also in the final with David was Philip McCann, James Watson who had won it the year before and the Champions of Ireland, Wales and Scotland who made up the six finalists. The final result of the contest was that David came second to Philip McCann who came out with top marks and was awarded the title of Champion Soloist of Great Britain for 1967. To help make up for the disappointment the GUS (Footwear) Band quartet did win and made it three in a row.
David took part in the solo contest the following year and once again came out with top marks in the preliminary round but failed to make the first three in the final.
In 1969 John Berryman left GUS (Footwear) Band which saw David moved up as the automatic choice to be the new Principal Cornet of the band. David's first contest in his new role was in 1970 at the new World Championship contest at the Royal Albert Hall playing the test piece 'Benvenuto Cellini' - when they were placed third behind the new champions Black Dyke Mills Band. The following year playing Robert Simpson's test piece 'Energy' under the baton of Stanley Boddington David led GUS to first place and the World Champion crown for 1971.
David went on to also lead them to win the WD & HO Wills 'Champion of Champions' contest which were also held at the Royal Albert Hall in 1971 and 1972.
In 1972 the GUS (Footwear) Band with Stanley Boddington conducting and David on Principal cornet once again took to the stage for the National Finals. David has vivid memories of that particular contest because the test piece another by Eric Ball was
'A Kensington Concerto' where the opening of the piece is the solo cornet player playing on their own which was very racking even for the most experienced of players. Playing off number 15 they were awarded second place behind Black Dyke Mills Band. The following year playing Hubert Bath's test piece 'Freedom' David was still with GUS when they were unplaced at the Nationals.
Some five years had now passed before David entered the solo contest again and as in previous years he came out on top in the preliminary round only this time when it came to the final he was awarded the accolade of Champion Soloist of Great Britain for 1973.
During this period as part of his occupation as a brass teacher he had formed a band 'Huntingdon and Peterborough Youth Brass Band' who through steady improvement became pretty good - so good that in 1976, 1977 and 1979 they took part in the London finals of the Youth section.
In 1974 David left GUS to concentrate on his conducting for a short while although still playing and conducted the Cambridge Co-operative Band. This was a band that had originally been formed in 1900, as The Albion Band, by a man named Brown, with the help of his family who played cornet, baritone, euphonium, trombone and the tenor horn. It gradually increased its numbers and won many prizes at the Crystal Palace Contest.
It performed its first broadcast in 1938 from the London studios of the BBC, under its then conductor, Robert Austin. At about this same time they had a young cornet player by the name of Leonard Lamb, who of course went on to make a name for himself with the Fairy Band as both a player and later their conductor.
The Band has had several changes of name over the years, from its original name the Albion Band to the Cambridge Town Band, the Cambridge Band of the British Legion, the City of Cambridge Band, the Cambridge Band, the Cambridge Co-operative Band and finally the City of Cambridge Brass Band.
Conductors have included Robert Austin, Charles Mott, Peter Mott, David Read, Bram Gay, Charles Shipp and Peter Hudson. A great deal of the Band's success has been down to the influence of people like George Crossland, Jimmy Howe, Albert Chappell, Bill Scholes, Stanley H Boddinton and of course David Read.
It won the Second Section Champion Band title at the London Southern Counties Regional Finals in 1975 - qualifying the band to be up-graded to Championship status. In 1979 David led them out to win the Championship Section of the Southern Counties Regional Finals and a place in their first National Brass Band Championship Finals at the Royal Albert Hall. The test piece was the very demanding 'Volcano' by Robert Simpson and although the championships on that day were won by the Black Dyke Mills Band and Cambridge were not in the prizes it was an exhilarating experience for both band and their conductor for what I believe was their one and only performance in the Championship section at the Royal Albert Hall.
In 1980 the band cut their first disk on the Pye label (record number TB 3020 Stereo) and for those who may remember that recording and still have a copy you may also recall a rather youthful Philip Biggs was on the Soprano - a name known to most top flight brass bands these days as a concert promoter. David also led the Cambridge Band through a successful audition to take part in radio broadcasts which included Listen to the Band and Radio 3.
In 1976 he was approached by Elgar Howarth to join the Grimethorpe Colliery Band and to go to the United States of America with them. David accepted the invitation and also took part in a number of Belle Vue September Contests and Royal Albert Hall Championship appearances with them and he particularly remembers his first Royal Albert Hall contest under Elgar in 1976 when the test piece was 'Sinfonietta - The Wayfarer'.
David recalls 'When I joined Grimethorpe I had of course many years of first class banding under my belt so I was not overawed, however it was in the middle seventies when Elgar Howarth was introducing the Avant-garde music and it was very interesting to be at the cutting edge of the brass band repertoire'.
This move also gave him the opportunity of visiting his parents who still lived in the South Yorkshire area at that time. It also gave him the opportunity of playing under not only Elgar Howarth but Gerhard Schwarz the internationally acclaimed American trumpet player and now the Musical Director of the Royal Liverpool Orchestra who conducted the band at London in 1977 and took 2nd place playing off number 2 on 'Connotations', Howard Snell the former Principal Trumpet player at the London Symphony Orchestra, Bryden Thompson who is another internationally acclaimed conductor and someone who has always had the greatest of respect for at what turned out to be David's last contest at the Royal Albert Hall in 1978 performing in the European Contest non other than Stanley Boddington who conducted Grimethorpe on a one off occasion playing 'Checkmate'. At the National Championships which were held on the Saturday Stanley led them to 3rd place behind worthy winners Yorkshire Imperial Metals Band and their conductor Dennis Carr and then on the Sunday in the European Contest he took them one better to 2nd place behind the winners Black Dyke Mills Band and their Musical Director Major Peter Parkes.
In 1980 he was promoted in the education service and became a Senior Instrumental teacher and formed a band - 'The North Cambridge Youth Brass Band'. This band also did very under his direction with a place in the Youth Section of the National Finals at the Royal Albert Hall. In addition to this success he also had his own personal success through his studies by being awarded the FLCM; FTCL; LRAM and the ALCM these successes were going to be of great benefit when he entered the world of adjudication.
Another memorable occasion for David came on October 10th 1981 with the first live performance of Dr Arthur Wills 'Symphonic Suite' - a composition of four movements for organ and brass band and performed in Ely Cathedral. Prior to this specially commissioned piece of music the idea of such a large scale work for this type of ensemble had never been previously written.
It was David who once having conceived the idea had to then find the necessary finance to fund the composition. Following his persuasive approach to the Eastern Arts Association they readily agreed to fund the work. Their agreement then allowed Dr Wills to work on what he titled as his 'Symphonic Suite - The Fenlands' for Organ and Brass Band.
The programme notes tell us that he linked the work to its area of origin by making it a four movement symphonic suite and lasting a little over 25 minutes with each movement portraying musically some aspect of the Fens. Those who live in more spectacular scenic areas may need a little persuasion at the very thought that the flat fenlands could inspire interesting music; those however, who live in, and understand the fen landscape will immediately appreciate its potential.
In 1999 after 32 years David finally retired from his teaching post but is still kept very busy with the demands of his adjudicating commitments and of course his family life.
Looking back over his playing career David has had many high points to remember - being invited by his old friend Harry Mortimer to be a member of his 'All Stars Band' was a great honour similarly with his 'Men of Brass' Band (the combined bands of Foden, Fairey's and Morris Motors) and being invited to be the Assistant Principal Cornet to James Shepherd in the 1970's 'Virtuosi Band'. To be invited to perform live on the radio on a number of occasions and one live performance for BBC television - these and many other events are special memories.
David can also say 'Yes, I did play Principal Cornet with the famous Black Dyke Mills Band' - be that it was for just one concert. That was in 1970 when the World Championship test piece of that year was 'Benvenuto Cellini' - they had won the contest and intended to play it at a concert in Bradford the following week but James Shepherd was ill - so David received an urgent telephone call to be his stand in.
The first major contests that David took part in were both the 1949 Belle September Contest and National Brass Band Championships Final in London with Carlton Main Frickley Colliery Band. His contesting career came to an end in 1981, the year that Major Arthur Kenny took the City of Coventry Band to their one and only win at the September Belle Vue playing Gilbert Vinter's 'Variations on a Ninth', David played that day with the William Davis Construction Band, conducted by his old friend from the GUS (Footwear) Band John Berryman and although they did not win the venue was a fitting end to a glittering contesting career.
The very first contest he took part in was with the old Windsor Colliery Band when was probably aged about 12 in Caerphilly, South Wales whilst he was on holiday with his Grandmother and had been invited to have a blow with them. Their conductor back in those days was Harold Laycock the famous trombone player. That band developed into what is today The BTM Band (Bedwas, Trethomas and Machen Band) - when the Windsor Colliery closed all the miners were transferred to Bedwas Colliery and the instruments followed them and they started a band which in later years became the BTM Band.
David is now 68 years of age and still practices every day and keeps in pretty good form and would like to still think that he could play Principal Cornet with lots of bands today. In 1995 David was invited to join the Kings of Brass - a group of musicians and old colleagues whose qualification to be a member was to have been in top flight for over 40 years. He stayed with the band until the members themselves decided it was time to bring down the curtain for the last time on their seven years of reminiscing, nostalgia and marvellous playing with some marvellous people and finally came to an end after a memorable performance at the Isle of Man. The Kings of Brass have left behind them three CD's that will bring many happy memories for all those who sat through their many concerts during that memorable seven years.
He only has the one real musical regret and that was never to have had the opportunity of playing in a contest situation under Walter Hargreaves some one who he has admired from a far. He was a wonderful musician and someone he often competed against and played under in the many massed band performances.
In 1983 was honoured by the Worshipful Company of Musicians and in 1996 by being awarded the English Masters Dedicated Service Award.
He is perhaps the most highly respected brass band contest adjudicator currently on the banding circuit, whose written comments are always constructive and detailed, it is also recognised that he has an acute ear for musical shape as well as technical clarity. He made his debut as adjudicator at the National Finals way back in 1985 when he shared the adjudication on 'Cloudcatcher Fells' with Bram Gay and Sir David Willcocks. Since then he has been the most regular of judges at the Finals in addition to adjudicating at the British Open (debut 1982), the Masters, the European and many other major brass band contest all over the world. From that invitation back in 1985 he has been invited back on twelve occasions since.
He is viewed as a "safe" adjudicator in the eyes of the bandsmen themselves, in that he invariably gets the vast majority of decisions concerning the prize winners correct. This has been further emphasised by the bands themselves voting him as their first choice to judge them at the All England Masters for the past few years. He retired two years ago as Chairman of the Association of Brass Band Adjudicators.
To close David takes a retrospective view at some of the players and musical directors who he feels have played a part in his own musical development. He has no doubt placing almost at the top of that list George Broadhurst (Askern) one of his first teachers, who taught him a great deal about cornet playing. George had been a great friend of Clifton Jones the legendary Principal Cornet player of Bickershaw Colliery Band, so he feels that their friendship was something that he also benefited from.
As he got a little older he also had a high regard for Harry Mortimer, Eric Ball and George Hespe. In respect of Cornet players who he feels have played a part in his development as a bench mark standard to aim for. These have included Willie Lang, Principal Cornet, Black Dyke Mills Band, Norman Ashcroft, Fairey Aviation Band and Teddy Gray of Fodens.
David practices every day and still likes to take the opportunity to demonstrate and play along side his pupils when he is teaching. He is also able to play with the local bands if they have an emergency which has happened more and more recently.

David Read is the consummate professional and always ready to share his knowledge and help to all those who ask for it. To those who have known him throughout his career would perhaps share my view and say that he will always be regarded as 'the quintessential British bandsman'
Previous 'Thanks for the Memory' articles:
• No. 5: Derek Southcott - more...
• No. 4: Rowland Jones - more...
• No. 3: Louis Allison - more...
• No. 2: Willie Barr - more...
• No. 1: Derek Garside - more...
© Chris Helme 2003
© 4BarsRest
back to top