Thanks for the Memory No 7:
Sounds of the 70's with The Band of Yorkshire Imperial Metals.
By Chris Helme
---
When was the last time you had any of your vinyl records out? – I suppose I have about 300 now and like many other nostalgic brass band enthusiasts I enjoy giving one a spin every now and then. One of my particular favourites was recorded in 1973 on the Decca label in the Sound of Brass Series; in fact it was Volume 6 - The Band of Yorkshire Imperial Metals conducted by Trevor Walmsley DFC.

This record features no less than six soloists: Roy Roe on Soprano playing Musetta's Waltz from La Boheme; Graham Walker their Principal Cornet plays two solos firstly his own arrangement of Oscar Boeme's 1st movement from his Trumpet Concerto in F Minor and then Willow Echoes arranged by Frank Simon; Fred Muscroft assistant principal cornet who in his own inimitable style plays Del Steiger's Carnival of Venice; Carl Bamford on Flugel playing Indian Summer arranged by George Hespe; Ian Craddock their Principal Euphonium with Bellstedt's Napoli and William Rodgers the band's Principal Trombone player who performs another arrangement by George Hespe, Melodie de Caprice. I have listened to this record many times and still admire and enjoy their top class performances however, I recently thought, what ever happened to these players since this recording – in the world of brass bands these players were household names during the 1970's – where are they now - are they still involved in 'banding' or have they retired gracefully leaving their glory years to the history books.
Let us start from the beginning with the band it self - it was on March 18, 1936 that a story appeared in the Leeds press saying that the Yorkshire Copper Works at Stourton had formed its own brass band thanks largely to the efforts of Kenneth Fraser who was to become the band's first President.
The Yorkshire 'Imps' Band as it was affectionately known was formed from some of the members of the local Stourton Memorial Band – in fact it was expected that if you worked at the old copper works then you would move to the new works band. The birth of the new band unfortunately led to the demise of the old Memorial Band.
The band's first set of instruments it is said cost the company £2,500 but that was not their only expense because they also provided each member with two uniforms - one for the summer and one for the winter.
During its long history the band has been conducted by a number of well known names from the brass band world which included: George Hespe; William Halliwell who they engaged for contest work; H. Tompkins; A. H. Whitehead; B. Burns; Trevor Walmsley; Denis Carr; Peter Kitson; John Pryce Jones; James Scott and Ray Farr.
It has been documented that the band took part in their first contest in October of 1936 in Guiesley a small village on the outskirts of Leeds and Bradford a community perhaps more famous for the original Harry Ramsden's fish and chip shop and restaurant, a contest they won. Little did those players realise then that it would only be a wait of two years when they too would be performing at the highest level. Although not amongst the prizes they were now on the first rung of the ladder following their performance of 'Owain Glyndwr' R. Maldwyn Price's test piece at the 1938 British Open Championships at Belle Vue, under the baton of Willie Wood.
An industrial merger in 1958 brought them a new title – the Band of the Yorkshire Imperial Metals but this was changed again in 1980 to Yorkshire Imperial Band. However, following the combination of the Yorkshire Imperial Band and Rothwell Band in 1999 the band changed its name again to incorporate their new sponsors name David Urquhart Travel. In more recent times they have changed their name again to make it well let us say less of a mouthful for compéres and audiences – today they are known as Yorkshire Imperial Urquhart Travel Band but retain its traditional name, Imps.
After what was described as a lean period in terms of awards from the 1950's the band went on to be one of the leading bands in the country.
It had successive wins at Belle Vue in 1970 playing under the baton of Trevor Walmsley DFC - Herbert Howells test piece 'Pageantry' and again in 1971 playing Eric Ball's test piece 'Festival Music' but despite these high achievements they had to wait until 1978 then playing under the baton of Denis Carr to finally lift the national title playing 'Checkmate' by Sir Arthur Bliss playing off number 9 and taking it back to their home base in Leeds.
For the statisticians Besses o'th' Barn Band with their conductor Roy Newsome was placed second with Grimethorpe under Stanley Boddington coming in third. In 1980 they went on to achieve their third win at the British Open Championships playing Robert Simpson's test piece 'Energy' under the baton of John Pryce-Jones.

In 1981 again with John Pryce-Jones conducting Derek Bourgeois test piece 'Blitz' they were placed a commendable fourth behind the ultimate winners of that year Black Dyke. Under Jim Scott they went on to be placed third again behind familiar winners Black Dyke playing John McCabe's 'Cloudcatcher Fells'.
It has to be said that between 1970 and 1980 they were the band to beat – they had four major victories, Yorkshire area champions five times out of seven along with their triple success at the Edinburgh Festival Invitation Contest.
So having looked back on the band it self just where are those fine soloists today: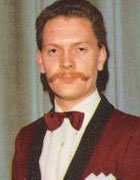 Principal Cornet – Graham Walker
Graham was born in Elsecar near Barnsley in 1946 and at the age of ten joined the local Elsecar Main Colliery Band. He made rapid progress and by the age of 16 had joined Grimethorpe under their legendary conductor George Thompson.
Having decided to make a career out of music he took a music course in Huddersfield and then in 1963 enrolled at the Royal Manchester College of Music to study the trumpet. During his three years at College he played with the Royal Liverpool Philharmonic Orchestra. In 1966 he took a teaching post with the West Riding County Council Education Department where his role was to build up instrumental teaching in the Selby and York areas. This new role also gave him the opportunity of returning to the world of brass bands - he joined the York Railway Band as their principal cornet and deputy conductor.
In 1969 he was playing first trumpet for Handel's Messiah at Yeadon Town Hall alongside Fred Muscroft who mentioned to him that Imps were looking for a new principal cornet player and was he interested. Initially saying he would think about it, a couple of weeks later he went to a band rehearsal and was later offered the job. That was the start of a very successful nine year stay with the band during which time he was often asked to join other top bands but always turned them down.
Graham felt the band was playing well in those days and thought they could win one of the major contest titles. "…The band was playing as a tightly knit team and any band playing like that must eventually win…" – not long after the did band become the British Open Champions of 1970.
This was the start of a winning streak, the second Open followed and then the National finals at London in 1978. Looking back Graham firmly believes that the band would have been worthy winners of the 1973 Open as well. Few players get the chance of playing with a National Champion band and when Imps took the honour in 1978 he certainly felt that was the one to win.
He was the Champion Soloist of Great Britain 1971/72 when he played his own arrangement of Oscar Boeme's 'Trumpet Concerto'.
Looking back he rates Derek Garside as one of the main influences in his cornet playing career – his sound and technical ability was second to none. Back in those days by listening to the principal players of the top bands you could tell instantly which band it was – something which he feels is not quite as easy these days.
During his playing career he won most things at the highest level, he was invited regularly to be the guest soloist in Switzerland, Denmark and Norway he made a number of recordings with both Imps and as a member of the Virtuosi Band and took part in countless radio broadcasts. He has conducted a number of bands and adjudicated on many occasions.
Graham Walker has been a top class player and even now in retirement on the East Coast he occasionally still plays when the opportunity presents itself. He firmly believes that you can have a band full of individual stars but unless they perform as a team – know each others faults and strengths - almost breathe as one – that is the test of a good band.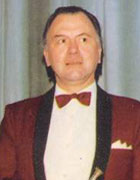 2nd Solo Cornet – Fred Muscroft
Fred was born in London but spent his formative years in the Leeds area where he was brought up in a musical household. His father was the Solo Cornet in the Life Guards and a professional musician. Being so busy he did not have the time to teach young Fred how to play the cornet but his grandfather Oliver had in his younger days played Soprano in the old Armley & Wortley Band in Leeds and gave Fred his early tuition. Fred well remembers his grandfather telling him about the day the band played 'Zampa' at the Crystal Palace in the 2nd section contest. With his grandfather playing 'Sop' and his Dad playing 'Solo Cornet' that day, it was inevitable that young Fred would become a brass player as well.
He made good progress and by 1937 he was the Principal Cornet for the now defunct Leeds Model Band. It was whilst he was a member of this band that on June 23rd 1935 he broadcast his first solo playing that well known cornet solo by Harold Moss 'The Nightingale' aged 11. He later went to London to study music at the Royal Academy and in 1942 he joined the Scots Guards where he served for 22 years, many of those years as their Principal Cornet. Whilst Fred was gradually building up his freelance work in London where he was regularly playing with orchestras and big bands the music scene began to change towards the end of his service career. During the early 1960's he became disillusioned which resulted in he and his wife making the decision to move back north where they both considered to be their real home.
Almost straight away he was contacted by the Imp's band controller Tim Shackleton about joining them. It was 1964 and he was with Imp's at the British Open Championships at Belle Vue playing Thomas Keighley's test piece 'Lorenzo' – no prizes that year. The man who changed everything for the band was Trevor Walmsley he came in 1965 and took the band back to Belle Vue playing 'Saga of the North' and they came in 5th and from that day on the band was only going in one direction and that was up.
Whilst in came Graham Walker, Roy Roe and Tom Gomersal others retired or left, the new team gelled together so well Fred is of the opinion they did without doubt become one of the best bands in the country. In 1970 Eric Ball said after their British Open performance '…it was magical…' – all the soloists were brilliant and Roy Roe gave the finest exhibition of Soprano playing Fred had ever heard. Again in 1971 as far as Fred is concerned Graham Walker played himself into the ranks of the truly great cornet players - what a performance. Trevor read the music brilliantly and took the trouble to research the meaning of 'Cortege', adding this to the band's unique sound making it a truly memorable performance. The only sound coming close to Imp's back in those days Fred believes was the old CWS (Manchester) Band under Alex Mortimer.
Throughout Fred's long and distinguished musical career he never forgot those who had inspired him – Denis Brain the French Horn player who he was at the Academy with and still remembers his friend's maxim '…when they say it can't be done go and find a way of doing it...' – Willie Lang, Maurice Murphy two cornet players who also went on to master the art of playing the trumpet as well. Ian Bousfield who joined Imps as a youngster and has since matured into one of the finest trombone players in the world.
Today Fred is still enjoying his playing as a member of the Bridlington Brass Ensemble a ten piece brass group and is still kept busy arranging pieces for them just as he did for Imps all those years ago, arrangements which added to many the band's unique concert programmes. Whilst Fred is not quite yet an octogenarian the group's bass player is 82 year old Joe Foster who played for Carlton Main and Grimey (Grimethorpe) and often shares his memories with young Fred.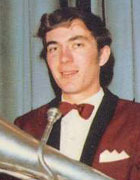 Principal Euphonium - Ian Craddock
Ian was born in Teversal a small mining community in Nottinghamshire. He came from a musical family, his father played the trombone in a number of local brass and dance bands and in his later years he was also a brass teacher and conductor. Ian's mother was a regular member of the local Methodist church where she often entertained with her poetry and singing.
Initially starting his musical career on the piano aged nine which he still enjoys playing – after five years he started on the Euphonium. Having spent five years reading piano music he was able to adapt to a single line of music quite easily which saw him make rapid progress and following a move to Yorkshire he was invited to join the Carlton Main & Frickley Colliery Band.
He was now being taught by Jack Atherton who also conducted the band – they had band engagements in London and Edinburgh, these were busy times. He also made friends with the band's principal cornet player James Shepherd - they were both part of the band's successful quartet.
After several years at Carlton he was then invited to Yorkshire Imperial Metals Band as their principal Euphonium, a position he was to hold with distinction for the next fifteen years. During which time they won the British Open Championship three times, as well as a National Championship victory. Ian also played with the famous ensemble 'Versatile Brass' at venues in Monte Carlo and Berlin. Ian was in regular demand for solo work with performances across Scandinavia and Europe.
He left Imps to pursue his commercial career during which time he turned his musical attention to conducting. Firstly with Crofton Silver and then with Queensbury Music Centre where he and the band had tremendous success both in the contest field and in the many concerts he led them in. Following on from this success he was then invited to lead Brodsworth Colliery Band, a top section band back in those days. Their first major success together was winning the Leeds Tetley Championship Section and then going on to a top ten place in the British Open.
After two years he resigned and was invited to conduct Williams Fairey Band with Major Peter Parkes as the band professional conductor. During his time with Fairey's he helped to take the band up the rankings from number 5 to top spot.
He can easily recall this first rehearsal at Imps because it really annoyed him at the time simply because it had been cancelled and no one told him – travelling all the way from South Elmsall was no joke in those far off days but it got better – a lot better.
Ian recalls that the 1970 Open Championship win came as a surprise not only to the band but to many of the audience as well – '…we were not a favourite…' and to prove the pundits we were not a flash in the pan we won it again the following year. This win finally put the band almost at the top or certainly amongst the elite of the day. The band had a team which barely changed and the spirit amongst the players was tremendous. Led by Trevor Walmsley, a man who never shouted he just rolled up his sleeves and got on with it.
As a youngster Ian was taken to brass band concerts by his father where he sat in amazement listening to Black Dyke, CWS (Manchester) Band and Munn and Felton's Band and it was these bands along with his father's enthusiasm that inspired his own playing and his will to get to the top.
Receiving a congratulatory letter from another of his musical heroes Trevor Groom following his performance of Philip Sparke's Fantasy for Euphonium was something special to Ian and something he still thinks about all these years after.
These days Ian is very active in the world of athletics his daughters having been Yorkshire Champions. He has the same enthusiasm for them as his father had for him by hoping they too can become National Champions one day.
There have been many high points in Ian's career and many amusing moments – none more so than on the occasion he was to play a solo whilst playing with Imps at a large venue on the outskirts of Birmingham. Just as he was to be introduced by Trevor Walmsley he indicated to him that he had lost his solo music and there were no spare copies. However, the show must go with Trevor informing the audience of the dilemma but not to be disheartened he told the audience this would be Ian's first solo without any music – Ian prefers not to mention how he felt at this point but as he stood up to arrange the music stand he caught sight of the music rolled up in the bell of his instrument – relief.
Performing solos infront of his parents, aunts and uncles was always something special both for him and especially for them.
In recent years he has become a well respected adjudicator, adjudicating not only at the highest level in national contests in the UK but also in Europe. He is also having some success as the musical director of the Hebden Bridge (Walkley Cloggs) Band, a band with a long history and fine traditions.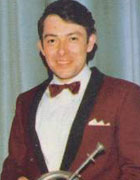 Flugel Horn – Carl Bamford
Carl's father played with the old Yorkshire Copper Works Band and later when it was re-named Yorkshire Imps. Young Carl was a regular visitor to the bandroom with his dad and banding was a central part of his family life. He started playing when he was 10 and joined the Yorkshire Imps from Leeds Model Band just after the British Open in 1966. Along with his pal Barry Waddington as third and fourth man down respectively to principal cornet Phil McCann and his assistant Fred Muscroft – nine months later however he transferred on to Flugel Horn.
During his early days along with other members of the band he would visit the Stourton Hotel after the rehearsal and stew over a drink what it would be like if they could ever win the '…Open…' and in Carl's case when they finally did become British Open Champions he could barely sleep for a week after from the excitement of the occasion. Carl recalls that the second time was totally different from the first – Festival Music had a very good Flugel part, the third win was absolutely fabulous – the band was conducted by John Pryce Jones who Carl describes as being a great man to play for.
Looking back over his musical career Carl points to Maurice Murphy, Norman Ashcroft and Teddy Gray as just three of his musical influences along with his Dad. Of all the highlights he places this long playing record and the Yorkshire Area finals when the test piece was Shinning River and Imps scored an incredible 199 points. Another highlight was when Major Peter Parkes took the band, a period when he felt the band was playing to an even higher standard. These days he is playing with Timperley Band in Cheshire and still enjoys the thrill of winning.

Everyone has heard the saying '…given the boot…' just what the origins are of that saying have probably been lost in the mists of time but Carl recalls many years ago at one rehearsal someone found an old workman's boot in the bandroom. Just who's idea it was has long since been forgotten but from that night if you made an obvious mistake at Imps you were presented with that same boot. He recalls the comradeship – a great set of mates.
Principal Trombone – William Rodgers
Bill Rodgers is a Leeds lad through and through having been born there and still living there. As a young lad he followed what had become almost a tradition in the Rodgers family with the male members all playing brass instruments.
He began playing in 1948 then aged 12 on the Baritone with Kippax Band, a band which in those days was conducted by Norman Morley who in his own playing days had played Eb Bass with St Hilda's Band. As Bill progressed he successful auditioned for the National Youth Band under the baton of Dennis Wright and Eric Ball. During these early years his father was playing trombone at Kippax and with his own mouthpiece being a similar size to that of the trombone he decided to give it a go. By the time he was between 18 and 19 years old his father came off the trombone - Bill by this time had self taught himself to such a standard he was the obvious choice for promotion to his father's position.
He first came to the notice of the Imps during the late 1950's and early 1960's in the days when Kippax were really busy and some of the lads from Imps would come down and listen and help out. Hearing just how good this self taught trombonist was in 1961 he was invited to play with them and shortly afterwards was offered the position of Solo Trombone on a full time basis.
Bill recalls that very first rehearsal when he was determined to prove he was good enough – something he certainly did as he was their regular Solo Trombone player until he left in 1980. During his 17 years he can recall all the great players that helped to make the band into the household name and to help raise his own standard of playing. Of all the musicians over his long career that has heard he has to say without any doubt that his own musical hero is the legendary trombone player Don Lusher.
The band had many high points - the concerts, the contests and playing all those special arrangements written by Fred Muscroft and knowing they had never been seen or played before made every concert performance unique. A notable recollection was in 1966 when the band had been engaged for a full week at Edinburgh to play in the Princess Gardens. Many readers will remember that at the end of these week long series of concerts bands were invited to take part in a March, hymn and selection contest. When each band was ready and on the signal they would set off playing their chosen contest March from under the Floral Clock at Waverley Street Station. That particular year the band's percussionist could not attend so they engaged a professional orchestral percussionist for the week.
For the contest their usual drill was a double tap to bring the band to a state of readiness and two three beat rolls to set the tempo and away we go. However, the hired percussionist had never done a job like this before so Fred Muscroft the doyen of the Imps band had previously served 22 years in the Scots Guards happily gave him some instant tuition – then we were ready – but oh dear, the double tap went fine but the two three beat rolls went at such a pace that when they set off marching or was it running in any event it could only be described as a gallop. Well, the audience lining the streets of Edinburgh burst out into fits of laughter. Needless to say they failed to win a deportment prize that day but went on to win three first for their playing performances.
Looking back Bill feels that winning Belle Vue was harder than the National Championships because all the top bands were invited to the Open. Then the thrill of winning the National and having to go back on stage to play a winning performance was truly magic and moments he will never forget.
Bill finally put his mouthpiece away after he played at the Yorkshire 2002 Area Contest in Bradford having played 2nd Baritone for his childhood band Kippax and helping them to qualify for the 1st section finals.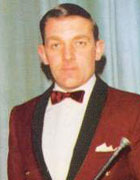 Soprano Cornet – Roy Roe
Roy began his musical career when he started taking singing lessons and by all accounts as a young lad he had a tuneful singing voice. His early musical influence of course came from his father who sang in a local male voice choir - adding to the music making in the Roe household was his mother who played the piano, not something Roy wished to pursue at the time. His singing talents led him to entering a number of local singing competitions where he was quite successful winning a number of prizes. He started playing a brass instrument with the Salvation Army at the age of eight, having been taken down to the band rehearsal by a friend and being so impressed with what he saw and heard.
At the age of 13 he moved to his local colliery band in his home village of Dinnington near Sheffield and as his standard of playing progressed he successfully auditioned to join the National Youth Band. His rapid progress was soon noticed by a number of the country's leading bands and over the next few years enjoyed spells with both Fodens and Fairey's before he finally joined Imps in 1969.
There are examples throughout the history of brass bands how certain players who have started playing one instrument but end up playing another not necessarily by design but more by chance or – well I just fancied a go on it - and then make a terrific success of the change. Roy fits in to that category, by the time he was 14 going on 15 years old for no other reason than – I fancied having a go – he decided to move on to playing the Soprano filling the vacant position. So he became the new Dinnington Colliery Band Soprano player – although his father was initially not too pleased with Roy's decision with his rapid progress he soon grew to accept it.
Roy can recall that first rehearsal with Imps now even thought it is 33 years ago and being made so very welcome by the Musical Director Trevor Walmsley. Whilst he told Roy that he would be a real asset to the band as a player he hoped that his years of experience would also help the younger members of the band.
As with all bands they too had their ups and downs – he remembers that when they were rehearsing Spectrum for the 1969 British Open Trevor had the band practicing in different parts of the factory for various effects – sadly it was to no avail based on the final positions when the results were given. In stark contrast 1970 was their year – after lots of hard work – a number of improvements in some departments and a test piece that really suited both the band and conductor – the result of course saw them take the title of British Open Champions for the first time.
Another memorable year for Roy and the band was in 1978 at the National Championships. Owing to Trevor being unavailable the band's associate conductor Denis Carr had the opportunity of making his presence felt. That year it was a particularly difficult piece and for those who cannot remember it was of course 'Checkmate' by Sir Arthur Bliss. Denis really worked at the band for that one. That was the same year the band recruited a new trombone – a young 16 years old called Ian Bousfield – the second movement of Checkmate is notoriously difficult but as Roy recalls Ian made it sound easy, such a performance from someone so young was incredible. Of course the whole band did well and finally pulled off the big one playing off number 9 they beat off Besses o'th Barn with Roy Newsome; Grimethorpe and Stanley Boddington; Fairey Engineering and the Wee Professor Walter Hargreaves; Fodens with Jim Scott and in sixth place St Dennis's with Eddie Williams. Roy believes this was certainly the contest performance that was so memorable for all sorts of reasons and was a pinnacle of the stature of what was a fine band.
Throughout his musical career there have been many people whose influence he feels he has benefited from. Just some of these marvellous people include Trevor Walmsley; Denis Carr; Norman Ashcroft – Principal Cornet at Fairey's; Teddy Gray – Principal Cornet at Foden's; Charlie Cook – Foden's Soprano from the late 1930's and Ted Swindels – Foden's BBb Bass who was one of the senior members of the band during Roy's tenure at Foden's and taught him a lot about banding generally and was someone who Roy considered to have been a fatherly figure back in those very early 1960's.
Throughout his musical career there have been many musical arrangements written specially for him by Derek Broadbent and Fred Muscroft.
Roy had many successes Imps and the other bands he played with – the highlights included obviously the 3 Nationals, 3 British Open's which stand at the top and then of course there many others as well along with the many memorable Whit–Friday March contests. Between 1960 and 1991 Imps won 55 firsts; 34 seconds; 20 thirds and 2 fourths which at that time made the band third in the top ten list behind Brighouse & Rastrick and Black Dyke.
Roy left Imps in 1979 to join Brighouse and Rastrick after what was a tremendous ten year reign on Soprano when he played a solo on every concert programme. Although he now only plays in the comfort and privacy of his own home he is still kept very busy on the adjudicating circuit and with the knowledge that his two sons have followed in his footsteps he just as his parents were proud of him as he stepped out to the stage at Dinnington all those years ago he his equally proud of his two sons achievements.
Roy's lasting memory that he will take with him from his own playing days will be the common factor felt by many who have been involved in the world of brass bands the music and of course the friendship.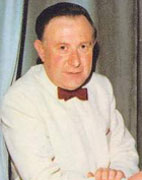 Musical Director – Trevor Walmsley DFC
He was born in Cheshire and followed his father into the Salvation Army playing the cornet. He joined Yorkshire Imperial Band in 1965 and during his time the band had a growing reputation both on the concert stage and the contest platform. The pinnacle of his 11 years at Imps was winning the 1970 and 1971 British Open Championships at Belle Vue. He also conducted the band to a triple success at the Edinburgh Festival Invitation Contest together with regional successes at both regional and national contests.
He left Imps in 1976 to replace Derek Garside as Professional Musical Director at CWS (Manchester) Band and was also a representative for Boosey and Hawkes on the instrumental side. During his career he was also the resident conductor of both Brighouse and Rastrick and Black Dyke.
He was a quite man but one who had the knack of skilful man management – for a period of six years the band personnel at Imps remained unchanged – a team that breathed together.
He was awarded the DFC and Bar during the Second World War. He died in June 1998 aged 76 years.
If you have the opportunity look out for this very special record of playing by a fine team of six soloists or if you still have it tucked away in the loft get it out just one more time you cannot fail to be impressed.
---
Recently I asked readers for information about that fine trombone player the late Harold Laycock - well thankfully I am now in contact with his eldest grand daughter and reminiscing about her grandfather's playing days. I am now trying to locate copies for her of the few solo recordings he did whilst playing for the legendary St Hilda Colliery Band during the 1920's. If any one can help I can be contacted on chrishelme@brighouse.fsnet.co.uk
Following a number of requests please note that all the individual stories I have written in the 'Thanks for the Memory' series are available for sale as individual spiral bound copies - £5 + postage and packaging = £6
Previous 'Thanks for the Memory' articles:
• No. 6: David Read - more...
• No. 5: Derek Southcott - more...
• No. 4: Rowland Jones - more...
• No. 3: Louis Allison - more...
• No. 2: Willie Barr - more...
• No. 1: Derek Garside - more...
© Chris Helme 2003
© 4BarsRest
back to top