Thanks for the Memory No 5:
DEREK SOUTHCOTT - A musician with many sounds…
by Chris Helme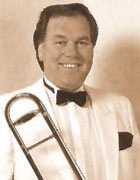 I suppose the first time I came across the name of Derek Southcott was on the eve of the British Open Championships at Belle Vue in 1968 when the test piece for that year was Gilbert Vinter's 'John O'Gaunt' and Derek was playing 2nd Trombone with the Black Dyke Mills Band. Although there were only a handful of us at the traditional pre-contest public rehearsal Black Dyke held in the village those of us who were there knew this test piece was different. Derek recalls that when ever it was music by Gilbert Vinter they knew to expect something both challenging and different.
The trombone section in those days was Frank Berry; Derek and Ian Copland on Bass – for those readers not familiar with the piece or had forgotten it - at one point it calls for 'Bell-up' on all three trombone parts. At the rehearsal all did exactly that – mind you this was a closely guarded secret - Geoffrey Brand their Professional Conductor and someone who was to conduct them to many successes during what can only be described as a purple patch in the band's post-war history – he wanted the trombone section to actually stand up at the contest and face the adjudicator's box when it came to play the 'Bell-up' section. At what was a packed Kings Hall that day with an atmosphere that can only be described as sheer electric Black Dyke took to the stage playing off number 10 and with Geoffrey Brand at the helm in what was his first contest outing with the band everyone anticipated a memorable performance.
The rest as they say is history – they were the only trombone section to stand up that day and the band took the coveted first prize with 194 points (Wingates were drawn 15 and came 2nd with 193 points and Grimethorpe were placed 3rd playing off number 2 with 192 points). It's a piece you don't seem to hear that often these days and to remind myself of that memorable day at Belle Vue I have just listened to it on my crackly copy of the Black Dyke 1969 LP record 'Champions Again' on the Pye Records label number GSGL 0427 and even now it still makes the hair stand up on the bank of your neck.
Geoffrey Brand has fond memories of those distant days as well and recalls…
"…It was quite remarkable that in the early years of my time with Black Dyke Mills Derek showed a real performing talent which has subsequently blossomed.
Now, to that John O'Gaunt episode - your memory is right - during the preparation of John O'Gaunt I became increasingly aware that the bold statement of the John O'Gaunt motif at bar 306 - scored for trombones only and marked - Bell up - really had to be commanding and dramatic.
The whole band is marked fortissimo - Eroico e molto maestoso - and I felt that even Black Dyke's marvellously forthright trombones were not able to produce sufficient volume to really command the scene as the composer had intended.
At the Thursday evening rehearsal, in the Victoria Hall, I decided that to stand up was needed - and having tried it and heard it I knew it worked- so stand up they did.
The important point is that the gesture was entirely musically based - was it a secret?, no not really, since the audience at Victoria Hall saw and heard it all; but I thought it un-necessary to announce it to the world before the actual performance. On the platform at Belle Vue it worked splendidly - and since Black Dyke Mills Band were winners on the day the means justified the end …"
But let us go back a few years and look back how Derek Southcott made his journey through the brass band world before stepping out on to that famous stage at the Kings Hall in 1968.
He was born in 1946 in Hitchin, Hertfordshire his dad Ted was a cockney and his mother Jessie was born in Halifax. In the early post-war years ex-servicemen had to look for work – shortly after Derek's third birthday the family moved north and his mother worked for Crossley's Carpet Mill at Dean Clough in Halifax and his dad was employed as an Auto-electrician at Hoffman's a well respect garage which was also in Halifax.
It was during the mill holidays that the Southcott family went to the seaside and at Christmas time went to the annual pantomime. It was when Derek was about ten years old and on one of these family outings that he came across the name of Eddie Calvert and heard him playing his golden trumpet – well Derek made his mind up there and then '…that's what I want to do…'
Derek was introduced to the world of brass bands through Louis Swingler (the ex-Black Dyke horn player c: 1930) who worked at Dean Clough carpet mill and someone who was actively involved with the Crossley Carpets Junior Band. Although the golden trumpet never materialised – his first instrument was the Baritone – but the nearest he did come to playing the trumpet came when he moved onto the cornet.
A neighbour in those days was George Ferneyhough who was the 2nd trombone player and was for a while the Eb Bass player for the Crossley's Senior Band and whilst having his lessons it was George who suggested that he should move on to the trombone. Well, to say Derek was made up was an understatement - he was soon telling everyone even the Vicar at his local church and that he was now going to be in his church pantomimes and concerts – such confidence for a 12 year old.
However, it wasn't long that the initial interest began to fade after realising that it was not going to be as easy as he first thought. From his own initial enthusiasm it was now his mother who both encouraged him and refused to let him simply throw the towel in and give up.
Through his own dogged perseverance and of course the driving force of his mother he did stick with it and gradually he did begin to improve – he moved from the Crossley Carpets Junior Band to play with the Friendly Band which was and still is based on the outskirts of Halifax. He next teacher was John Harrison who was the musical director of the Crossley Carpets Senior Band and a highly respected name in the brass band world – this was a band he took almost to the very top of the tree when they came second at the Nationals to that truly memorable performance by the CWS (Manchester) Band in 1962 when the test piece was Force of Destiny.
By now Derek was still only 14 and becoming a regular winner on the slow melody circuits and beginning to get himself known in all the right places. Obviously aware of all these successes George Ferneyhough called to see him and asked if he was interested in the 2nd trombone position at Crossley Carpet Senior Band.
By now Derek was receiving tuition from Ronnie Fawthrop the ex-2nd Trombone player at Black Dyke and would regularly have lessons at Ronnie's home. It was on one of these occasions that he met Grenville Richmond who was the Solo Trombone player with Black Dyke as well as a good friend of Ronnie and his former tutor. It was not long after that he was invited to audition for the vacant 2nd Trombone position at Black Dyke – in 1961 at the age of sixteen he was appointed and just one position below his now new tutor and principal trombone player Grenville Richmond.
Derek's standard of playing was now coming on in leaps and bounds and when Grenville decided to leave Black Dyke in 1964 he felt that Derek might have had an opportunity to audition for the vacant Principal Trombone position. Sadly that was not to be and in late 1964 Huddersfield born Frank Berry was appointed to the position and remained on the top chair for the next 17 years and then stayed a further 3 years on 2nd Trombone.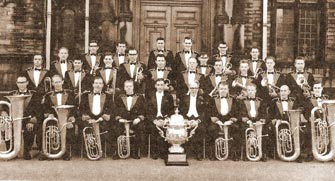 Black Dyke Mills Band – 1962
Back Row (left to right):
Jeffrey Bairstow (Cornet); Jack Brooke (Cornet); Leonard Haley (Percussion); Tommy Waterman (Soprano) Eric Bland (Cornet & Librarian); John Clay (Flugel); Les Hanman (Cornet)
Middle Row:
David Summersgill (Trombone); Grenville Richmond (Trombone); Derek Southcott (Trombone); William Gibson (Cornet); Maurice Murphy (Cornet); David Platt (Cornet); Peter Hey (Cornet); Sam Smith (Horn);
Malcolm Blowers (Horn);
Front Row:
Peter McNab (Bb Bass); Charles Emmott (Eb Bass); Geoffrey Whitham (Euphonium); John Slinger (Baritone); Jack Emmott (Conductor); Leighton Lucas (Professional Conductor); John Clough (Baritone); Brian Broadbent (Euphonium); Ernest Keeton (Eb Bass); Harry Pickering (Bb Bass)
It was Christmas 1969 when perhaps destiny or was it luck that an unfortunate accident was going to change his life and future musical direction. Whilst leaving home he slipped on a patch of ice which resulted in his leg being in a full length plaster cast for several weeks. Naturally he was unable to sit on the band coach and travel to engagements and then perform with the rest of the band on stage with his leg in that condition – mobility was practically impossible.
So it was whilst on this enforced break from Black Dyke that he was approached and offered the opportunity of playing in a pit orchestra for an amateur show in Huddersfield.
It was here that he met the trumpet player Brian Tann a player who had been around the show scene for a number of years and someone who introduced Derek to the Batley Variety Club 'Blow Band' which was the 'Stuart Atkins Orchestra the club's regular orchestra where he was asked to join on trombone – little did he know at that time he was now on the fringe of a new musical career and taking the first steps along a road to eventually becoming a professional musician.
For Derek this style of music brought back memories of an uncle who himself played a drums and had a cherished number of crackly old 78 rpm records featuring the Glenn Miller Orchestra which Derek played incessantly on his old wind-up gramophone player. Derek remembers those visits to his uncle's home and remembers playing them on almost every visit – his uncle is very proud to see his young nephew playing lead trombone in later years with such as the Syd Lawrence Orchestra and at the BBC.
At Batley Variety Club he came into contact with many professional musicians – one of those was Stuart Atkins, trombone player in the club's small band and someone who Derek was to ultimately 'dep' for on occasions. It was also through his contact and help from Stuart that he became a member of the club's 'amalgamated band' – this band was formed on those occasions when the big stars of the day were performing at the club such as Johnny Mathis, Shirley Bassey, Jack Jones, the Three Degrees and Cliff Richard but to name a few.
In 1964 he became the Champion Trombone of Great Britain and was also a member of the Champion quartet.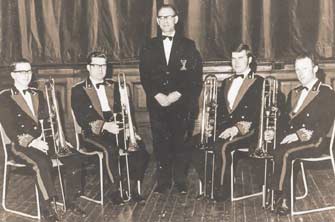 Black Dyke Trombone Quartet – 1964
From left to right:
Ian Copland, Colin Hardy who was also the band's second baritone player as well, Peter McNab (conductor), Derek Southcott and Frank Berry
It was now 1972 and Derek's work commitments were becoming congested - he was still a member of Black Dyke, playing with local pit orchestras, playing at Batley Variety Club and still holding down his day time job as an Engineering Draughtsman – a busy young man to say the least – something had to give. By this time he had made his mind up to become a professional musician a decision that prompted him to resign from Black Dyke after nine years, an experience and time which he still appreciates were musically very profitable.
He was now embarking on the road of the professional musician and was actively looking to build up the amount of freelance work he was beginning to be offered.
In 1972 he and Jim Shepherd had been discussing the possibility of forming a small group similar to that of the Black Dyke Octet. The group would not simply play brass band music but it would expand its repertoire to cover a wider range of music - the idea was talked about but neither took the giant leap to get it on the road. Eventually with Derek still a draughtsman by day and freelancing at night it was he who had a meeting with Jim to ask him is it yes or no – the answer was yes and then came the discussion about who was to be asked to join them.
Those who did come together to make up the original James Shepherd Versatile Brass included: Jim Shepherd – Cornet & Trumpet; David Horsfield - Flugel Horn/Cornet/Trumpet; Peter Ferris – Trumpet; Brian Wood – Horn; David Moore – Euphonium; Derek Southcott – Trombone; Donald Bowes - Bass Trombone; Colin Aspinall – Tuba; Harvey Whiteley – Percussion.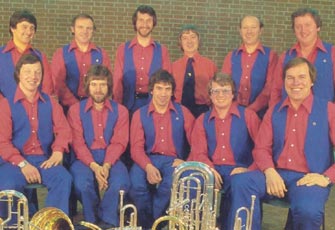 James Shepherd Versatile Brass - 1979
Left to right (Back row):
Angelo Bearpark; James Shepherd; J. Graham Walker; Michael J. Hopkinson (Business Manager); David Horsfield; Gordon Higginbottom

(Front Row):
Alan Widdop; Kevin Edwards; Colin Aspinall; David Moore;
Derek Southcott
Once the team had been put together they rehearsed on Sunday's at the Outwood Memorial Hall on the outskirts of Wakefield. Jim Shepherd remembers those early days well and recalls that it was Derek Southcott who suggested they should have a conductor – not that they needed one but it felt right - shortly after the first rehearsal Dennis Wilby was invited to join them as their first musical director.
Shortly after the group's first successful concert which they held at the Uppermill Civic Hall Derek was then offered a full time position at the Wakefield Theatre Club so after being with the JSVB from its inception he now had to leave – his position was taken by John Pollard from Grimethorpe.
It was whilst playing at the Wakefield Theatre Club that he met Ernie Watson who was the lead trumpet at the BBC Northern Dance Orchestra. Derek is certain that meeting Ernie changed his musical direction and put him on a path that today he will always be grateful for. It was Ernie who gave Derek a gentle nudge and said '…go for it…' A vacancy came up at the BBC for principal trombone at the Northern Dance Orchestra – it turned out that Derek was one of 53 applicants for the job but his audition proved successful enough for him to be offered the post. Not long after Derek's appointment the orchestra then became the BBC Northern Radio Orchestra and following this appointment he now became a full time musician by leaving his job as an Engineering Draughtsman.
His appointment came just at the right time - the world of live entertainment was changing during the 1970's and the paying public were moving onto other forms of entertainment. These changes affected Wakefield Theatre Club just as they did to many others by forcing them to close down or re-brand themselves.
It was whilst playing with the BBC Northern Radio Orchestra that he received the call from Jim Shepherd asking if he would help them out with a series of concerts with JSVB in Australia - after the trip Derek stayed on with JSVB for a while and also played with the BBC Northern Radio Orchestra.
There were changes taking place at the BBC as well – changes which would affect members of the various orchestras including Derek. However, his growing reputation saw him now being asked to 'dep' on occasions with the famous Syd Lawrence Orchestra on lead trombone.
This situation worked out well for Derek because Syd Lawrence believed that the paying public only wanted to socialise on Friday, Saturday and Sunday nights and therefore he rarely if ever took any engagements during the week thus enabling Derek to maintain his now decreasing BBC commitments and his new work with Syd Lawrence.
During his professional career Derek has made over 5000 recording sessions with television, radio, records and CD's. In 1993 he released his own CD which is still available through Kirklees Music Publishers (01484 – 722855). This CD he aptly titled 'Facets – the many sounds of Derek Southcott'. He is accompanied by the Stocksbridge Band and his own Derek Southcott Sextet and covers a full range of his musical skills and styles.

It was whilst helping out with the orchestra that Syd Lawrence asked Derek if he wanted to join on a full time basis, an opportunity he was to grasp with both hands –Derek retired from the orchestra in August of this year after 22 years and is proud to say that during his long stay he and the now late Syd Lawrence had been personal friends for many years – and agreed that Syd was proved right time after time about the socialising habits of the public.
Derek also visited Switzerland and Norway which opened another doorway for him – teaching. After that first visit to Norway some 22 years ago he was invited to become a tutor with the Manger Folk School for one week on an annual basis.

He was then offered a teaching post at the Strensall Army base with the Army's King Division and was made an honorary Professor of Brass Instrumental Teaching – three years as a trombone tutor. His stay with the Kings Division was an enjoyable experience but by this time following further changes at the BBC his sessional work engagements were becoming more infrequent - with this in mind Derek decided it was time to extend his teaching a role which he first experienced back in the days as a draughtsman when he was also employed at Halifax Education Music Centre on a Saturday mornings and for Adult Education Classes on Wednesday's.
This led him into accepting teaching posts at the Leeds College of Music for three years; Barnsley College of Music and as a consultant for Yamaha musical instrument manufacturers where he visited as many as two hundred schools lecturing and teaching the skills of playing a musical instrument. These days his teaching portfolio has slimmed down to just seven different schools in the North of England. His work not only includes teaching his students about the world of music but also about orchestras and in particular the style of music he has been involved in over the last 30 years in both brass and orchestral. He runs five schools bands, dance orchestras and wind bands as well a brass ensemble and his own professional sextet.
This year he formed the Caldervalley Youth Dance Orchestra, '…CYDO…' - a name he chose as a tribute to his old friend Syd Lawrence, which attracts members from a wide catchment area.
After 22 years with the Syd Lawrence Orchestra he is now as busy as ever with his teaching, examining, freelance playing and now public speaking. Having been on the local speaker circuits myself for a number of years inevitably you get to know who else is on the circuit. 'Mr Trombone Man' as Derek is billed at his presentations with Probus Clubs and similar small local groups is now beginning to be in demand. With the benefit of a small sound system he can take his trombone with him and demonstrate his skill and exceptional talent in aspects of his presentation.
Over his many years as a brass player he has had many happy and memorable moments. In the early days with JSVB for example he knew from that first rehearsal they had something special to offer. Derek recalls one of the most amusing performances he remembers was when he was with JSVB for the second time and was on stage ready to play. It was a solo spot with Gordon Higginbottom the legendary Horn player who was to perform an arrangement of 'The Flight of the Bumble Bee' –
Derek knew it would be played to Gordon's usual high standard but what he did not know until Gordon walked on stage was that he would perform the solo dressed in a full body yellow and black stripped bumble bee outfit. Even Gordon still managed to keep his familiar dour face straight, not even a smirk or hint of him laughing – and of course went on to play the solo brilliantly. Whilst the group members remained the consummate professionals at all times however, on that occasion Derek recalls how even they almost most collapsed with laughter when he first appeared on stage.
Well there we are, it has been a long journey for Derek from those early days of playing at his local church and then striding out onto that famous stage at the Kings Hall and finally becoming a well respected professional musician. It has been a journey that has also brought him a lot of pleasure and the opportunity of meeting some of the people that only we mere mortals have dreamt about. He now has the pleasure of teaching young people who are taking their own early steps on that same long journey as he did all those years ago.
and finally …..We have all read about such and such a player who became the Solo Champion of Great Britain in a particular year and another player who won it in another year – but has anyone ever seen a full list of all the winners from the early days in Oxford – if you have I would be interested to hear from you.
and ….The late Arthur Laycock was one of the finest cornet players who sadly died in 1929 aged only 42 – His death was shortly after having played at two concerts as guest soloist for the St Austell Band. Arthur was married but never had any children and was interred in Earby Cemetery near Colne – his brother Harold Laycock was a fine trombone player he was married and did have a daughter who I believed lived in the Nottinghamshire area. I am trying to trace any family of Harold Laycock – can any reader help. I can be contacted on email address chrishelme@brighouse.fsnet.co.uk
Happy New Year
Previous 'Thanks for the Memory' articles:
• No. 4: Rowland Jones - more...
• No. 3: Louis Allison - more...
• No. 2: Willie Barr - more...
• No. 1: Derek Garside - more...
© Chris Helme 2003
© 4BarsRest
back to top