Grimethorpe - Part II: A humourous look at their trip down under:
Andy Snell – one of Grimethorpe bands quieter members, recalls the bands historic trip to the Southern Hemisphere and a series of concerts the like the banding world in Australia and New Zealand will never forget. They played like angels and behaved like devils – but it was a trip they will never forget – if only some of them could actually remember anything of what went on.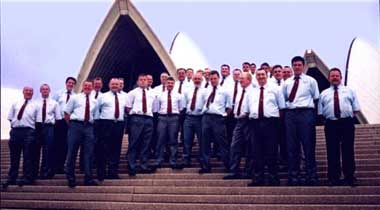 Leaving Sydney on flight QF43 (and with some extra tobacco products for Mrs. Hopes) we settled down for the 3-hour flight to Auckland. We were leaving behind temperatures of 42 degrees and packed houses to visit a country where we had never visited. Apparently we were the first English band to visit New Zealand in living memory. As we came in to land the pilot told us to adjust our watches - back ten years!
We were staying at the 5 star Sky City hotel, built I the shadow of the Sky Tower - the tallest building in the southern hemisphere. After a brief look around the nightlife of Auckland we settled into our beds for the night.
The next morning saw a first, even for Grimethorpe. Conductor Garry Cutt, Eb Bass Paul Davies and yours truly walked to the next door TVNZ studios to be interviewed LIVE on NZ breakfast TV. Having met the kiwi version of Eamonn Holmes and Penny Smith the red light went on ....... and we went to pieces! Never in the history of television have you heard more bland or uninteresting answers!
The rest of the morning involved a small group being driven round to various scenic locations in Auckland for a number of radio and TV. interviews. Very glamorous, but when you're playing Death or Glory for the 19th time - you'll gladly take Death every time! After an afternoon sunbathing by the rooftop pool at the hotel we prepared for the first N.Z. concert.
Sadly, this was a hastily arranged extra concert in Auckland - we were due to return at the end of the trip, and so it was less than full. Still, the audience of over 1000 seemed to enjoy it, and a number seemed intent to buy us copious amounts of beer afterwards. Well, it'd be rude not too, wouldn't it!
As you will be aware, brass banding is thirsty work and it has been known for those players who cross the Pennines to stop for a pint at The Dog and Partridge on Woodhead pass. As we arrived in Christchurch the next day, we left the terminal building at the airport and heard "Hello Garry, would you like a pint?" Yes, it was the landlady from the Dog and Partridge! Small world?
We had a few free hours to look around Christchurch. 'Papa Smurf' Wadsworth and Bb Bass Roy Batty stopped to listen to 'The Wizard', a famous local celebrity. The Wizard is a local nutter who dresses in a wizard's costume and talks crap in the centre of Christchurch (and this makes him famous - over here if you dress strangely and talk rubbish they let you adjudicate)
After a bit more PR work we played to a large audience in Christchurch Town Hall, before being taken to a local bar by the local top section band. It later emerged that this bar was owned by a member of the band - hospitality or profiteering?! Once the bandsman's bar closed we found the one late night bar in Christchurch - still serving food at 2 a.m. and still serving beer at 3. We tried to take it easy that night, as we had a long day tomorrow, but failed miserably.
The next day involved a seven-hour bus journey followed by a concert, just like being at home. We travelled almost as far south as you can go on the south island, Dunedin - next stop Antarctica. We played a concert in Dunedin Town Hall before another invite took us to a couple of bars in the town before ending up at The Mission, a night club converted from a church. We 'threw some shapes' 'til about 3 a.m. with the best dancing of the night coming from Paul Davies, what a mover!
The next day was the first free one since the day off at the start of the trip in Sydney. By now we were getting a bit weary of tourist things and most of us decided to do something normal for the day. Seven band members visited Otago Golf Club - the oldest in the Southern Hemisphere. The competition was fierce, but eventually won by Garry 'el bandito' Cutt, who went round the championship course in 97. The other main highlight of the day (other than the evening's entertainment of course) was a football match between the Fielding All Stars and the Timmins Tigers. It was a tight, defensive match in which both teams cancelled each other out to a great extent. Both sides expressed themselves and ultimately the all stars ran out winners 15-11!
The next day involved a flight from Dunedin to Wellington. We flew from the field they call Dunedin Airport on a plane that I'm sure was also crop-dusting en route to Wellington. Much to Cliff's disappointment Dunedin has no Duty Free shop.
On arrival in Wellington we checked in to the Park Royal hotel and found that there was a one-day international cricket match taking place down the road. Flushed with sporting prowess from his victory in Dunedin, Nigel Fielding accompanied Jim Fletcher and myself to the Westpactrust stadium to see New Zealand get stuffed by Sri Lanka. After the concert we returned (briefly) to the hotel to find we were sharing it with the vanquished Kiwi side. Out of sympathy the hotel bar was shut and we gad to go elsewhere. We found an Irish bar, with the loudest live band any of us had ever heard and we left about 1 a.m. with ears bleeding to find a quieter place to fall into unconsciousness.
As we were performing two concerts in Wellington we had a free day the next day and Wellington was not a bad place to spend it. We initially sat in the foyer and watched the unhappy NZ cricketers leaving. Then spent the rest of the day looking around the BT global challenge yachts, taking the tram up to the top of the mountain overlooking the city and generally being tourists again.
The next day we travelled to Palmerston North. What can I say about Palmerston?
Err..... Err..... We did a concert.
After the concert we met the lovely Patsy Davies, a member of the local Feilding Band. Although spelt differently, Nigel wanted to see the town named after him and so, about 1 a.m. we took a drive out to Feilding and even visited their bandroom. Thanks Pats, you made Nigel's tour! Jim Fletcher wanted to come as well but he fell asleep after about 30 seconds and didn't see a thing!
Next stop - Napier, an Art Deco town rebuilt after an earthquake in the 1930s. After a couple of rounds of crazy golf (do we know how to live?) won by Jonathan 'hole in one' Beatty we relaxed with a swim in the pool before the evening concert in the Municipal Theatre. After the concert we were invited to the RSA club. This sounded good, a private members club, cheap beer and food laid on. We found out when we got there that RSA is Returned Servicemen's Association - the kiwi equivalent of the British Legion, so we finished the day drinking Lager at 80p a pint and playing snooker and darts. What a day of exciting pastimes - snooker, darts and crazy golf!
We spent the next day on the coach back to Auckland - 7 hours. We played another concert and then, back at Sky City, hit the casino. We started by drinking in the casino bar. Sadly that shut at 4 a.m. and we were told that the only way we could get a drink was to play. So we played. We had a syndicate of 7 players; each of us chipped in $20 (around £8). Cliff was our representative at the roulette wheel and within 30 minutes our $140 had become $300 - this gambling business was easy! We soon got bored with roulette and moved to the blackjack table where Dave Arnold and I got to grips with the house rules (by breaking most of them!) Our pot lasted until around 6 a.m. by which time only myself and Dave remained, so we cut and ran and went to bed just as the sun came up.
The following day was spent getting our final presents for friends and loved ones before our final concert at the ASB Theatre. We returned to the hotel to try to pack cuddly sheep and All Black shirts into our cases as we were leaving the hotel at 4 a.m. The ones of us who decided not to bother trying to sleep looked much better at 4 a.m. than those who had had 4 hours sleep (at least we thought we looked better!)
We were leaving New Zealand - our first visit, but I'm sure not our last, but we weren't going home yet. We had one more stop, one more concert. After a 3-hour stopover at Sydney airport we arrived in Hong Kong at around 10 p.m. local time. It was commented as we went through immigration that it was easier to enter communist China than to get on stage at the Yorkshire Area! After a fabulous trip in from the airport when you saw more lights than Frank Bruno saw against Mike Tyson, we checked in to the Kowloon Hotel.
What a hotel. Our rooms contained 55 channel TV, fax machine, Internet ready pc, bowl of fruit etc etc etc. Here we met up with Andrew Kay, MD of International Concert Attractions. He wanted to take us out for a drink to show his gratitude, and as you are aware we don't like to be rude. Yet again our choice of bar was slightly off and we spent Andrew's money in one of Hong Kong's trendiest gay bars!
So after finishing the trip in the way we started it we settled into our hi-tech rooms for our final night's sleep of the tour.
We awoke to high humidity and the hustle and bustle of a Hong Kong morning. After a brief trip on the Star Ferry to Hong Kong island we were taken to lunch by ICA where we had genuine Chinese food, complete with a bowl of boiled hens' feet (no-one even considered trying them!)
We played an early concert (7 p.m.) at the Hong Kong Cultural Centre, where we met most of the brass section of the Hong Kong Philharmonic (mostly British or American) before leaving straight for the airport and the 13 hour flight home. We arrived in Manchester at around 10.30 on Sunday, and yes, we all went back to work on Monday morning!
We had a fabulous time, playing in New Zealand and Hong Kong for the first time (hopefully the first of many). We were treated as professional musicians by ICA, (a rare accolade for most bands) and played to full halls throughout the trip. With 14 concerts in 18 days and a total audience in the region of 30,000 we have proved that there really is an audience for top quality brass band music.
back to top