Grimethorpe - A humourous look at their trip down under:
Andy Snell – one of Grimethorpe bands quieter members, recalls the bands historic trip to the Southern Hemisphere and a series of concerts the like the banding world in Australia and New Zealand will never forget. They played like angels and behaved like devils – but it was a trip they will never forget – if only some of them could actually remember anything of what went on.
We're often asked "what's it really like on a tour with a top band?" Here's your answer. We'd been booked by International Concert Attractions to perform 14 concerts in 18 days on the other side of the world and we set off from a dreary Manchester airport on the first leg of our marathon journey. A great start.
Thanks to the organisational genius of British Airways the 8.30 shuttle flight to Heathrow left AFTER the 9.30 flight and we arrived in London with 25 minutes to change terminals, board the plane and get the luggage on the new flight. BA had arranged a coach for the band from terminal 1 to terminal 4 and we got to the terminal with enough time for Cliff Hopes to run into the duty free for some fags for his wife! Having boarded the plane with just 5 minutes to spare we the sat on the runway for an hour and a half! An even better start!
The delay was announced to the passengers as being due to the band's luggage. (Typical BA – blame the Workers!) All the other passengers (with whom we were to share the next 23 hours) were so pleased to be sharing a flight with the famous Grimethorpe Colliery Band!!
After a brief duty free stop over in Singapore (more fags for Mrs Hopes!) we arrived in Sydney at around 7.30 Tuesday night.
Have you guessed it yet?
NO LUGGAGE. None. No clothes, no money, no cameras, not even a toothbrush. Initially BA refused any compensation, as the luggage had not been lost for 24 hours. When a number of the larger members of the band pointed out (fairly forcefully) that we had last seen the cases in Manchester (over 24 hours ago) and that we knew Ann Robinson, (You are the Weakest Link) we were granted 100 dollars each to buy a change of clothes. For the larger members amongst us, 100 dollars just about bought a tee shirt and clean Y fronts.
On the way to the hotel we realised however, that not many y-front shops are open at 9.00 at night and when we reached our hotel to find that it was on the edge of Sydney's red light district we decided new clothes could wait. Things were looking up!
Elgar Howarth had advised us that when in Sydney we should visit his favourite pub - The Lord Nelson, so after a quick check-in at the Holiday Inn we piled into a fleet of taxis and headed off to spend our BA handout.
We arrived at the Lord Nelson to discover that Mr Howarth had sent us to a gay bar! Thanks Elgar! Still, by now our body clocks were as unstable as most of the regulars in the Lord Nelson so we embarked on a 'night on the tiles' which included vast amounts of beer, a couple of dodgy Chinese take aways and what can only be described as some 'late night entertainment' in the King's Cross area. We retired to bed at around 5.30 a.m.
The next morning Cliff arrived at breakfast proclaiming that the bar around the corner gave out t-shirts if you could drink large amounts of the local beers and that he had won a lovely shirt there, so didn't need to buy a change of shirt!! The fact that his shirt had cost him his $100 in beer didn't seem to bother him much.
Most of the band spent the day relaxing in 42-degree heat on the beach at Manly - sunburn count - high! We don't get much call for Ray Bans and bikinis in Grimethorpe in Jauary. Principal Trombone, Jonathan Beatty bought a new pair of swimming trunks, and spent the day wandering round a beach in the gay capital of the southern hemisphere with the makers name – SPANK - written on his backside! By the middle of the afternoon the luggage arrived at the hotel, with one notable absentee - the music case. So here we were, 24 hours before our first sold-out concert 13,000 miles away from our library with no music. Things were taking a bit of a down turn.
But hey, we were on the beach getting burnt so we left it to the airline and the tour manager. After another night in King's Cross, we retired to bed at 6.30 a.m. Our bodies thought it was 11.00pm back in England so we felt we weren't abusing our musical professionalism!
Thursday. First concert, no music yet. Cliff missed breakfast, but was now the proud owner of two new t-shirts! The music arrived 2 hours before we left for Wollongong, having finally been found in Los Angeles, and we set off for the venue. We had been told that Wollongong was Grimethorpe-by-Sea but Grimey doesn't have a 3,000-seat concert venue or a fantastic sun-kissed beach, but hey, minor differences! We played the Entertainment Centre (sold out) a week before Deep Purple and there were a few members of the band whose post-performance antics would fit better into the rock-star lifestyle. We retired to bed at 6.00 a.m. Our bodies are temples you know.
Friday. Australia Day. Cliff arrived at breakfast as the proud owner of three new t-shirts. Nine of the band were bright eyed and bushy tailed, as they hadn 't had a drink the night before. Why? They were climbing the Harbour Bridge and before you go up the bridge you have to take a breath test. The look of fear on Dave Barraclough's face when he blew into the tube - he thought he would fail from the amount he had drunk two days previous! We all passed and set off up the bridge.
Australia Day is a big deal in Oz. Unlike St. George's day in Englanf, it is a public holiday with loads to do and after watching a Tall Ships Race from the steps up the bridge and being filmed by TV news helicopters, we had our photos taken and reached the top. As we climbed back down the Australian Air Force did a 12-plane fly-by of the bridge and the Aussie red Arrows did a display over the Opera House.
Kevin 'Papa Smurf' Wadsworth (who had recently been sacked by his band for being too old) was heard to remark F**K Brighouse! We were told by our climb leader that we were her first celebrity climb, and Grimethorpe are now resident on their 'wall of fame', where they post pictures of all the famous climbers they've had – including Steve Redgrave and Kylie Minogue. Bet you never thought you'd see Grimey with Kylie, eh?
We had a concert that night in Newcastle, hometown of YBS conductor Dave King (so we went down well) and so arrived back at the hotel late before heading off into King's Cross. We retired at 5.30 a.m. All Olympic athletes now.
Due to the lateness of our return the night before Cliff arrived at breakfast with only one new t-shirt to his credit - a poor night. Saturday was the day our ambitions were realised.
The venue - Sydney Opera House. Papa Smurf did a live link up to the GMR breakfast show just before we went on stage and played to a packed hall who loved every minute of it and gave us three standing ovations at the end. What a night! Rep player Gary Owen was prouder than most as his Mum and Dad had travelled especially from North Wales to attend the concert.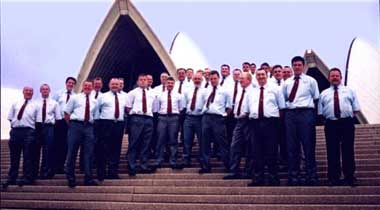 After a night like that you can't sleep so we stayed up and watched Man Utd getting knocked out of the F.A. cup. We watched in the famed t-shirt bar, and as the kick off wasn't until 4.00 a.m. none of us were in any fit state to remember the result at breakfast the next morning. Our drinking was not measured in how many pints we'd drunk, but how many t-shirts we'd got!
Sunday was our final day in Sydney, so after some final sight seeing and souvenir shopping we played to another capacity audience at the Hills Centre on the outskirts of town before re-acquainting ourselves one last time with the bars of Kings Cross.
At breakfast the next morning Cliff's tally of t-shirts had reached an astounding eight and, with his roommate Dave Barraclough room 312 had amassed twelve 'I drank my way around Australia' T-shirts.
We left Sydney on the 11.30 flight to Auckland – We had conquered Oz and now New Zealand beckoned.
I will release details of our trip the Land of the Long White Cloud in due course.
back to top