My Australian Diary - by Katrina Marzella
'Cherry Ripe' Katrina Marzella sends us the first part of her Aussie experience
---
G'DAY FROM DOWN UNDER!!
Ok, cringe if you must, but I think it's almost obligatory to begin an "Australian Diary" in this way! However, if this proves to be O.T.T (especially for the Aussie's reading this – I apologise in advance!), I will cut down on the clichéd 'Oz lingo' as the diary develops over the next 6 months! I am lucky enough to be partaking in a University Exchange programme that has seen me swap the bleak and dreary surroundings of my Glasgow Law School for the tropical campus of Queensland University of Technology in Brisbane, Australia. Unfortunately, this also meant that I had to leave behind my family, the UK band scene and my friends and colleagues at Whitburn Band. However, I was delighted that I consequently have the opportunity to get an insight into 'Aussie Banding', and will be experiencing it at its best, whilst playing with Brisbane Excelsior during my stay Down Under.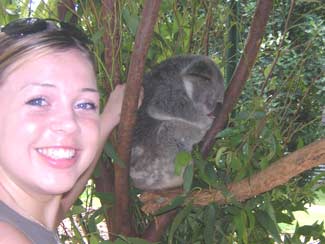 Caramello Katrina with Koala!
"Especially for you …."
Over the next few months I'm going to be sharing my experiences of Australian banding with the 4barsrest readers – after 10 years of playing in brass bands, I am fully aware that banders are, in general, a rather nosey bunch and love a good gossip. So they no doubt will be as keen as mustard to hear all about what banding in Oz is like. In fact, I have already received several emails from my female band mates inquiring if there are any surfers in my band (no Jason Donavan stereotypes unfortunately!). In turn, the lads continue to ask whether the 'Aussie band Sheilas' look anything like Kylie Minogue'! Answer?? No!! She's far too small anyway, and would hardly be able to lift a cornet never mind fill the instrument … however I'm sure she'd prove to be a very popular band mascot! Despite these topics being very important, I'm going to be able to report on some great events - there's so much happening in the Australian Brass Band calendar whilst I am visiting. With the Ern Keller International Solo Contest, Brett Baker's solo tour of Australia and New Zealand, and of course the Australian National Championships all occurring during my stay, I am certainly in for a fantastic time – Bonzer mate!!!
And so, less than 24 hours after playing in the final of the BBC Radio 2 Young Brass Soloist 2004 competition, feeling somewhat 'jet-lagged' already after night-long celebrations with my family, friends, several Whitburn Band 'rowdies' and a few Black Dyke 'casuals', I was off on my way to Oz and looking forward to all that lay in store!
"I Come from a Band Down Under ….."
Whilst in Australia, I am playing Solo Baritone with Brisbane Excelsior (or XLCR), one of three brass bands to be found in the city. XLCR have a long and successful history – they were founded in 1912 and after achieving A Grade status (the equivalent to UK Championship section) in 1929, have remained there ever since. In more recent years, XLCR have beaten the best in Australia, becoming the Queensland State Champions in 2002 and 2003 and winning the New South Wales title in October. I was therefore excited about the prospect of competing with them at the 2004 Australian National Championships that are being held over the Easter weekend in Launceston, Tasmania.
One man who has high hopes for XLCR at the contest is Musical Director, Howard Taylor.
"Having been with XLCR for 2 years, I think we are in a very good position to make a strong challenge this year for the National title. Last year the band aroused some talk at the contest – they have since become both Queensland and New South Wales Champions in 2003, so I think the band is in the strongest position since my appointment in 2002".
Howard, a true "Pommy", hails from South West England and started his musical career playing cornet in the area's Salvation Army bands. He has played and conducted several Championship section bands, including Bodmin Town and Tredegar, and thoroughly enjoyed working along side some of the brass band greats, such as Peter Parkes, Nicholas Childs and Leonard Adams who encouraged his conducting in the first place. In 1999 he moved to New Zealand and had various successes conducting Waitakere, before moving to Brisbane in 2002.
Howard told me of XLCR's ambitions over the next few years – whilst they are ultimately aiming to tour Europe or the USA (and perhaps incorporating a contest appearance into this), their first obvious ambition is to bring the Australian National Title to Brisbane. Howard would also like to take the band across to compete in the New Zealand Nationals. I was surprised that the rules would allow this, however it is quite common place for the Kiwi and Aussie bands to do this – in fact, Woolston, the New Zealand Champions in 2002, are providing some tough 'All Black' opposition at the 2003 Nationals in Tasmania.
Interestingly, there is a general consensus from XLCR and Howard that, whilst Australia has undoubtedly produced some excellent bands in its long and rich history, there has been a marked improvement in the standard of Australian bands in the last decade. Everyone agreed that a combination of factors has probably brought this about. Brass Band magazines and publications, and websites such as 4barsrest, all bring the band world closer together and make information easily accessible. The 2 nd euph player at XLCR knows more about bands, conductors and personnel in the UK than I do, turning almost every conversation we have into a brass band version of 'Mastermind'! I feel like I have to do some revision to keep up! Nonetheless it really does highlight the level of enthusiasm the Aussies have about banding. The fact that many pay thousands of pounds to come over to Britain for a weekend at the 'Nationals' or the 'Open' really does make you feel guilty about not going to London because 'it's too far to travel from Scotland!'
The recent growth of production companies, such as Doyen, means that more recordings of top bands and live contest performances are available on CD, making it easier to listen to and learn from these players and conductors, as well as gaining repertoire ideas.
Furthermore, the dramatic drop in the cost of air travel to this side of the world has consequently resulted in an invasion of Oz and N.Z. by numerous 'foreign' band personalities on a level that Captain James Cook would be proud of! With some of the best in the business conducting and touring in Australia in recent years, they will have undoubtedly passed on their knowledge and expertise to Aussie banders along the way.
Some of us 'Poms', 'Scotties' and 'Kiwis' also stay on a more permanent basis – and why not? A well-known English bandsman, who played for many years at the top level of UK banding, has often been asked by his Aussie band mates why he chooses to stay in Oz when he could be banding back in Northern England – he is known to simply reply, "Look outside." and walk away!! In XLCR alone we have a handful of Pommies, including Paula Russell (ex YBS), Steve Ridler (ex Brighouse and Leyland), and Howard; a couple of Kiwis in the form of Brent Hoy and Adrian Head, and a Scottish duo, myself and Samantha McIntyre (ex CWS Glasgow).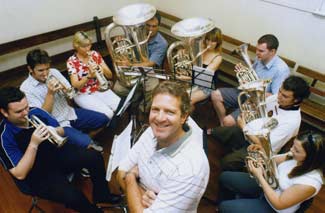 Howard Taylor and band memebers
Howard and I shared the opinion that we would like to see increased interaction between the UK/European and the Australian/New Zealand brass bands. They both have much to offer each other, and it would be great to see the co-operation and the development of relationships between them, perhaps on a similar level to what now exists between the UK and Europe in terms of band personnel and conductors visiting other countries on a frequent basis. I think from my own personal experience, nothing could achieve this better than exchanges occurring through Schools, Universities and Youth bands. I know that it's almost financially impossible for a student to come out to Australia for an extended holiday normally, so it's wonderful to be able to incorporate this into my studies. Many of the music students in XLCR told me they would love to spend a few semesters in the UK, and I know for sure that many British music students would be here faster than you could say "I'm a baritone player ….Get me out of here"! Maybe something to think about for the future, eh?
"I Should be so Lucky…"
Since being in Brisbane, I've really settled into my new band, mainly because the bunch at XLCR are some of the most friendly, helpful and enthusiastic people I've ever met. Thanks everyone! However I also think that it's due to the many similarities between banding here and banding in the UK. Apart from obvious similarities in repertoire, concert appearances and other fundraising events, such a 'Cabaret Night', I was personally delighted to discover that the banding humour is as rife here as it is in Downtown Whitburn. The funniest example of this was MD Howard Taylor's memorable introduction to Martin Ellerby's 'Chivalry' at a recent concert – an unfortunate confusion of his "KN's" and "SH's" resulted in a hilarious description of the "KNights in SHining armour"!! The social scene is also very lively and will jot disappoint! Banders here are just as partial to a 'quiet Coca-Cola' after practice as they are in the UK – plus there is the added bonus of the occasional 'Barbie' when the weather is good (pretty much every day)!!
"Sun Arise…."
Nonetheless, you can't be 'hanging upside down at the opposite end of the world' and not expect any differences. I suppose I should say that these are just a few of my own personal experiences and will not be relevant to all Australian bands – but I think that many will apply across the board!
The first difference? Without a shadow of a doubt – the heat!!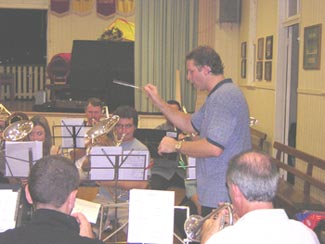 Sweating it out in rehearsal
My first rehearsal with XLCR landed smack bang in the middle of a heatwave in which Brisbane experienced some of its hottest temperatures since 1925. So, in 41 degree heat I was off to band – a far cry from the all time record high of a scorching '14' in West Lothian! The band members informed me that the location for the practice was changed tonight – we were off to an Air Conditioned venue, as their band hall could get a bit hot and sticky. I suggested that although it may be a bit uncomfortable, at least it would be invaluable preparation for stage conditions. They looked at me as if the sun had affected my brain (probably true) – in Australia all the larger halls and stages have AC and are cold! Weird!
Next practice was in the band hall, the Windsor School of Arts, and it certainly was a long way away from what I was used to. Whitburn Bandhall has its own freak weather zone – a stable 2 degrees centigrade no matter the temperature outside. XLCR's bandhall was filled with reminders that I was banding in a subtropical climate. Apart from the obvious temperature difference of, oh I don't know, 100 degrees or so, there are numerous details, like random lizards joining us at rehearsal (actual reptiles, not the trustees) or people taking their flip-flops (or thongs are they are called in Oz – need to watch with that one!) off in practice because it's so hot. This is definitely a ritual that belongs in the tropical conditions of Brisbane however – the thought of returning to Whitburn to find the entire Bass Section with their wellies off, fumes wafting around the bandroom, is enough to make me get my Greencard and emigrate permanently!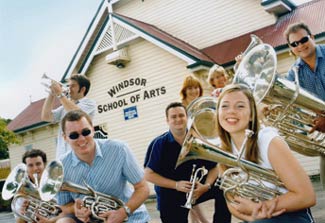 Katrina with friends outside the bandhall
Personal practice in the house has also been a bizarre experience – apart from an audience of Giant Fruitbats outside my bedroom window, it is just so hot! Rumour has it that I've even resorted to practising in front of the fridge with the door open – believe what you will.
One memorable incident for me was when the band was cancelled due to the 'freak weather conditions' that Brisbane and the surrounding areas were experiencing. I looked outside at the 'tropical thunderstorm'–to me, it just looked like any normal Glaswegian rainy day! Strewth! Aussie banders are extraordinary! They can play in 41 degree heat when I nearly passed out on stage, but will cancel band because of a little rain! (Oh, Ok - so a few houses had lost their roofs and a few trees were blocking the roads …. then again, just like Glasgow really!!)
"Advance Australia Fair …"
Rehearsals on the whole have been great – I'm really impressed with the band's level of commitment and concentration, and the musical approach they take with their playing. It's very much a team effort and I admire the fact that everyone's thoughts on the music are taken into account. I have even found myself contributing occasionally –the band all seemed pleased at this, smiling and nodding encouragingly to me. And what's more, it'll be an even greater bonus when they eventually understand what I'm trying to say!!!
So there you have it – my experience of Australian Banding…. So far! I've got lots to look forward to in the near future – the highlights being the Ern Keller Solo Contest, a joint concert with XLCR and Brett Baker and the big one – the Australian Nationals. I hope you've enjoyed reading this part of my Aussie Diary. I better be off now – got a few Barbies to attend, a few beaches to surf at – you know, the usual every day stuff.
See ya mate!
back to top