2004 Norwegian National Championships
Grieghallen,
Bergen
February 13th - 15th

Elite Section Retrospective
---
Audio:

David King's thoughts [WAV 657kb]


Adjudicator - Isabelle Ruf-Weber [WAV 289kb]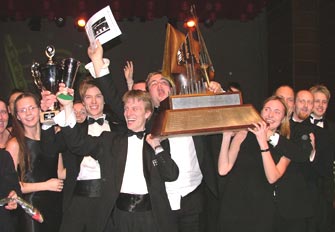 For some people winning once is enough; for others, winning is a habit that defines them. Professor David King is one such man, and at the 2004 Norwegian Championships here in Bergen he once again showed that his appetite for success is as yet undiminished.
This was his sixth title in all – the same as the Stavanger Band that he led here; and whilst their list of Championship wins dates back to 1982, David King has now won six times in his last seven attempts (and that one defeat in 1998 saw him come second). He is simply a class above the rest of his contemporaries – anywhere in the brass band world.
This Championship also told us a lot about the strengths and weaknesses of the favoured process the Norwegians employ in deciding who their winners, and European representatives will be. The format is the same as the Europeans – set work /own choice – this time spread over the two days (this year's Glasgow European will follow the same suit) and as a format it is an excellent way of usually ensuring that the best band wins. This was certainly the case this time around, and is certainly a great strength of what this year was a wonderful event.
The flip side though is that such a format can only be seen to work successfully if the adjudicators employ a thought process that is both considered and consistent. The end result was right this year, but it would have taken a Philadelphia lawyer to have made sense of the way in which they made it. When we managed to get a short interview with Isabelle Ruf – Weber, one of the judges, and someone who had previously adjudicated at the European Championships, her main comment was, "Too loud – musical, but too loud" – which would have been fine, if the panel she was part of hadn't just chosen "Apocalypse" as the joint winner of the "Own Choice" section of the contest. Sandefjord had given a memorable effort indeed – but by heck it was loud, loud and then loud some more.
It therefore made for an overall result that was right, but for not quite the right reason. It was like opening a tin of Alphabetti Spaghetti, pouring out the contents and finding that it spells out Encyclopaedia Britannica on your plate – you know it can happen, but the odds against it are pretty remote.
The winners were fine value for their victory, whilst Eikanger Bjorsvik ran them close, but not quite close enough. The two point winning margin was a fair reflection of Stavanger's superiority over the two days. It was elsewhere that the inconsistencies for us, surfaced, and Sandefjord in particular will be somewhat mystified by placings that saw them come 10th and last on the set work, "Graffitti" and be joint winners of the "Own Choice" with the Bourgeios "Apocalypse". Given what the lovely Miss Ruf – Weber had said, you would have thought it may have been at least the other way around.
Molde Brass under Alan Morrison suffered much the same fate, with a first place for a fine, but not outstanding performance of the set work, and seventh for a truly outstanding performance of "Concerto Grosso". The Principal Cornet of Brighouse was certainly scratching his head when he looked at the results sheet. Coming fourth was a fine achievement, but what a way to do it.
Molde therefore just missed out on third place, which was taken by a delighted Ila Brass Band, who opted for a second contemporary work in addition to "Graffitti" and found that it was a choice that whetted the appetite of the judges if not the audience. "Exergy Re - Revisited" was certainly new to us, and so we probably misjudged it totally, but the two performances from the band didn't really capture the imagination of the listener, technically or musically.
The top six places were made up with a disappointing Manger in fifth place and the slightly bemused Sandefjord in sixth, whilst below them the standard fell away somewhat down to Tertnes who came 10th.
Stavanger though won't be worried. This was the first time the band had ever retained the title, but after their performance of the set work late on Friday night there was little doubt they were going to be the band to beat. Professor King drew a very lyrical performance from them on "Graffitti" that had insight and understanding and which developed the germ of the original musical idea in a coherent fashion. The work depicts the composer's own life from somewhat rebellious youth through to mannered and refined maturity. The analogy used is that of urban graffiti – at first seen as the rebellious anti establishment rantings of disaffected youth, before the understanding by society as a whole that it has value and beauty, which when produced by talented artists enhances rather than detracts from the urban landscape. It is contemporary all right, but no dissonantly so, and it made for an enjoyable musical as well as technical test.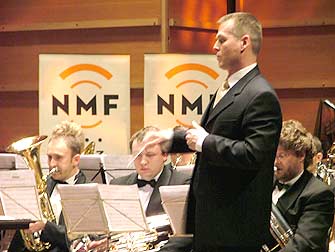 Stavanger's was the best performance for us (although it did contain one of those David King "enhancements" that nearly every winning performance of his must have – this time the euph seemed to sing the horrendously difficult E to G above top C repeated semi quaver snippet. He had a good boy soprano voice though!). It did not overtly detract though and theirs was the most compelling overall performance.
Eikanger gave the other outstanding performance of the set work, which for us was just half a point behind Stavanger, mainly due to the little imperfections that crept in toward the end of the piece. Reid Gilje directed superbly and they set out their stall in tremendous fashion - individual lines were clearly heard and they did have a quite outstanding percussion team that brought colour and vibrancy to the performance rather than overwhelming it as many did. It was a touch and go for us if they had done enough to head their rivals, but it certainly didn't deserve the fourth place it was given by the judges.
Molde were the winners of this section for a performance that we liked a lot, but in reality didn't have either the depth of sound or the clarity of individual lines of either Stavanger or Eikanger. Still, what do we know? Ila Brass were placed third by the judges Jens Larson, Henrik Vagn Christensen and Isabelle Ruf – Weber, and once more we just didn't see why. Not to our taste for sure, but certainly to theirs.
After the top four the standard fell away somewhat with Manger possibly unlucky not to have featured higher up after giving a finely structured performance. Krohnengen didn't quite do what MD Ray Farr wanted of them (he was on excellent form all weekend with the baton) and Sandefjord possibly falling foul of playing off the dreaded number one spot. The remaining three of Tertnes, Oslofjord and Jaren all had their moments – both good and bad, but were a class below the other seven bands over the two days.
With that the first day was over. We had a line up that was headed narrowly by Stavanger, followed by Eikanger, Manger, Krohnengen, Molde and Sanderfjord with the rest headed by Ila, then Oslofjord, Jaren and Tertnes. Not far out, but the best was yet to come.
The next day the Elite bands waited until the afternoon before setting about their "Own Choice" selections. This gave them time to prepare and recover, and seems to be a good idea that should be repeated again next year here. It was a good job as well, for Eikanger had drawn the number one spot. Much has been said of Eikanger over the years – they seem to be treated in Norway in much the same way as many British brass band fans treat Black Dyke – with a mixture of awe and reverence to add to accusations that they have a slight air of arrogance about them.
Like Achilles riding around the walls of Troy, they seem on their day to be nigh on unbeatable, yet it is surprising how many times they tend to get shot in the proverbial musical ankle. This time it was their choice of the Derek Bourgeois "Concerto No 1 for Brass Band" that was their undoing. We don't know how they made this their choice – but for the life of us, it certainly was a brave and risky one. Those who remember the bands at the Nationals in 1999 playing it will recall that it is essentially a transcription of a piano work that has a real undercurrent of black satire about it. A entertaining work for sure, but a show stopper?
And so it proved. It was a tremendous performance with the soprano playing of Frode Rydland a feature, but it ended as it begun – with the impression that it was a choice that was a little too clever by half. Eikanger are a superb band who in the last couple of years have lost their contesting way. Being regarded as the best is one thing – actually having the titles to show for it is another.
After that came four performances that didn't quite come off as perhaps the bands would have liked (although all four gained some sort of standing ovation form the youthful audience in the full hall). Krohnengen choose "Harrison's Dream", which was enjoyable but littered with slips and clips that robbed from a fine interpretation from Ray Farr. It could have been a stunner, but it sounded like a clock with a slightly irregular chime – especially in the little section where the band takes up little bells to depict the drowning souls. It could have been and should have been better, and they knew it.
Ila then gave us "Exergy Re – Revisited" which seems to have been the third variation on the original "Exergy" theme. Enjoyable though it was to listen to, it certainly wasn't a piece that stuck in the memory after it was played (Strangely, but the tune you heard most whistled after the performances on the weekend was the third movement of "Royal Parks" by George Lloyd, which was played in the lower sections a few times). The judges certainly liked it and gave it 4th place, but for us it was something we would have to hear a few more times before we could say whether it was a inspired choice.
Tertnes put in a brave performance of "Dove Descending", which got off to a rather flat start, whilst Oslofjord put in a fair effort on "Montage" which just seemed too ambitious a choice perhaps.
That led to Manger who on this evidence seem to be a band who have just dropped off the pace in the last two years. Their choice was "Paganini Variations" – a great piece, but one that has passed its sell by date as an "Own Choice" winner at this level of banding. This was a loud and aggressive performance that lacked contrast, and whilst they recovered to produce a sublime middle funeral section it became frantic and lacked subtlety to end. This was not the Manger that won here a couple of years ago for sure, whilst Jesper Juul Sorensen the MD seemed a man hell bent on creating excitement at the expense of musicality. Manger were off the winning pace by some distance this weekend.

Meanwhile, Jaren and Helge Haukas (on best John Travolta form with the baton – at one point he almost went down on one knee with his other leg outstretched before pulling himself back up) struggled a little on "English Heritage", which although very musical lacked the technical clarity needed for it to really come off.
Molde on the other hand gave a real corker of a show on "Concerto Grosso" that even though it had plenty of little imperfections, nevertheless had a tremendous amount of vibrancy and was excellently led by Alan Morrison. It's about time Alan was seen with a top quality band under his command – on this form he certainly has the ability to draw a top rate show from a good outfit. Some covetous UK eyes should be cast in his direction – there is a high class MD here.
That just left the last two bands. Sandefjord Brass Symposium certainly didn't know they were in last place, and certainly didn't play like a band that deserved to be there either. Theirs was a tremendous effort on perhaps the hardest band test piece on the planet at the moment. "Apocalypse" certainly isn't "audience friendly" in a "Paganini" sort of way, but it is certainly a rewarding experience for the listener when it is played well. This was. Just towards the very end did the stamina start to fail, and then only with little errors. It was the last quarter that just grated – tiredness had crept in and the overall sound of the band became hard and brittle, but it was one heck of a performance. Not quite first place for us – it is a piece that lacks a reflective period to really showcase a complete bands talent, but it was a great effort nonetheless.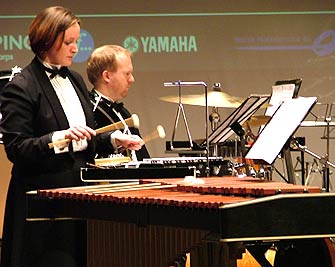 So that left Stavanger – and David King couldn't have written the script better. "Masquerade" was something of a brave choice as well – although not quite as brave and risqué as Eikanger's for sure. This was a stunning contest winning performance, although musically it didn't quite make the hairs on the back of your neck stand on end. This was technically outstanding and musically precise, but most of all, it was a performance that had "contest winner" written all over it. All the "King" ingredients were on show – great changes of pace, immense detail and clarity of purpose and technique. We questioned the possible use of a baritone in the euph cadenza, but it never really detracted, whilst the euph and Eb tuba were the star performers. We almost knew it was going to be a top rate show, but what we got was far, far better than that, and in the end confirmed that at the present time, and under this MD, Stavanger are the premier brass band in Norway.
Before the results, we asked for opinions on who we thought had won. Over 90% of the people we asked plumbed for Stavanger – and that summed up not just their performance, but that of Professor David King. When it comes to winning contests there are currently none better than the Australian, and once more he proved his worth. The habit of winning is in his veins, and it is one that runs strong and true. In Bergen he once again showed that it is his very lifeblood. Stavanger will be a very serious contender come the European in Glasgow (and again in 2005), whilst Professor King will certainly remain a serious contender for victory at any contest for many a year to come – his appetite for success is nowhere near satisfied.
Copyright 4BR
back to top