Nationals Championship of Great Britain 2003
Best Instrumentalist

4BR catches up with Stephen Barnsley of the BAYV Cory Band, the man who shone the most at the Albert Hall last Saturday.
---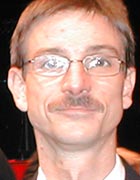 2003 may have been the year of the orchestral arrangement, but it has also been the year when the limelight has certainly been pointed squarely at the best soprano players of the best bands in the country.
The National Championships at the Albert Hall this year was a case in point. The arrangement of Elgar's "Enigma" Variations may have not been the greatest work for brass band, but the soprano cornet part was certainly one of the hardest ever. It also meant that many of the best players of the instrument in the UK had to come to terms with a part that tested their technique and musicianship to the full – top D's at pianissimo dynamic just a minute or so into the piece is as hard as it gets, and given that much of the writing for the soprano in the test piece was so exposed, it meant a huge burden of responsibility lay with them playing to their optimum form.
Nearly everyone thankfully had a pretty decent day, but one player really did shine out according to the adjudicators (and for many in the audience), and that was Stephen Barnsley of the Buy As You View Cory Band. Although they didn't win the contest they did produce a fine performance to come third and much of the reason why was due to the 33 year old Production Engineer on the soprano.
Stephen Barnsley hails from the small Welsh village of Cwmaman – home also to the famous Stereophonics pop group as well as the 2002 Grand Shield Winners, Cwmaman Institute Band. Now they can certainly add Stephen's name to the impressive list, as the young man who didn't start playing until the age of 13 is now rightly seen as one of the very best exponents of the soprano cornet in the country. Like many of the best soprano players though, he didn't start off on the instrument, as Stephen's early brass band playing experience began on the tenor horn!
"I started playing with Cwmaman when I was 13 years old", he told 4BR when we spoke to him earlier this week. "That only lasted a short while though and I went on to play the cornet and then the soprano soon after. Nobody else wanted to play the instrument and as my Dad had played it with the band some time before, I thought that I would give it a go – nobody tried to change my mind, as I don't think anyone else fancied doing it!"
He was self-taught in those early years, but he had great encouragement from his father and his brother in law Mark Constance who was the then Principal Cornet of the band. "Mark was a great help to me, as was my Dad, but tragically Mark was killed in a car crash and after that time I took it upon myself to better myself as a player by listening to the best players around and upping my practice". It also meant the first of many moves for Steve as with the need to get a job he first spent two years at the Ynyshir Band in the Rhondda, before a move to Yorkshire and the now defunct Brodsworth Colliery Band.
"I joined Brodsworth in 1988, but the band was on its last legs, and even though I enjoyed my time there as soon as it folded I had to move away to find work elsewhere. I joined Ransome for a very short period before I returned home and was fortunate to be asked to join the then Cory Band."
The first period occupying the soprano chair with them lasted three years and the initial joining of the band remains one of the proudest moments in his playing career. "I grew up hearing Cory at their peak during the early 1980's and they were always the one band that I wanted to play for more than any other. To be asked to join was a real proud moment for me and I can remember how nervous I was when I first entered the bandroom."
The need to find work though meant another move away from the Rhondda and Steve spent a very enjoyable period of time in the Forest of Dean playing for the Lydbrook Band before he was poached by Sun Life in 1996. "I joined Sun Life in much the same way as Brodsworth, but I thought I was becoming something of a Jonah as both bands folded soon after I started playing with them! When things finished there though I decided to have a break from banding and even though I did odd jobs for bands I effectively didn't do any playing for about two years."
The renaissance of this fine player though came when BAYV Cory where in need of a soprano player and Robert Childs knew just the man for the job, even though many people didn't know Steve's whereabouts! "Being asked to come back to BAYV Cory came as a shock, but after speaking to Bob and hearing first hand about his plans for the band I knew it was the right thing to do. There just seemed to be such a buzz about things in 2000 and playing with many players who I grew up with in County School Bands made it so much easier for me. The win at the British Open that year was amazing, and then to go on to make it a historic "Double" at the Albert Hall a month later is something that will remain with me for the rest of my life."
Further glory for BAYV Cory has of course come their way and the part Steve has played in it has been vitally important. In a band of so many superb individual players he is something of the quiet man, although his pure soprano tone, tremendous technique and ability to ride such a powerful blowing band yet still sound as sweet as a bird in the quiet periods marks him out as a special player indeed. Keeping up with the band provides him with the spur it seems.
"There are so many superb players in the band that I've got to make sure I'm in practice to keep up with them. We are so busy each week that I haven't got any time for any other hobbies – although I've just bought a Play Station2. The last couple of years though has really been something else, the influence of Bob Childs on my playing has been immense, and it now means I have the stamina and confidence to perform solos with the band even when we have been performing some of the hardest programmes in concerts I have ever played."
Playing with such a high profile band has also meant the opportunity to play with many of the best professional musicians around and two recent occasion's stick in the memory. "Playing just this weekend with Derek Watkins when I had a bit of a duet in MacArthur Park was something else – he would make on hell of a sop player, whilst a few months ago the band was fortunate enough to perform with the Royal Liverpool Philharmonic Orchestra at the Welsh Proms and I had to play an extended solo that ranged from bottom A's to a triple piano top B to end. That was so nerve racking, but such a thrill."
And what about the "Enigma" test then? "This was perhaps the hardest soprano part I have had to play. It was so exposed, and tested us at the extremities – top D's at pianissimo so close to the start of a piece means so much pressure. Luckily it came off for me, but it was one heck of a tester for sure!"
His performance earned Stephen the first ever "Best Instrumentalist Award" at the National Championships, and for those who have heard him play in recent years can attest to the fact that not only was it well deserved, but it was long overdue acknowledgement for a very gifted player. He may not have the profile of many of top players on the instrument in some of the top bands in the country, but his playing is as good as anyones and his award at the Albert Hall confirmed what many of us had known for many years – Stephen Barnsley is one heck of a fine soprano cornet player.

Fact File
Stephen Barnsley
Age: 33
Job: Production Engineer
Family: Married to Claire
Instrument: Schilke Soprano
Mouthpiece: Warburton 5D Cup with 12* backbore
Favourite Players: Jimmy Shepherd, Brian Evans, Alan Wycherley
Favourite Test Piece: Energy and Epic Symphony
Favourite Solo: On with the Motley
Career Highlights: 2000 "Double" win with BAYV Cory and being asked to play for Cory the first time.
Hobbies: - Don't have any time, although I've just bought a Play Station 2 if I can find the time to use it!
Advice to Young Players: Keep practising, listen to the best players, and try to practice like a Bb cornet player – it will hold you in good stead for the future.
© 4BarsRest
back to top