150 years for Woodhouse:

Sunday 22nd June 2003 arrived bright and sunny for what was going to be a historic day in Woodhouse Prize Bands 150 years of existence.
---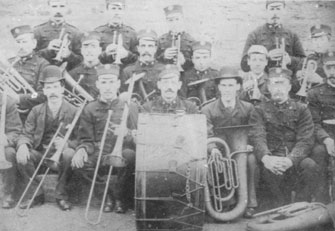 Around 250 well wishes, past members and friends crowded into a very hot St James Church in Woodhouse to enjoy the celebratory performance of Woodhouse Prize Band to mark its 150th year anniversary celebration.
The programme started off with the march 'Field Review' which the band had used over many years on its concerts and tours of Malta, Russia and Belgium. This stirred a lot of memories for past players in the audience.
During the last few months Cathryn Allen, the band librarian had been searching through the bands repertoire to find the oldest piece of music. The' Grand Fantasia Honoria 'dates back to well before 1900 .The Andantino from the piece was featured at the concert and to our knowledge has not been played in the last 60 years.
We had 3 solos played today. 'Memory' a euphonium solo featuring Keith Parkin, the bands chairman, a cornet solo by Tom Williamson called ' Ne Partez Pas Sans Moi' and a tenor horn solo played by Mark Taylor. This horn solo ' Little Dorrit' was written and composed by the current conductor's grandfather Tom Cook around 1900.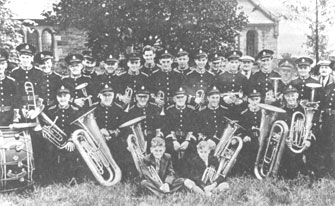 The band acknowledged several members with awards for outstanding service and commitment these were Keith Parkin, Tracy Cook, Eric Newbould, Ivan Sampson, Keith Varley, Dave Burrows, Jeannette Grayson, Rodney Cook and Jean Metcalfe, who between them have about 250 years service to the band. Graham Cook was presented with an engraved glass clock in recognition of his unprecedented service of 60 years service and commitment.
The concert was brought to a close with a march again written by Tom Cook and was found in the bands archives from many years ago. This piece was originally un named but on the day we decided to mark the occasion by naming it the
'W. P. B'.
There were many kind tributes paid to the band during the afternoon and a standing ovation brought the concert to a very successful and enjoyable close.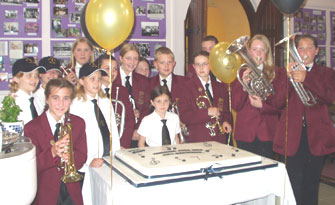 Many lasting friendships were rekindled in the Church hall afterwards and memories were warmly jogged with the vast amount of photographs and memorabilia on display.
A huge celebration cake, kindly daunted by Park Cakes, was cut to share and enjoy along with many happy memories of the day to look back on.
Jeannette Grayson
© 4BarsRest
back to top