2003 All England Masters Championship
2003 Dedicated Service Award, Phillip McCann
Corn Exchange
Cambridge
Sunday 25th May

Starts at 12.00 noon
---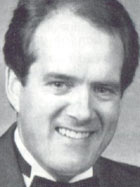 Phillip McCann is a complex man. Anyone who dedicates their lives in the pursuit of singular goals usually are. Aiming for perfection means that other facets of the human condition are sometimes less developed and even ignored, and so those who strive for the apex of their personal ambition can sometimes appear difficult or even tortured souls.
Sportsmen such as Geoffrey Boycott for instance, or Tiger Woods, writers such as Dylan Thomas or Alexander Solzhenitsen or musicians such as Maria Callas or Leonard Bernstein have all been tarred with the being members of the "awkward squad", such has been their determination to succeed at their chosen calling in deference to anything else. However, they wouldn't be remembered as being truly great at what they did if it weren't for that burning desire to be the best of the best. These people are truly great because they have given 100% of themselves in pursuit of their ambition. They are also people who have been misunderstood, at times found to have been difficult to work with, and on occasions been rather ostracised from the mainstream movement that they have graced with their brilliance.
Phillip McCann deserves to belong in such company. It is difficult to think of any other player in the last fifty or so years in the banding movement who has been so dedicated to his craft. From his youth in Scotland with the Kinneil Band right through to his appearance here at the Masters conducting the band he formed at Huddersfield Technical College and now proudly performs as the Sellers International Band, Phillip McCann's has had a singularly dedicated life. He is a true "Great".
His talent has never been in question. As a young man he made his mark as a player of rare brilliance at Yorkshire Imperial, who brought him and his family south from Scotland, and then at The Fairey Band and onto Black Dyke where he became possibly the most famous cornet player in the World. The 16 years he spent at Queensbury coincided with perhaps the greatest period of sustained success any one band has ever had, and it was led by example by Phillip McCann.
The famous story of the Principal Cornet player locking himself in the toilet of the Jumbo 747 for three hours so that he could practice and keep his lip in top condition as the band flew out to tour Japan, is by all accounts true enough, but so too are the stories of strained relations within the band itself which finally and irreparably came to an end with his departure from Dyke. One of the reasons great teams become great teams in any walk of life is that they contain great players, with ambitions and sometimes egos to match, but it is that explosive mix which in fact becomes their lifeblood. Dyke were a difficult band, striven by perfection, carrying no passengers and containing more than a few members of "the awkward squad". The music they made though made all of that very nearly irrelevant and the player who summed up that all up was Phillip McCann.
To hear him on record and then CD was a joy – the inheritor of the "perfect" cornet tone, the direct playing descendent of his father figure Harry Mortimer and perhaps the one player in the modern brass band world on any instrument with the most recognisable sound. Rivals would snipe that adjudicators would know it was Dyke on stage because of his playing, but that somewhat missed the point. His playing was rarely anything less than perfect.
His innate musicality made the slow melody a vehicle that has possibly never been bettered by any other cornet play. His CD collection of the "Worlds Most Beautiful Melodies" sold like hot cakes and not just to brass band aficionados either. His ability to make a single line sound something special ensured that his talents extended far beyond the claustrophobic boundaries of the brass band world. His playing on the Hetty Wainthrope series for instance may not have been the most artistically rewarding thing he had ever done but it was certainly the most popular and a whole new audience delighted in his playing. Everyone knows the tune, and more importantly nearly everyone knows who played it.

He remains a great cornet player to this day. He practices to a regime younger players would blanche at, performs numerous solo jobs and is in demand as a recording artist for television and radio. Unfortunately we rarely hear him on the contest stage and although the story of his top C# on Contest Music is now the stuff of legend there was for us lucky souls at Cambridge a couple of years ago an equally memorable bit of playing from him when he performed with Brighouse and Rastrick when they won on "Pageantry". McCann sat as bumper up and with his trademark white handkerchief in place, performed a true gem of a solo in the middle movement "Cortege" that made the hairs on the back of your neck stand on end. It was the most simple and beautiful reminder of the Bill Shankly maxim – "Form is temporary, class is permanent".
In addition to his immensely successful playing career it is easy to forget the contribution he has made to the development of young players and also his own development as a conductor and latterly as an adjudicator.
His conducting career took off when he formed the Huddersfield College Band which later became Sellers International, whilst he has also had periods at the helm at Fodens and also Whitburn. Although he has not won the major titles as a conductor as he had as a player he has proven to have been a Musical Director of the top strata. His relationships with some of the bands he has been with have at times been difficult – the first departure from Sellers was a real low point, whilst the departure from Fodens was also strained, but he left both in better shapes than when he arrived.
Sellers were placed 5th at the Open in 1991, came 3rd at the Nationals in 1990, as well as five times coming in the top six at Cambridge and coming runners up at the Yorkshire Area in 1995, whilst Fodens were runners up at the North West Regional Championships in 1997 and 6th at Cambridge, 5th at the Open in 1996 and runners up at Spennymoor in the same year. Close, but for this perfectionist not close enough and so the tenures ended unfulfilled personally or professionally.
With the Whitburn Band he has won the Scottish Area Championships in 1999 as well as take the band into 4th place (and come runners up on the set work) at the 2000 European Championships and into 5th place at the British Open in 2001. He continues to work successfully with them today and his return to Sellers for a second stint has seen the band once more perform to a high level.
He has taught many of the best young players in the movement – many of who speak in glowing terms of how he has taught them and he has become a very well respected adjudicator. A couple of years ago in Preston at the Lower Section National Finals he gave two model adjudicator's remarks from the stage that were detailed, constructive and informed, whilst his written remarks were the same. No band complained on the day with his decision.
The last remarks though should come from someone who has known him perhaps better than most, and can possibly give some explanation into the workings of this complex man. Peter Parkes, the man who's own career at the top of banding has had it fair share of special moments with Phillip McCann says, "In February 1975, as the newly appointed professional conductor of Black Dyke I paid my first visit to Queensbury and that famous old band room. All my previous experience as a conductor had been with wind bands and orchestras. I really had very little idea of what to expect when I gave that first memorable downbeat - the sheer power, precision and quality of the sound produced took me completely by surprise and converted me forever to brass bands. Every player was totally dedicated to producing 'the sound' and at the very heart of that sound was the superb comet playing of Phillip McCann.
Phillip's total aim in life seemed to me to be concentrated, both as a player and as a leader, on making sure that the band produced only music of the highest possible quality. He would accept only the very best, winning the National meant very little if the band had not played to the highest standard possible. The Chandos recordings of The World's Most Beautiful Melodies gave Phillip the opportunity to show his great talent to a wider audience to the benefit of the whole brass band movement. The sales of these discs broke all previous records, and the quality of Phillip's playing will remain as a lodestar to guide the players yet to come!
So many good memories of Phillip as the supreme comet player of his generation. Ijust need to close my eyes to hear again the comet solo from Journey into Freedom, at the European Championships or Rusalka 's Song to the Moon in Sydney Opera House. But perhaps finest of all Contest Music, at the Yorkshire Area Championships, with Phillip producing the longest and most perfect top C sharp that anyone ever played, followed by a glorious slur of a twelfth down to the F sharp. Thank you Phillip for all the joy which your playing has given, and continues to give, to me and to so many others, and congratulations on receiving this award, no-one deserves it more!"

Congratulations then to Phillip McCann on receiving the All England Masters Dedicated Service Award. The title sums up the man to a tee.
© 4BarsRest
back to top