BOLD AS BRASS:
Raising the Wind with JIMMY EDWARDS
by Howard Watson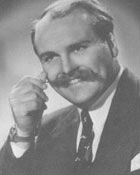 "Music," as Jimmy Edwards once said, "is divided into two distinct categories: loud and soft. In soft, we have piano, mezzo-piano, not-so-piano, pianissimo, and, of course, pianola. In loud, we have mezzo-forte, forte, fortissimo and eighty-which is double forte!"
Comedy and music share two common traits: timing and phrasing. From Spike Milligan to Mel Brooks, both drummers in their early days, all the best comedians retain some form of musicality. Therefore it comes as no surprise that one of the top comic actors of the post-war era was also an accomplished musician: 'Professor' Jimmy Edwards.
He was a portly, moustachioed figure who excelled in portraying minor authority figures such as Pa Glum on the hit BBC radio series Take It From Here and the headmaster of a down-at-heel boarding school in Whack-O! He was virtually born to play Shakespeare's burly knight, Sir John Falstaff but, sadly, never did. Now largely forgotten, despite being bigger in his heyday than Sid James, Frankie Howerd and Kenneth Williams combined, there are still a few who remember his talent to amuse.
Throughout his life he had nursed a passion for music, from his early days as a choirboy at St Paul's Cathedral to conducting the Royal Artillery band at the Albert Hall. His love was so intense he even incorporated this musicality into his act, first at Cambridge in the famous Footlights then, after a spell in the RAF, at London's infamous Windmill Theatre.
Whereas contemporaries such as Harry Secombe and Peter Sellers had a fine singing voice or could play the drums, Edwards created a whole act around the trombone. An instrument he had played in the Arimatheans Dance Band when a freshman at King's College, Cambridge, just before the outbreak of hostilities in 1939. This, and other brass instruments, would later be incorporated into a routine that would establish him as a seasoned performer on stage, screen and television, although lasting success on the big screen eluded him.
After the war, and now sporting his trademark moustache, grown to mask an injury sustained in the RAF, he became one of many budding comedians to grace the stage of the infamous Windmill Theatre in London's Soho. This establishment proudly boasted that it had never closed throughout the bombing and had become a symbol of Britain's refusal to be cowed by Hitler's Germany.
Once on Civvy Street, however, Jimmy Edwards, as with many others who had been, or were about to be, demobbed now had to make their way in the wider world. After the excitement of war, he planned on making a career in the business of show and wangled an audition with the manager of the Windmill, Vivian Van Damm, also known as the Old Man.
The Old Man put the young comedian at his ease, by stating that like Queen Victoria, he was easily amused, and Jimmy Edwards went through his audition. Once finished, waiting for questions, Van Damm asked the young - and ever so eager to please - Edwards about his moustache. Keen to get on, Edwards insisted that he was more than willing to remove the offending hirsute feature at the earliest opportunity. Van Damm insisted otherwise, saying that it was the only funny thing in the act!
Following in the footsteps of Richard "Stinker" Murdoch, Edwards became one of the first successful comedians to emanate from Cambridge Footlights. His act had first been performed at one of their last revues before the war and now, perfected in the hothouse environment of the services, his time in the spotlight had finally come.
Frank Muir, a former air photographer for the RAF, and who with Denis Norden would co-write much of the material Edwards would perform on radio and television, first witnessed the act that ignite the career of one of British comedy's most familiar faces.
As a freshman at Cambridge, his act had been little more than a sketch that had been debuted at a smoker, after been spotting playing with a dance band. It revolved around a lecture on how to play the trombone that was apparently full of water that was emptied into a bucket. When it was later performed, as part of the Footlights revue of 1939, his aim was a little askance, making it rather tricky for the ensuing ballet number.
By the time Muir witnessed the act, it had acquired a repertoire of RAF slang and become a great deal slicker.
Wearing gold pince-nez spectacles a la Will Hay, morning coat, winged collar and crumpled sponge-bag trousers, he came on stage carrying a beer crate and a huge euphonium case. He placed the beer crate down, sat on it and then opened the massive euphonium case, taking from it nothing but a penny whistle, upon which he would play a merry tune. With the words 'Encore' he pushed the mouthpiece up a nostril, playing the same merry tune. Then, secreting the whistle in his top pocket, announcing that the second encore had been banned.
The act had come a long way from his early days at Cambridge, where he had entertained thoughts of being a poet, even writing letters in iambic pentameters. He had won a Choral Scholarship to King's College that had had links to his family for over a century. His father had been a lecturer in mathematics, although he had died by the time his son finally arrived there, where he threw himself wholeheartedly into university life.
With war looming, however, it was difficult to concentrate and he later admitted that his scholarship was somewhat of a comic confidence trick.
Before leaving for Cambridge, Dr Hopkins at St Paul's Cathedral had been given the gift of a trombone. With the aid of one of his many brothers - Edwards came from a family of eight other siblings - taught him the rudiments of the instrument although the budding student had no idea that it would effectively change his life.
When he was invited to participate in a concert for freshmen, he turned up with his trombone. Feeling out of place amongst the more classically trained musicians, he broke into laughter that inspired a friend to suggest that Edwards should take his 'act' in a more comedic direction. The rest, as they say, is history.
His reputation with the trombone followed him throughout his life. When he was cast as Ajax in a student production of Troilus and Cressida, the director demoted him because he felt that no one would take Edwards seriously in the role, asking 'Where's the trombone?'
Many years later when he tried, unsuccessfully, to win the Paddington North seat for the Conservatives in 1964, while out canvassing potential voters would shout in the street to 'give us the trombone and go home!' So it was great surprise that he would one day play a man obsessed with brass bands.
In a one off play, transmitted in 1963, he played Ernie Briggs, a leader of a brass band, called Man O' Brass. This led to a series of six episodes where Edwards played opposite the late, great Beryl Reid and some new, young talent, including Ronnie Brody, who would later star in sketches for Dave Allen's television series. Ronnie Barker also appeared, having already worked with Edwards, and Bill Treacher, who later went on to become better known as Arthur Fowler in EastEnders. Fittingly, the series was called Bold as Brass.
In his early autobiography, Take It From Me, he related how he managed to keep an audience entertained at Blackpool's Winter Gardens. For a man who had experienced war in the skies, the monotony of a twice-nightly stint in the north of England was relieved when the iron safety curtain failed to lower during an interval. A chain had broken in the mechanism and it would take time for emergency repairs to be carried out and it appeared that the show would have to be cancelled.
There was talk of giving the audience their money back, but Edwards pooh-poohed the idea and immediately stepped into the breach.
In a perfect example of the old maxim of the show must go on, Edwards proceeded to entertain the audience, after having first explained the situation to them. "Now you've got me where you want me," he stated to roars of approving laughter. Working on the principle that an audience is more sympathetic to a performer in difficulties, he went through his whole act. He sang, as well as playing the euphonium, cornet and trombone, plus every gag he knew. Eventually, signs of life from the stage curtain.
Unfortunately, it stuck shoulder-high. He got under it and pretended to lift it, but to no avail, so he called for his post-horn, ripping through the 'Posthorn Gallop'. To every one's amazement including, no doubt, his own, the curtain began to rise and the show was, finally, able to go on. Staggering into the wings, exhausted, he found that he had been on stage for forty minutes.
© Howard Watson 2003
© 4BarsRest
back to top