Band Profile:
The Rochdale Borough Youth Band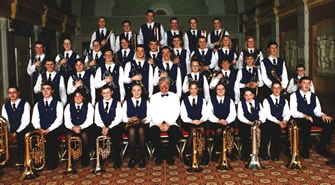 The Rochdale Intermediate Brass Band was formed in 1994, for young brass players between 7 and 16 years of age. This talented and enthusiastic group of young players have done much to promote music and entertain audiences, young and old, throughout the Borough of Rochdale and beyond both nationally and internationally!
As our engagement diaries show, the Intermediate Brass Band rehearsed hard and worked well together with our Musical Director, Eric Landon to become the Rochdale Music Service's busiest band, averaging around 30 performances per year.
As the Intermediate Band matured in ability as well as age, taking their music very seriously, and undoubtedly spurred on by their successes they reached the stage where they wished to be considered a youth band.
Consequently, in 2000 The Rochdale Borough Youth Band was formed and is the first youth band formed with players solely from Rochdale Music Service.
The Youth Band currently rehearses twice a week, in addition to performing at concerts and contests etc and providing Assistant Teachers and experienced players to accompany the Rochdale Intermediate and Junior Brass Band's younger players.
We are particularly proud of our link with Rochdale Autism Group Support, which heightened our awareness of disability in our community, and enabled children with Autism to play alongside the band as equal members. The also band do a great deal of work with Rochdale Hospice, helping them raise funds across the Borough.
The talent of the band is matched equally by their ability to work and socialise together as a group. Our memorable band holidays in Germany, France and throughout the UK are evidence of both! Our recent band holiday to Cornwall was particularly successful when we played four concerts, two with the equally talented St Keverne Band.
In the short time since its formation, the Youth Band have already experienced well deserved success, and our success as a combined band at the Whit Friday Saddleworth Band Contests in 2001 saw the band gain first youth prizes at 7 out of the 8 contests entered. In 2002 the band won 6 first and 2 second youth prizes out of 9 contests visited.
The highlight for the Youth Band was reached when we received the Outstanding Performance Award at the National Festival of Music for Youth on the South Bank in London and went on to be invited to the prestigious Music for Youth Schools Prom at the Royal Albert Hall in London in 2001. In 2002 we were again victorious collecting the Outstanding Performance Award for the second year in succession.
The band have entered the Action Research Youth Entertainment Championships at the Blackpool Winter Gardens in February 2000 (2nd place) February 2001 (Joint 2nd place), and finally in February 2002 - 1st place to gain the title Youth Entertainment Champions of Great Britain. As a result of this prestigious win we were invited to perform at the All England Brass Band Masters Gala Concert at the Corn Exchange, Cambridge in 2002, alongside Fodens Band (then All-England Masters)
The band have been North West Area Brass Bands Association Manchester District Annual Championships (Youth Section) in 2000 and 2001 and we are preparing to defend our title in November.
At Hardraw Scar Brass Band Contest held in September 2002 the band were awarded Best Selection (Unregistered Bands), Best Hymn Tune (Unregistered Bands) and were placed second overall in the contest, beating several higher section bands
The Borough Youth Band, and before them, the Intermediate Brass Band have always taken great pride not only in their performances, but also in their appearance. The distinctive royal blue waistcoats, black skirts, trousers and ties have made them instantly recognisable wherever they perform.
Recently, a training band, the Rochdale Borough Junior Band was formed with succession planning in mind. As the older players leave Secondary Education for University or to start work, it is vital that the Junior and Intermediate Bands feed the Youth Band.
A number of young brass players have left the band and gone on to join many of the finest brass bands in the world, for example Williams Fairey, Yorkshire Building Society, Brighouse & Rastrick and Fodens Brass Bands.
For further information please contact Peter Steckles. RBYB Co-ordinator. 01706 344955
Brass Band Website http://rmsbb.cjb.net
© 4BarsRest
back to top