The 2002 4BarsRest awards:

Conductor of the Year
Last year Dr. David King took the award as the best man with the baton, but this year there have been any number of men (and women) who have impressed us at 4BR. The successful new breed of Musical Directors are by and large ex players who have served something of an apprenticeship before taking over at the very top bands – all appear to have strong personalities and an insatiable will to win, whilst all seem to be in or around their early to mid 40's. This could mean that the next ten years or so will be dominated by these faces as the newest generation has yet really to appear, but there may be new (or old) conductor who might just break their hegemony in 2003.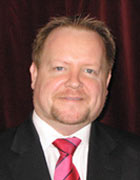 Russell Gray
When Fodens went for the MD of Ransomes there were more than a few eyebrows raised across the bandrooms of Yorkshire and Lancashire in particular. However he has proved to have been an inspired choice by the band and he has shown in 2002 that his appointment has been a great success.
He led Fodens to a very fine victory at the Regional Championships, whilst he brought an inspired performance from them to win at Cambridge. Although he didn't take the band at either the Open or Nationals he worked the band hard in preperation and he himself stated that he was willing and grateful to learn from Bramwell Tovey – such an attitude speaks volumes and will be of benefit to him and Fodens in the future. The runners up spot at Spennymoor ended a fine years work and cemented his place with the band as well as in the limelight as a conductor to sit up and take note of.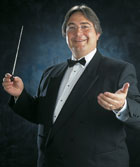 Robert Childs
There is a silly argument that says that given the talent Manchester United have at their disposal any fool could manage to win trophies with them, whilst many people think the same of BAYV Cory – both are fatuous as the real skill is the ability to blend your mixture of undoubted individual talents into a coherent team. Robert Childs once more in 2002 has proved he has the innate ability to do this in spades.
BAYV Cory's performances has been built directly on the foundations laid by the MD – foundations that are meticulously constructed through hard work and attention to detail and the results have been spectacular. His band responds to his clear musical intentions whilst his own style is deceptively easy and simple to follow. However, there is never a bar that goes unnoticed or unrehearsed so the end result is always close to winning the big prizes on offer. A second Open and runners up at the Nationals tells you something about how good he has been at his job this year.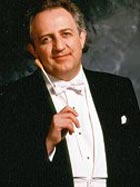 Bramwell Tovey
Although technically speaking Bram Tovey isn't a full time brass band conductor his two performances in directing Fodens in 2002 were something to cherish. Many may carp and say that however brilliant he was, Fodens still didn't win a bean with him at the helm – but that's to miss the point entirely.
What Mr Tovey brought to the podium was sheer, undulated class. His interpretations were almost too orchestral perhaps for some conservative ears, and Fodens did suffer some problems with tuning at both the Open and Nationals, but his performances were simply awesome. Beautifully realised pictures with touches of almost arrogant brilliant interpretation, Tovey was a country mile in class above anyone else on the days at Birmingham and London. That he didn't win was a pity - that we may not see him again working at his craft for at least another year is almost criminal.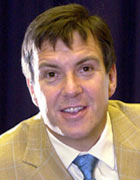 Nicholas Childs
A year that reads one win and three third places may seem to be something to shout about, but such are the expectations at Black Dyke under Nicholas Childs that the band and the MD will surely see 2002 as a year of missed opportunities and when a bit of luck deserted them.
The early draws at both the Open and London seemed to scupper the Queensbury bands chances of adding further successes to their CV but on each of those occasions they showed tantalising glimpses of just how brilliant they can be under the Welshman's direction. At times the hairs on the back of your neck stood on end and the way in which he stretched his band to the very limits (especially in the quieter passages of the years test pieces) was something else. He has brought back the "old" sound of Dyke – full, fat and rounded and has a team of players that can on their day be unbeatable. It wasn't to be in 2002, although it was very close on more than one occasion. He has laid the foundation for something special – now if only they can get a later draw come September in Birmingham……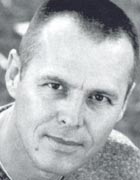 David King
It may be said that 2002 has been something of a quiet year for David King, but once more he showed that at times he can drag an almost unbelievable sets of performances from his band YBS. At the European Championships he took immense risks with the set work – it was very, very different to all the other performances, whilst he coaxed a truly memorable show on "Concerto Grosso" from what was still a very young and somewhat inexperienced group of "new" YBS players.
In addition he also put himself on the line with other bands – some with disappointing results but he did show that the European stage brings the best out of him when he returned to drive Manger to the Norwegian title as well as the SIDDIS crown.
2001 winner:
David King
---
How to vote....
Make sure you read all the articles for each category before going to the voting form.
© 4BarsRest
back to top