The 2002 4BarsRest awards:

Player of the Year
The amazing talents of Peter Roberts wowed everyone last year and he was an immensely popular and deserving winner of the award in 2001. This year though it is going to be a bit harder to choose a winner as there have been countless fine contest and concert performances as well as a number of excellent CD releases to choose from. At the topmost level the standard of solo playing is staggering at times, although nothing still tests a player more than a slow melodic line. The number of players who couldn't get to grips with the supposed ease of small melodic solo lines in the top test pieces this year was also staggering – give players plenty of notes and they sound brilliant, whilst give them something slow and expressive and many just don't know what to make of it.
Not so our nominations as we believe their class shone through, be it in a contest performance, concert solo or solo CD feature or release. These are brilliant players – although there are many more out there who could and should be recognised more. We've gone for some familiar faces, but others should be worthy of a sack full of votes as well. Our four are below, but what about the likes of Nick Hudson, Sheona White, David Childs or Ian Williams at BAYV Cory, Shaun Thomas of Mount Charles, Andrea Lewis of Tredegar, Glyn Williams of Fodens, Sandy Smith and Richard Marshall at Grimethorpe or Roger Webster, David Thornton or Brett Baker at Black Dyke? All have been on top class form during the year.
Morgan Griffiths
The move from YBS to Williams Fairey seemed on the face of it to be a brave choice for this consummate player but after so much success with YBS he possibly felt he needed a new challenge. The result however has been amazing and in 2002 Morgan Griffiths was "The" outstanding euphonium player on a contest stage in the UK.
It started with an excellent Regionals before he performed superbly to take the 4BR award at the All England Masters as "Best Instrumentalist" on Wilby's otherwise disappointing "Atlantic". He followed this with another excellent performance at the Open before he was the pick of a very good bunch of euphonium players on the "Masquerade". His playing of the quasi cadenza section was quite awesome in its musicality and execution. A thoroughly nice chap and one heck of a player - in an age when technical pyrotechnics are the norm he has brought a sense of traditional values back to the art of euphonium playing.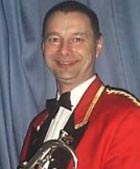 Alan Wycherley
A man reborn. For many years he has performed in the shadow of Peter Roberts and had not quite shone as many knew he could, but the move to Fodens has seen this very special player come right back to the forefront of his craft.
He displays a pure soprano tone, fine technique and balls the size of grapefruits and in 2002 he has been quite spellbinding. Right from the Regionals, through the Masters and Open (where he picked up the Best Soloist award) and to the Nationals and Spennymoor (where he scooped the best sop award) he has been on the very top of his form – and that means that there are many who can compete against him. A absolute joy to listen to and a reminder that not all soprano players just sit there and belt it out.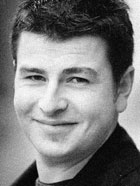 Tormod Flaten
The second euphonium player to make it to our nomination list, Tormod Flaten really came to fore a couple of years ago when he wowed the crowds at the European in Birmingham during Eikanger's performance of "Concerto Grosso". However, 2002 has seen him really come of age and the release of his first CD entitled "Flight" was a real benchmark bit of solo work.
The CD was recorded close up and in the raw and you can really feel the effort a top class player has to go through to produce the world class goods. It was a stunning release and his contest and concert playing during the year was no less impressive. The students at the RNCM have just had to the chance to hear a very special talent and were not disappointed. A player with a huge future ahead of him.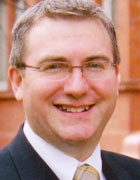 Ian Porthouse
There has been general recognition of Ian Porthouse's talents for many years, but the former "end chair" man of many of the countries top bands has been on very special form during 2002 and has once more shown himself to be one of the very best cornet players of his generation.
The move to Williams Fairey has seen him produce sublime performances at the top contests with his solo work at the National Finals on particular being quite outstanding. This was in addition to top class work at the Masters, Open and Regionals as well as nearly every Fairey's concert, whilst 2003 will give him the opportunity to wow a European audience once more. A player with the ability to enhance any cornet solo with his tone and musicality, he is now perhaps at the very peak of his playing powers.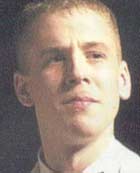 Andrew King
A young man with a huge future ahead of him, as well as a very fine recent past behind. Andrew King has shown in 2002 that his development as a soloist of the highest class remains unchecked and although he didn't defend his British Open Solo Championship he did make the long trip to Australia and win the prestigious Ern Keller International Solo Contest in some considerable style.
That win playing Lars Erik Larson's "Concertino" beat off the best of the southern hemisphers finest and he came home to show the British public that it was no fluke by giving a tremendous performance with YBS at the British Open Concert. A very special talent indeed.

2001 winner:
Peter Roberts
---
How to vote....
Make sure you read all the articles for each category before going to the voting form.
© 4BarsRest
back to top