Sellers International Youth Band:
With thanks to Carol Smith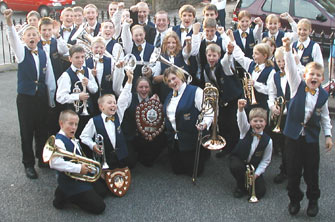 In May 1998 about 20 kids met in the Sellers Band room for the first rehearsal of the Sellers International Youth Band, some of the youngsters had never even held and instrument before let alone played one. The first public appearance of the Youth Band was Xmas 1998 with the Sellers International Band at Dewsbury Town Hall.
After that first nerve-racking performance they have gone from strength to strength, performing for charity and raising in the region of £12,000 over the last four years. The enthusiasm of the kids is fantastic and the rehearsals are very enjoyable with Mark at the helm. The first competition played in was November 2001 when the band came away with first prize for stand up soloist and fourth prize overall. This year was very different after first place overall and the best hymn tune at the Youth in Brass Competition held this weekend at Linthwaite Methodist Church.
With only an average age of 13, the youngest 7 and the oldest 17, we think it is quite amazing that such a young band has come so far in such a short time.
We are very proud of each and every one of them.
---
MARK BOUSIE
MUSICAL DIRECTOR AND CONDUCTOR
Born in 1976, Burton on Trent, Staffs, Mark is the principal Euphonium player of the Sellers International Band. Between 1994 and 1999 he studied the Euphonium with Steven Mead at the Royal Northern College of Music in Manchester, gaining an honours degree and a Professional Performance Diploma.
Mark has been a semi-finalist in the BBC TV and Radio 2 Young Musicians Competition. In 2000 he was awarded 2nd place at the Bromsgrove Festivals International Young Musicians Competition, won the wind section of the Tonbridge Wells International Young Concert Artists Competition and was a semi- finalist in the Leonard Falcone International Euphonium Competition held in Michigan, USA. In 2001, Mark was awarded 3rd place at the British Open Solo Championships for brass instruments.
Mark has given solo performances in many venues, including the Bridgewater Hall, Manchester and the Purcell Room in London.
Mark joined Sellers International Band in 1996. He is employed as a full time music teacher at Glossopdale Community College in North Derbyshire.
Mark joined the Youth Band in May and we have some big ambitions now for the Youth Band and we hope Mark will take us far.
© 4BarsRest
back to top