Boxing Clever

Following on from our recent look at the National Championships of Great Britain, we have managed to unearth an old photograph from the contest that dates back to the 1950's. This one shows Brighouse and Rastrick in action.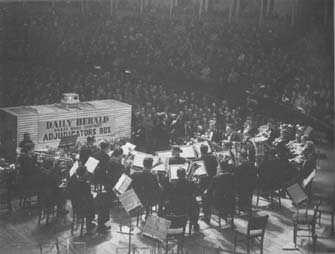 click for full size picture

Just as we pointed out that there was a need to bring the Adjudicator's Box closer to the action, this photo shows that it has been done before – and just look how close the three wise men in the box were! We aren't to sure about design though – it looks a bit like Jules Verne's "Nautilus" from "Twenty Thousand Leagues Under The Sea"!

We know there are the usual cost implications about having to sacrifice seats and therefore losing revenue, but isn't it worth the price if what you get in return is a much better positioned adjudication position? Just think - bands won't have to blow their nuts off just to try and get the mp dynamics and detail heard.

Any thoughts anyone????
© 4BarsRest
back to top