Frozen in Time:
Black Dyke Mills Band 1972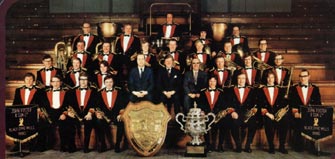 Click on photo for full size picture

30 years ago one of the last truly great brass bands of the post war era became "Double Champions". Black Dyke Mills Band (John Foster and Son Ltd) won both the British Open and National Championships of Great Britain in 1972 and in doing so, wrote a place for themselves forever in the history books of the brass banding movement.

At the British Open they took the first prize playing "Sovereign Heritage" by Jack Beaver, a piece that was arranged for brass band by Frank Wright, whilst the National title was taken playing "A Kensington Concerto" by Eric Ball. Geoffrey Brand directed both performances.

The Open victory of 1972 was won by a two point wining margin over Carlton Main in second, Cory in third and with Grimethorpe, Fodens and Yorkshire Imperial making up the lesser places. Eric Ball, Eric Bravington and James Howe adjudicated upon the 16-band field, whilst the band won off the number 7 draw slot. The victory was their first at the contest since 1968.

At the Nationals, which were held on Saturday 14th October 1972, Dyke won the title in a 25-band field. It was their first success since 1967 and strangely, just like the "Open" they won off the number 7 draw. They beat GUS into second place by a three-point margin, with Grimethorpe third and
Hammonds Sauce, Cory and Desford making up the rest of the prize list. The adjudicators were Eric Ball, Havelock Nelson and Vilem Tausky.
The picture of the band was taken off the DECCA "Sounds of Brass" record, issued to celebrate their feat. The record contained the test pieces, plus "The Shipbuilders Suite", "Antiphonal Fanfares", "Queensbury" and James Shepherd playing "Cleopatra".

We have managed we believe, to name all the players (and the man in the suit), but we need to know what happened after the "Double" triumph. Can you tell us more?

The Photo:

Front Row (left to right):
Malcolm Turton, Jack Brooke, David Pogson, (Solo Cornets) James Shepherd (Principal Cornet), Fred Ellis, Peter Moorcroft, Glyn Leeming, Eric Bland (Back Row Cornets)

Second Row (left to right):
John Clay (Flugel), David Horsfield (Repiano), David Hirst (Soprano), Geoffrey Brand (Musical Director) , Peter Lambert (Managing Director, John Foster and Son Ltd), Roy Newsome (Resident Conductor), Frank Berry (Solo Trombone), David Bentley (1st Trombone), Ian Coupland (Bass Trombone).

Third Row (left to right):
Harry Greenwood (2nd horn), Alan Holdsworth (1st horn), David Essex (solo horn), John Clough (Solo Euphonium), Brian Broadbent (2nd Euphonium), John Slinger (Solo Baritone), Colin Hardy (2nd Baritone).

Back Row (left to right):
Peter McNab (Bb Bass), Derek Jackson (Bb Bass), Harvey Whiteley (Percussion), Colin Aspinall (Eb Bass), Peter Wells (Eb Bass).
© 4BarsRest
back to top