Band Profile:
East Yorkshire Motor Services Band
Senior Cup Winners 2002
---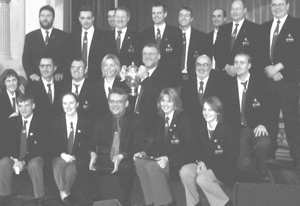 Formed in 1989, the East Yorkshire Motor Services Band have had a remarkable climb through the sections until they achieved Championship Section status in 1996. Not content with this, they went on to claim a hat trick of North of England Regional titles, and several respectable placings at major contests. A small lapse saw them fail to qualify for the National Finals in 2000, but they were back in 2001 and saw a very deserved 14th place. 2002 saw them qualify for the Royal Albert Hall for the 6th time (in 7 attempts) with a very good performance of Whitsun Wakes to finish runners-up to Ever Ready by the smallest of margins. With these results under their belts, The East Yorkshire Motor Services bandwagon rolled in Blackpool to tackle Frank Wrights masterful arrangement of Carnival Romain in the Senior Cup.

Despite an early No.5 draw (I wonder who was responsible for that Linda?) they gave a tremendous performance of the test piece. A bold opening from Cornets, and some superbly executed trills from the Flugel and Horns (pre contest reports about valve problems proving unfounded) lead in to the famous Euphonium solo. This was excellently played by Melanie Pattison, and, in a skilfully crafted interpretation by Gareth Pritchard, the various sections of the band played their parts in a way that left adjudicators Dr Roy Newsome and Malcolm Brownbill in no doubt as to the quality of the performance.

15 bands and some 4½ hours later, they were still unanimous, and the title went to Hull.
This time last year, the band suffered a very poor result in the Grand Shield and were demoted. Instead of idling away their time dwelling on Epic Symphony and what might have been, they have shown true Yorkshire grit and tenacity, strengthening the band to show that they are now very much a force to be reckoned with once again.

After the contest the band were in celebratory mood, however, the impending Black Dyke concert meant that the Winter Gardens, and more importantly the Galleon Bar had to be cleared. This resulted in many of their band and myself wandering back to our hotels rather earlier than we may have liked. I quickly discovered that I was staying only 4 doors away from the East Yorkshire Motor Services Band hotel. The prospect of a party, free beer (it never materialised), a curry and the promise of a pizza in the South Kensington branch of a well known Italian food emporium come October was too much for me and I found myself in the bar of their hotel amid the celebrations.

Firstly, can I say that the Band are a thoroughly nice group of people, a mix of youth and experience, and enhanced by the looks of 9 members of the fairer sex.
After extracting a pint out of Soprano player Pete Wilson (there's a first!), I set about about the task of finding out what makes this band tick.

Some of the band are known quantities to me. Solo Trombone Mark Unsworth, (he played with Ever Ready in the early nineties and was my roommate for 4 years before he returned to Hull), has lost none of his razor sharp wit that he was renowned for. Indeed, it appears that the Joker, and an amazing penchant for loud snoring are also still very much in evidence from Mark.

Mark, (ably assisted by Band Chairman Tony Newiss), took it upon themselves to introduce (or was that insult) the various members of the band to me.
Despite the banter that ultimately goes with this sort of thing (especially considering my band has stopped them achieving a 4th area title on 3 occasions) and a drummer that actually insisted on being called a drummer (another turnup for the books), they welcomed the opportunity of some good PR that this article will hopefully produce.

The Band's sponsors were also obviously delighted with the victory, and all eyes will be on them in 2003 when the compete in the Grand Shield once more.

Further evidence of the bands continued improvement, was strengthened by a last minute invitation to the 2002 All England Masters Contest at Cambridge. Sadly, due to holidays and work difficulties, not to mention the short timescale, the Band was forced to decline the invitation but hope to be invited in 2003.

Finally, the band paid tribute to the excellent contribution that Gareth Pritchard has made to the Band since his appointment as Musical Director earlier this year.


---
Band Personnel:

Musical Director: Gareth Pritchard

Soprano Cornet: Pete Wilson
Principal Cornet: Craig Gaskell
Assistant Principal Cornet: Tony Newiss
Solo Cornets: Kathy Newiss, Julia Mathews
Repiano Cornet: Kirsty Fox
2nd Cornets: Stewart Kennedy, Pete Gallagher
3rd Cornets: Danny Hatton, Simon Blow
Flugelhorn: Jo Peacham
Solo Horn: Garry Oglesby
1st Horn: Sally Mansell
2nd Horn: Emily Nichol
1st Baritone: Steve Ornsby
2nd Baritone: Paul Donaghue
Solo Euphonium: Melanie Pattison
2nd Euphonium: Liz Grosvenor
Solo Trombone: Mark Unsworth
2nd Trombone: Rosie Nichol
Bass Trombone: Nick Garside
Eb Basses: Dave Fox, John Mathews
BBb Basses: Tim Atkinson, Tim Priestly
Percussion: Dean Addinell, Kris Wright, Martin King

Secretary: Maurice Metcalfe
Treasurer: Linda Addinell

© 4BarsRest
back to top