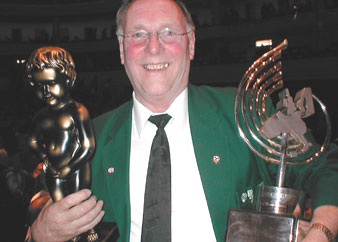 European Championships 2002:
A retrospective look at the championship section
Date Posted: 07.05.02
---
Bob Paisley, the manager of Liverpool Football once said that the real test of greatness was for a football team to win, and win "big", when the pressure on a team to succeed was the most intense. His Liverpool side were able to do it, time and time again and managed to win the ultimate club football prize, the European Cup on four occasions into the bargain. 4BR was reminded of this after the conclusion of the 25th European Brass Band Championships.

Yorkshire Building Society's sixth win in seven years in Brussels showed that they are now without doubt a truly "great" band. They won "big" – their biggest margin of victory in fact of each of the years of their dominance, but it was the way in which they did it that was the measure of how great a band they can now be seen as.

At the beginning of 2002, they lost a core of major players that had been cornerstones of their successes over the past decade, and come the Yorkshire Regional Championships they were well beaten by both Black Dyke and Grimethorpe. To come back to win the premier prize in banding with nine new players in the ranks, was an immense achievement in itself – to come back and win it in the way they did at the Palais des Beaux Arts with the intensity of the pressure that surrounded this year's event and the expectations of the packed hall, was simply awe inspiring.

The 25th Championships saw perhaps the strongest ever brass band field assembled to do battle for the title of "Champion Band of Europe" and the standard of the contest – both set work and "own choice" was immense.

The choice of Piet Swerts' "Chain" had raised a few eyebrows before the start on the Saturday morning, but in the end it proved to be a very worthy test and a popular piece for the audience to listen to. It was a dramatic and challenging work for the conductors and players to grips with (especially the solo horn, flugel and xylophone) and after the ten performances from the bands, the large audience expressed their satisfaction that it was a good test. It was different but not too different, and that made it a worthy addition to the banding repertoire. It deserves further contest performances.

Eikanger started things off with a very secure performance under Howard Snell, that wasn't quite what we were expecting, but none the less ensured that a serious marker was put down for the following bands to beat. It got them 92 points and 4th place and it could have been more, but there were too many small blips and blobs that finally detracted from their performance, whilst the decision to play in a formation that had the cornets facing the audience and the euphs and baritones occupying the cornet section possibly made the tone of the band sound harsh in places. There were the usually touches of class from Mr Snell (and Martin Winter as a "floating" second sop), but somehow it just didn't have the extra something about it to set an unbeatable pace.

CWS Glasgow followed them on under Ray Farr, and for the most part for us, they gave a very worthy performance that just lacked that touch of excitement that could have made the difference. It was secure and had detail, but it sounded one paced and pedestrian by the end, and coupled with a few insecurities around the stand, it was penalised – perhaps a bit harshly for us. 87 points and 8th place seemed a touch unlucky.

Concord Brass Band from Denmark also put in a worthy performance, but it lacked the overall class of tone and ensemble tightness of what went before and immediately after and they came away with 82 points and 9th place. It had its moments though and certainly sounded well rehearsed, but against this standard of opposition, giving a decent show was going to be nowhere near enough.

Black Dyke had waited a long, long time to return to the European, but the wait was made worthwhile with a superb performance of the set work that had many believing that they had heard an unbeatable performance. It was a reading of stature for sure and the individual solo lines were top class (especially the solo horn). It was very nearly devoid of mistakes and there was so much excitement about the ending as to make the hairs on the back of your neck stand on end – but the jury thought otherwise and even though they marked it high with 93 points, it deserved a few more at least.

Brass Band De Bazuin Oenkerk gave a fine rendition as well, and although it wasn't in the class of what went before it did contain some wonderful ensemble playing. It perhaps sounded more of a brass ensemble rather than a brass band in places, but it was good quality playing none the less and deserved the 90 points and 5th place from the judges.

Much was expected of Brass Band Trieze Etoiles and Peter Parkes, especially as they were seen as one of the pre contest favourites to take the title, but the morning didn't quite see them play to form, and although they had perhaps the best horn player of the day on the immensely difficult capriccioso solo, they had too many errors and slack ensemble moments and 89 points and sixth place was more than a fair return.

Brass Band Willebroek were also fancied, but it would be fair to say, that not many in the audience were expecting them to perform as well as they did in the morning, where they produced a real high quality show that had tightness in the tutti ensemble and high quality work from the soloists. It may not have had the dramatic impact of Black Dyke, but it didn't have any noticeable weaknesses either. It was a very fine performance and although we thought it didn't quite did enough to get the 96 points and the 2nd place it finally did, it wasn't too far away from it either.

Tredegar followed them on stage and started superbly. They revealed a few flaws as it went on, but it was a performance that had many in the audience noting them down as high finisher. Some super solo playing from the xylophonist and the sop were features of a rendition that had many plus points, and they should feel a little disappointed by only getting 88 points and 7th place – it deserved higher.

CWA Brass gave a very brave account of themselves, and although they fell short in terms of ensemble and solo playing, they never disgraced themselves and although the piece was too difficult for them as a whole it still took an immense amount of character and hard work for them to get through. Congratulations rather than commiserations were the order of the day and 78 points was their reward rather than penalty.

Yorkshire Building Society were the last on in the morning, and the expectation in the hall was intense. Right from the start they sounded confident and the ensemble playing in particular was the outstanding feature of a performance that also featured some top-notch solo lines. It was a performance that was very different from what had been given by every other band though, and the tempos in particular seemed deliberate and specific. It was for us a high risk strategy, but the more the piece developed the more you could see the reasoning behind it as the links of the musical chain became more clear and well defined.

Each became more intense and stronger, and each link connected to what went before and what was due to come – in fact just what the composer wanted, and when we spoke to him afterwards he indicated that the YBS performance was just what he had intended his composition to sound like – a series of linked musical ideas that grew and grew into an immense climax. He was delighted, and so were YBS with 97 points and 50% of the contest in the bag.

An hour or so later and the "Own Choice" section started. People had already made their choices of who were the bands to beat from the morning, and we thought it was a Black Dyke, YBS, Willebroek top three, with Glasgow, Tredegar and Eikanger making up the top six. Others it must be said thought otherwise.

First up were Willebroek and with a choice of "Dove Descending" they produced a superb rendition that once again had very little to fault it. This is an immensely talented band that would without hold its own in any UK field, and it gave notice that this was a performance of real stature with solo players and ensemble work of the highest class. They produced not quite the same tonal quality of the likes of Black Dyke and YBS but in every other capacity they are near equals – they are that good. 94 points was their return and 3rd place gave them a total of 190 points and the runners up spot.

Concord Brass Band followed and played "The Essence of Time" very well, without ever really showing that it would be either a choice or performance that could trouble the bands in real contention. Still, a fine account with plenty of things on the plus side and 86 points and 9th place was a fair return – especially given the standard of performances that were to come. 168 points and 9th place overall.

CWA once again followed and chose "English Heritage" – a very difficult piece. Once more they gave a brave account of themselves, and had obviously had worked their socks off, but at this level they were way out of their depth and should really have been playing on the First Section on the Friday, where they would have been very strong contenders for the top prize. Perhaps the time has come to do this as it would be fairer for them (musically and financially), but they were as fine a set of people you would ever want to meet, and we can only hope they can continue to keep the flag flying. 84 points and a total of 162 points and 10th place was a notable achievement in itself.

Tredegar up next, and another quality performance from the Welsh band that once again had many more plus points than minuses. Steve Bastable is one of the most talented young conductors around and brought out the music in "Harrison's Dream" and also ensured that the packed hall listened to some of the quietest playing of the day from any of the bands. It was edge of the seat stuff and very nearly came off in spades. Tiredness possibly crept in to scupper higher hopes, but this was the second of two very high quality performances on the day. 90 points and a final total of 178 and 7th place was a little unlucky.

Howard Snell took the contesting stage for last time with Eikanger and the band responded to what was an emotional occasion with a superb rendition of "Dove Descending". Once again there were the odd moments of unease, but it was playing of the highest. Mr Snell however seemed satisfied by the bands efforts and was given a heartfelt ovation at the end from the audience in the hall. He will be sorely missed by all. In the end it wasn't to be a fairy tale ending and 93 points and a final total of 185 points and 4th place was a somewhat cruel end to an amazing contesting career. Eikanger will be back though.

CWS Glasgow up next and they chose to play "Revelation" – a choice also made by Black Dyke later in the day. This was for us a very fine performance but once again it was perhaps the lack of excitement especially towards the end that cost them dearly. The euphonium work from David Childs was superb though and a real highlight of the day, but the individual errors were noticeable and at times the ensemble sounded unsteady. They were unlucky though to be given just 89 points and their overall total of 176 and 8th place may seem harsh, but the standard of the contest was that high.

Brass Band De Bazuin Oenkerk followed with "English Heritage" and gave a very powerful performance that gained 88 points and 8th place – but for us they can count themselves a little fortunate as they tried to power their way into the prizes and left the beauty of George Lloyd's work behind in the process. Even the bells at the end just obliterated just about anything else that was gong on and so they can be grateful that their fine showing in the morning was enough to ensure that they gained an overall total of 178 and 6th place.

YBS were now going to subjected to the most intense pressure situation ever at this contest, but they responded with a performance of "Concerto Grosso" that as we said within minutes of it ending was "nigh on unbeatable". This was immense playing – both individually and collectively and Dr King gave a reading that brought life, vigour and wit to compliment the darker hues and tones of this immense work for brass. There were moments that just took your breath away and at the end you sensed that the band and their MD had proved their worth to be called "great". 99 points seems ludicrously high – but it was as near to a perfect contesting performance that you could have hoped to hear. It proved to be justified in all contexts. This was simply awe inspiring.

Brass Band Treize Etoiles had to follow them on stage and they gave a fine account of themselves on "Harmony Music" that fully warranted their 92 points and 5th place to gain 181 points and 5th place overall. It was exciting and colourful, and although a lot of the detail of Sparke's fine work was lost it made an impression on the audience and the judges in particular and showed that they are a top class band. They too will be back the stronger.

And so it came down to the very last performance of the day. Black Dyke took the stage knowing that they had to play to the very best of their abilities to take the title back to Queensbury. Nicholas Childs had chosen "Revelation" as the bands "own choice" and right from the start it appeared that were moving in their direction as the immensely difficult pedal notes rang true and the build up to the first climax had so much menace. However, there were from there on moments that didn't quite work and even though the horn once again performed heroically, there were too many tiny clips and blips that started to detract from the picture.

The euphonium duet was superb and the build towards the chaos at the end was electrifying – even getting the MD away from the stand to drag out the last ounces of music from his players. It was intense and brilliant, but in the end it was perhaps the music itself that did for their chances. Wilby's works are immensely complex in construction and sometimes this makes them sound over burdened by technical detail. It was this that you felt stopped Dyke from giving an even better performance than they did – but not by much. 97 points was a justified return, but in the end it wasn't enough – and that wasn't really the bands fault. 190 points and 3rd place was the result – disappointing to say the least for all Black Dyke lovers.

With it all over there was the wait, and this gave the audience and supporters the chance to assess and reassess the chances of the bands. Nearly everyone we talked to thought it was a straight fight to the finish between YBS and Dyke with Willebroek and Eikanger a little way behind, and for the most part they were proved right.

The awards ceremony was slickly presented a few hours later. The organisers ensured that there was to be a final flourish to the proceedings when the results were released as well, and there were a few raised eyebrows when De Bazuin were given 6th place and more than a few when Eikanger were announced as 4th.

However, the announcement of Black Dyke being given third place was met with a hush that is usually reserved for the death of a relative. When the stakes are this high, coming third to a band like Black Dyke holds little water and the long trip back home via a concert in Norwich the next day would have been very long indeed.

There was an eruption of unconfined joy when Willebroek were announced as runners up, but it was just the prelude to the announcement of the winners. There was a gasp as the points were announced – six points ahead and winners of both the set work and own choice sections, but that was replaced with a huge applause as Yorkshire Building Society were announced as the 25th Champion Brass Band of Europe.

YBS had been put under the most intensive pressure and had come out of it by winning not only in style but winning "big" to boot. They had taken the title for the fourth consecutive year and the sixth time in seven years – they had proved their greatness without a shadow of a doubt.

---
© 4BarsRest
back to top