European Championships 2002:
The Test Pieces
Date Posted: 28.04.02
» 'Chain' by Piet Swerts
» 'Excalibur' by Jan van der Roost
---
Since the inception of the European Championships in 1978 there have been a whole raft of new works that have been commissioned by the organisers to test the competing bands.

Some have been superb works, whilst it would also be fair to suggest that some have also been a little below par. Some have entered the main stream of the brass band contesting repertoire whilst others have disappeared quicker than "Hear Say's" second album. However, you must take your hat off to the European organisers for the way in which each year they have tried to bring new, exciting and talented composers to the forefront of our musical consciousness. Without the European Championships doing this, the whole of the brass band movement would be the poorer – so thanks.

This of course is not to say that all the works have been new age "classics" and some have been stinkers of world-class variety, but overall the works used over the years have enriched our repertoire. For every "Five Blooms in a Welsh Garden" or ""Red Earth" we have been fortunate to have got "Montreux Wind Dances", "Seid" and this year's "Chain" by Piet Swerts.

So with this in mind, we have had a good look (and listen) to the new work from the pen of the composer entrusted to challenge the best bands in Europe. A little like "Juke Box Jury" all those years ago, we will either give it a thumbs up "Hit", or as a metaphor for failure, we'll hold our nose with our left hand and pull an imaginary toilet chain with our right if we think it should be consigned down the pan to the musical equivalent of Room 101.

First of all – Who is Piet Swerts? His biography off the EBBA website reads as follows:

Piet Swerts (1960) belongs to the younger generation of Belgian composers and works in many musical fields. He studied piano, orchestra, conducting, and composition at the Lemmens Institute in Leuven. There he was awarded many prizes including the Lemmens Tinel Prize for piano and composition. Today, he is a teacher of piano, analysis, and composition at his old seat of learning. Swerts is also the conductor of the ensemble "Nieuwe Muziek" ("New Music"). Swerts' compositions have attracted many prizes. He won the "Sabam Prize" for "Rotations for Piano and Orchestra," a composition that was the test piece at the Queen Elizabeth Concours in 1987. In 1993, he once again composed a piece for violin and orchestra for the famous competition "Zodiac-Ephimeris." His compositions are quite varied, reaching from major symphonic works to intimate chamber music.
---
The EBBA website also offers the following explanation of his work:

"Chain" was composed between June and August 2000, after a thorough study of brass bands by the composer. The Flemish Brass Band Federation commissioned the piece for the European Brass Band Championship of 2002.
The composer's idea was to make a one-movement piece - a work that starts mysteriously, and then develops further in various directions. As his basic material, he chose a figure that is the abbreviation of the European Brass Band Championship: EBBC. This figure is developed in a chain of figures that leads further and further to the climax of the piece, which is the end. As a basic compositional concept, Piet Swerts chose the chain principle. Within a musical course, a period or movement develops and leads toward a musical character. Usually at the end of such a musical period, a new musical figure appears that is derived from the preceding figure. The same figure now forms the link to the next musical phrase. The advantage of this principle is that many variations can be made without loss of the composition's unity. This primarily fast-moving piece also includes a lyrical movement in which cantabile playing dominates. The work concludes with a virtuoso ride, built on a hammering ostinato in the timpani, with solos for brass players as well as the xylophone. The piece ends vigorously.

With this all in mind then, this is what we at 4BR thought. Get ready with the "thumbs up" or "Down the Pan".

The first thing that strikes you about the piece is that it "looks" hard, although when you give it closer scrutiny you'll find that just because there is a whole cornucopia of semi and demi semi quavers liberally splashed around with more gay abandon than Henry Cooper used to splash around his Brut aftershave, it is surprisingly easy for players to read.

Due to the tempos and the way in which most of the time signatures are constructed, much of the content can be doubled in value. Thus, demi semi quaver runs written in 2/4 time or semi quavers written in 4/8 can be read as semi quaver or quavers. After a few run throughs the process makes the notation very transparent and technically clear.

The "Chain" idea comes from the likes of composers such as Lutoslawski who used "chain composition" in his works. The general idea is that things link together through the use of different motifs in that the end of one motif is in fact the beginning of the next. Simple really???!

The work starts marked "Misterioso" with the timp giving the underlying musical theme of EBBC (which stands for European Brass Band Championship). This notation forms the body of all the subsequent themes as each new "chain" has in some way the notation EBBC within it.

The basses have a "Pines of Rome" moment right at the start before the euphs and baritones sing out a rather elegiac motif that is underscored by small interruptions from horn, baritone and flugel and a busy demi semi quaver figure from the cornet section. It's all very quite though and does come across very well indeed. All this builds to the first "Maestoso" which is loud and proclaims the next link in the chain.

10 bars of this and the next link appears in the form of an "Agitato" section marked quaver= quaver and in 4/8 time. Here comes the start of the tricky bits as the sop and solo cornets have a very difficult almost fanfare part that could become "split city" very quickly. It moves on very quickly with the euph taking over the tune (again with reference to the EBBC motif) before another real tester for the top end with further fanfares which feature leaps of ninths and octaves.

The next chain starts with a section marked "Capriccioso" and it here that you start getting the feeling that there are more changes of mood than a schizophrenic off his medication too long. It's marked 7/16 and has a 2/3/2 beat pattern throughout. That's the easy part.

Above this is perhaps one of the hardest tenor horn solos of all time – one which will we are sure caused many a sleepless night and knackered lips. Quite beautifully constructed, it asks the soloist to play to a "cantabile" style whilst simultaneously exploring the outer limits of the range. It never quite links in time with the underlying 7/16 foundation and so is free and languid to encourage virtuoso playing. Become too much of a Diva though and the wheels will fall off. It is devilishly bloody difficult. The trombone solo sounds very strongly like the beginning of the "Anniversary Waltz".

The flugal also has a joining "chain" straight after this and once again the complexity is to be found in maintaining the feel of free flowing "singing style" above a very mechanical base. This moves along with further complexities from the cornets in the form of alternating runs before a climax in 4/8 that brings us to the next link in the chain.

Marked "Andante tranquillo" quaver = quaver it starts with the flugal setting out the next thematic germ before the sop enters on high and goes a bit higher before dropping with Icarus like alacrity from a top Cb down to bottom Bb. (Thanks Piet!). The flow continues through a section marked "Un poco piu mosso" before the euph end things with a quasi cadenza marked "Nervoso". Lots of waw waw muted stuff from the cornets and troms is a neat and clever feature around here and overall this section is perhaps the crux of the whole piece.

Now it's the long ride for home, with the final link marked "Molto Energico". This section is about 375 bars or so and marks the final section of "Chain". It's almost an up tempo march in character – nearly all in 2/4 time and can sound a little repetitive in places as certain motifs appear and reappear time and time again.

There's plenty of good old running about for the bass end though (the lads will be happy around here, because a lot of the time they are not doing much at all, except revelling in other discomfort – now's the pay back time!) and this section will need a close scrutiny of the markings as many notes have a Heinz 57 variety of accents.

All along the poor old timp player is whacking out an ostinato line that for some reason has been written out bar for bar instead of putting in a repeat sign or two. Strange. The tuned percussion however will certainly be earning their fee, as the xylophone will be performing technical acrobatics for very nearly every bar to the end. It's tricky, very tricky stuff and it will have to be clean and tidy for it to sound good. You can't get away with hitting any old bit of wood here.

On and on it goes, louder and quicker and plenty of opportunities to show off clean and clear articulation and technique, before we come to a bonkers bit, when just about every person in the band gets to play individual shock notes marked sfz. They come in very loud, high, or low, joined in a group or standing alone. Things could have been going swimmingly up to here and then there could be more splashes and accidents than can be found in the mens toilets after ten pints of Stella Artois. If you escape without a blemish here, then count yourselves blessed indeed.

A further repeat of the same motifs follow before we come to the end – by which time lips will be knackered and heads thumping.

The last few bars sees falling chromatic runs before a big chord (sop on a top c#) a final chromatic run down for all the band and three whacked out semi quavers to end it all. And that's it.

And what do we think?

Overall it's a very fine – very different piece. Plenty to commend, especially the idea itself of the linked chain of musical events, with some of the writing being inspired. But the last section for us is perhaps the weakest link. It's a little long and repetitive to keep the interest of the players and listeners and is almost universally loud in character. This makes it very monochrome in colour, which is a pity as there are so many hidden layers in the parts that could come out if it wasn't for the sheer volume of what's going on.

Two thirds of the piece is quite superb and the last third not too bad – so in overall terms against the type of works most bands play, that means a pretty good test piece. Interesting and certainly not run of the mill. We give it a thumbs up, and no fault will be placed against the composer, if there are more than a few performances that will be more toilet chain than 24 carat golden necklace. Well done to the European Championships though for bringing us another work that creates interest.
---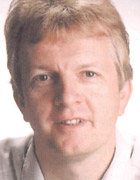 'Excalibur' by Jan van der Roost

The First Section set work this year comes from the pen of Jan Van der Roost, the talented composer who brought us the very fine "Albion" last year.

We don't really know much of the piece ourselves, so we have let Mr Van der Roost explain in his own notes.

Jan van der Roost was born in Duffel, Belgium in 1956. He studied trombone, history of music and musical education at the Lemmensinstituut in Leuven (Louvain) and continued his studies at the Royal Conservatories of Ghent and Antwerp, where he qualified as a conductor and a composer. At present, he teaches at the Lemmensinstitutt in Leuven, Belgium, and is quest professor at the Shobi Institute of Music in Tokyo, Japan.

Besides being a prolific composer, he is very much in demand as an adjudicator, lecturer, clinician and a guest conductor. His musical activities brought him to more than 35 different countries in 4 continents, whereas his compositions are being performed and recorded in more than 50 nations world-wide. His list of works shows a wide variety of genres and styles, including two oratorios, a symphony and some smaller works for symphony orchestra. Also, a guitar concerto dedicated to Joachim Rodrigo, a concerto for trumpet and string orchestra dedicated to Walter and Anne Boeykens, a cycles of Lieder (songs) for baritone and chamber orchestra, chamber music, numerous brass and wind band compositions, choral music and instrumental solos.

Many of these compositions have been broadcast on radio and TV, and most of them have been recorded on CD by renowned performers in several countries all over the world. Jan van der Roost exclusively composes commissioned works, until now from countries like Belgium, Holland, Switzerland, Italy, the USA, Japan, France, Singapore, Norway, Germany, Finland and Hungary.

Excalibur has been awarded in the "Adolphe Sax Composition Contest", organised by the Flemish Brass Band Association in 1987. It was selected to be the test piece in the 1st division during the 1991 National Championships in Bergen (Norway) and in the B-division during the European Brass Band Championships 2002 in Brussels (Belgium).

As the title already explains, the direct inspiration for this work was the legendary sword of King Arthur. One can roughly distinguish 3 sections, each one with its own musical themes and subjects. This wealth of musical ideas is directly connected with the fact that several extra-musical qualities of King Arthur himself and his sword are depicted, just like velocity, nimbleness and power, to name only those. The expressive slow section breathes the generosity of King Arthur as well as his love to Guinevre.

However, EXCALIBUR is no "program-music" in the strict sense of the word as no concrete story is told: the composer only tried to express the somewhat magic atmosphere around this medieval subject. Technically and rhythmically it is a pretty challenging work which also calls for a good stamina. The percussion section got the composer's full attention, adding a lot of colours and effects to the entire work. There are no virtuoso "cadenzas" but several solo instruments get the opportunity to show their lyrical qualities during the middle section (euphonium, baritone, soprano cornet, tenor horn and solo cornet). EXCALIBUR has proved to be an attractive work and is played and recorded all over the brass band world nowadays, obviously pleasing both performers as well as audiences world-wide.

---
© 4BarsRest
back to top