4BarsRest take a closer look at the Harrogate Band that celebrated its 30th anniversary this year
The Harrogate Band celebrated its 30th anniversary this year and had good reason to celebrate: in March 2000 they became Second Section North of England Champions and in 2001 they repeated the achievement in the First Section. In the intervening months their schedule included a performance in the Royal Albert Hall, a week-long tour to Holland, a Gala Concert (with guest soloist Nick Hudson) and a host of other concert and contest successes. In the last couple of weeks they have added the top section Yorkshire and Humberside Association trophy to their cabinet, and scooped the £750 top prize in the inaugural Nostell Priory Yorkshire Brass Band Challenge. Their award-winning website and online resource is rapidly approach 250,000 hits and attracts visitors and admirers from all around the world. "We've a full band of very committed players," said MD David Lancaster "and we're looking forward to great things in the future".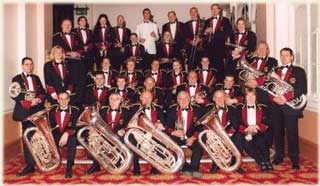 Yet not so long ago the band looked likely candidates for relegation to the Fourth Section following a series of poor Area results in the mid-90's.
The Harrogate Band was formed in 1970 by Neil Richmond, the Head of Music at the town's Granby High School. Neil recognised that the players from his successful school band had nowhere to play when they left, so with little money and pitifully few well-used instruments, The Harrogate Band was formed. There had been bands in the town before this time but the last had quietly disbanded in the 1960's. Contest successes came relatively quickly for the new band, followed by visits to the National Finals and overseas trips, which demonstrated the band's potential to achieve. Harrogate recently returned to Granby High to share a '30th Birthday' concert with the current school band, inviting each of their four former conductors to direct an item.
Today the band is ambitious for success and is working harder than ever in anticipation of promotion to the Championship Section, which can't be far away now they have the First Section title under their belt. "We're aiming high" said chairman Steve Morland, "but we want to see success built on solid foundations". Success clearly means more than just winning contests. "We work hard to improve our concert presentation and to develop stronger links with our local community, particularly with schools and other arts organisations".
That local link extends to the music the band performs: Phil Wilby is a regular visitor to the bandroom and Wilfred Heaton lived in Harrogate until his death last year – both composers are featured on the band's first CD. The second recording, planned for later this year, will develop that theme, including work by a number of composers with connections with the spa town. "Elgar came to Harrogate each year to take the waters, and both Delius and Finzi lived in Harrogate at some stage" according to David Lancaster. Arthur Butterworth, 'who lives just down the road' will also feature on the new recording.
The band clearly possesses an imaginative, progressive outlook and seizes opportunities to develop new audiences or styles of presentation: a couple of years ago Harrogate gave an illustrated lecture recital on the development of brass band music to the annual conference of the National Association of Music Librarians, and a similar presentation for the National Association of Brass Band Conductors is scheduled for the autumn. They regularly give concerts of contemporary music for band at the University College of Ripon and York where David Lancaster works as lecturer in the music department.
Exciting times lie ahead for The Harrogate Band: the fixture sheet includes a joint concert with Houston Choral Society (yes, from Texas!) in Ripon Cathedral, and in August there's a rare opportunity to perform a concert at Fountains Abbey – a sublime setting for any event. Further afield the band are taking a weekend away together to play concerts in Hertfordshire and at the Peterborough Festival, and Yorkshire Television are planning a documentary about the band's preparation for the National Finals! Exciting times indeed!
---
David Lancaster
Originally from Wigan, Lancashire, David Lancaster began his musical career as cornet player with the Pemberton Old Band at the age of eleven. A chance encounter with the music of Harrison Birtwistle led him to take up composing, and music studies at York and Cambridge Universities followed. David has won several important prizes for composing and held the prestigious post of Composer-in-Residence at Charterhouse from 1985-88. After six years teaching music in Further Education, David returned to Yorkshire to take up the post of Music Lecturer at the University College of Ripon and York St John, where he teaches composition, world music and music technology. He is currently serving as External Examiner for music at the University of Salford.
David Lancaster has conducted brass bands at all levels but has been particularly associated with Runnymede Brass who gained promotion from the fourth to the first section in only four years under his direction, qualifying to play at the National Brass Band Finals on four consecutive occasions. Since 1994 David has been Musical Director of The Harrogate Band who are North of England First Section Champions 2001. David has recently completed new works for the Wakefield Metropolitan Band, Kirkbymoorside Town Band and the Wetherby and District Silver Band.
---
For more information about The Harrogate Band, see its website: www.harrogateband.org
back to top