Mossley Band 1841 - Present:
Mossley is a town rich in history and tradition. A town which was once at the very heart of the industrial revolution which exploded during the late 18th and early 19th centuries. To encourage workers to forget the conditions and harshness of the times, mill owners advocated temperance and music and in 1841 the Mossley Temperance Band was formed and which soon found its own place in history when in 1853 it enjoyed the distinction of winning the first ever Belle Vue Championship contest which is now known as the British Open Championship.
Bands in those days were a far cry from those of today and Mossley Temperance had only 10 players. It was many years before bands standardised and some would appear using oddly named instruments such as OPHICLEIDES, SACKBUTS AND SERPENTS! The first Belle Vue Contest attracted eight entries and Mossley were drawn to play number 1. However when the appointed hour arrived they were nowhere to be seen and so the contest started without them. When they finally arrived they were allowed to play last band (not something today's organisers would be willing to agree!) The band played the Hallelujah Chorus from Handels Messiah plus other selections and became the first ever winners of the British Open with Dewsbury second, Bramley Temperance third and Bury Borough fourth.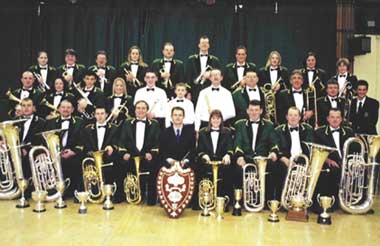 In 1897 Mossley Band won the Belle Vue Contest for a second time under the baton of Alexander Owen playing the test piece "Moses in Egypt". Again Mossley band created brass band history gaining the maximum marks available - a feat that remains unequalled to this day. Among the "stars" then were Herbert (TIB) Scott and J.F. Carter, both celebrated Euphonium players.
Between the wars the band was known as the Mossley Borough Band and was responsible for launching many fine musicians, amongst them Frank Smith who helped to form The Fairey Aviation Works Band and became its first conductor.
Mossley Band, as did many other organisations, broke up at the outbreak of World War 2 but reformed under Frank Andrews, a former Royal Horse Guards Musician in 1948. Unfortunately many of the youngsters were attracted to other more established bands in the district and this led to another break up in 1954, but inevitable with so much history and tradition in a town steeped in music, the Band rose again in 1955 under the baton of William Brown a former conductor of Stalybridge Band. When he resigned the bands new young cornet player Derek Sanderson took centre stage and another fine band emerged.
In four years the band rose from Section 3 to Championship section and in 1960 it beat bands like Fairey and Foden to qualify for the National Brass Band Championship Finals. However, tragedy struck in 1962 when aged only 26 Derek Sanderson died, but it bounced back again and in 1965 the band fulfilled a long held ambition winning the Grand Shield qualifying contest at the Belle Vue Spring Festival, which meant they could compete like their forefathers in the September British Open Championships.
The following years saw Mossley band sustain its status and standing as a championship band with notable success in the 1971 BBC Radio Manchester "Blow by Blow" competition and its second placing in the 1971 Wills championship Final that saw them move into the country's top twenty bands in the champion of champions section.
In 1990 and 1991 two successful trips to Cornwall built strong links with the Bodmin Town Band who are regular visitors of the Whit Friday circuit. In 1992 the band broke new ground with its first continental trip as guests of Mossley's twin town of Hem in France with them performing alongside bands from all over Europe in the towns annual Festival of Music.
At the 1993 Northwest Regional Championships the band came 3rd, only 1 point away from qualification for the National Finals - this in less than a year under the baton of Roy Waite, and following on from the bands previous result in the same contest in 1992 when they came 13th. Only a week earlier to the 1993 contest the band had gained 3rd place at the Oldham contest, its first real contest success for some time.
The Band in 1996 gained both qualifications for the national contest and promotion to the 1st section nationally.
In December 1998 the band and their long standing conductor Roy Waite decided it was time for a change and a young man called Simon Stonehouse seemed an obvious choice as he had just left the Williams Fairey band and was married to the Flugel Horn player at Mossley! From the moment Simon took over things started to click straight away and the band hasn't been out of the top 3 at any contest since his appointment.
The first major success with Simon was when the band qualified for the National Finals by coming 2nd place to Longridge at the Northwest area in March 2000 playing the test piece Music for a Common Man. Strangely, Simon had a premonition about the choice of piece for the National Finals which came true – Frontier by Michael Ball. The band never stopped rehearsing for 3 months doing 4 rehearsals a week – a lesson Simon had learnt under Major Peter Parkes with the Williams Fairey band.
The band set off to the Royal Albert Hall, London in confident mood after months of very hard work and the competition was very strong against bands like Ratby, Stockbridge & Longridge. It was going to be a very hard contest to win. The band performed very well and in the words of adjudicators Colin Hardy and Richard Evans there were two outstanding bands on the day - we were placed 2nd with 190 points. So near yet so far!
Since the success at the Royal Albert Hall the band has continued to go from strength to strength and became Manchester and District Champions. In March they played and won the Northwest Regional Championships First Section, which has secured their place in the Championship Section for next year.
Part of the success is due to the integration of some very promising young players and the bands determination to succeed with the players they already have. Up and coming players such as Chris Preece (14 yrs Percussion), Chris Crawshaw (17 yrs, 2nd Euphonium), Eleanor Chester (17 yrs Percussion), Penny Hilton (14 yrs 3rd Cornet) and Paul Deighton (15yrs 2nd Horn), have all embraced every challenge that has been put in front of them with ease.
More experienced players such as Neil Riley (solo Euphonium) have embraced the challenge of rising expectations and taken it upon themselves to get lessons from star quality players such as David Thornton (solo Euph Black Dyke).
The band now have regular sectionals/Clinics with players like:-
Gary Parker (ex Fairey's, Student at Royal Northern college of Music studying Trumpet)
Nick Hudson (Solo Trombone - Faireys)
David Thornton (Solo Euph - Black Dyke)
Shawn Crowther (Ex Fairey's, Student at Royal Northern college of Music)
The Band has its own Band room and social club on Argyle Street, Mossley, which is a very lively place to be at nearly every night!
Mossley band today has a lot of family connections - Simon Stonehouse the conductor is married to flugel horn player Helen Stonehouse whose sister plays 1st horn (Angela Johnson) and father plays 2nd baritione (David Johnson), whilst the Solo Euph player (Neil Riley) has a brother on Eb Bass (Ian Riley) and both have partners in the band and the other Eb bass player (Dave Taylor) is married to 3rd corner player Angela Taylor! And these are only a few of the connections. Mossley band has a very strong infrastructure and has 28 very committed players, many of which have been with the band for over 10 years.
Everyone at 4BarsRest wishes them success. They are a band well worth looking out for.

Simon Stonehouse:
Musical Director

Started at Marple Band aged 12, moved to British Aerospace Manchester at 17 and Wingates at 18 before finally moving onto Williams Fairey band at 20 where he stayed for 10 years as flugel horn soloist and worked under conductors such as Roy Newsome, Major Peter Parkes and James Gourlay. During his stay with the band the band arguable enjoyed their strongest hold on the brass band scene for many years winning the European, British Open and Nationals within the same year 1993/1994.
Simon Studied at Salford University under Roy Newsome, David King and John Hudson and has performed with all the U.K's leading bands such as Black Dyke, Grimethorpe and Fodens. Simon is currently Director of Music at Bramhall High School, Stockport
back to top