---
Grimethorpe Colliery Band Live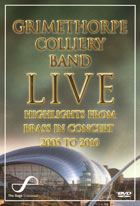 The hungry tiger of brass band entertainment shows just how they have approached Brass in Concert in the last few years.
More information coming soon
Price: £15
Out of stock
Tracks:
1. Irish Tune from County Derry, traditional, arr. Grainger
2. The Duke of Marlborough Fanfare, Grainger, arr. Smith
3. Everyone loves the Blues, Ferguson arr. Smith, Soloist Richard Marshall
4. A Quiet Place, Carmichael, arr. Smith
5. Liszteria, Lizst, arr. Smith, Soloists Will Martin & Gavin Pritchard
6. Finale from the Gayanch Ballet Suite No 2, Khachaturian, arr. Smith
7. Valero, Swearingen, arr. Smith
8. Pie Jesu, Lloyd-Webber, arr. Smith, Soloists Kevin Crockford & Ian Shires
9. The Cuckoo, Howarth, arr. Smith, Soloist Shaun Crowther
10. The Pines of the Appian Way, Respighi, arr. Snell
11. Believe Me, If All Those Endearing Young Charms, Mantia, Soloist Michael Dodd
12. The Entry of the Gods into Valhalla, Wagner, arr. Snell
13. Humming Chorus, Puccini, arr. Smith
14. Bring Back that Leroy Brown, Mercury, arr. Giske
15. Falling in Love Again, Hollander, arr. Drury, Soloist Roger Webster
16. Crouching Tiger, Hidden Dragon, Tan Dun, arr. Drury
17. Fanfare for Rocky, Conti, arr. Sharp
18. MacArthur Park, Webb, arr. Catherall
19. The Bluebells of Scotland, Traditonal, arr. Pryor, Soloist Michael Dodd
20. Dance to Thi Daddy, Traditional, arr. Barry
21. Wives & Lovers, Bacharach & David, arr. Dewhurst
22. Winter, Vivaldi, arr. Dewhurst, Soloist Kevin Crockford
23. Music to Watch Girls By, Crewe, arr. Dewhurst
24. Moto Perpetuo, Novacek, arr. Larsen
4barsrest Classifieds
Carlton Brass
Carlton Brass Nottingham 1st section require the following players to complete its line up . . Tenor Trombone . . Bass Trombo...
South London Fellowship Band
Date: 4-Jun-2013
Venue: Mini Tour (4th June to 7th June 2013).. See 'Concert details'.. Further information to follow.
Mark Ford
B.Ed (Mus)
Conductor, Adjudicator