---
Magic Moments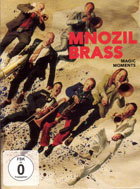 A fantastic new DVD from those weird and wonderful lads of Mnozil. Just how they do it all and play so brilliantly is a mystery.
The remarkable ability of Mnozil Brass to come up with something original yet equally memorable every time is demonstrated yet again in a DVD that gives us their 2010 show 'Magic Moments' in its brilliant entirety.
As always the comedy is sharp, hilarious, and often surreal but always delivered with consummate professionalism.
Ultimately though it's the playing that leaves you in awe. Mnozil remain both unique and a very, very special outfit indeed.

Price: £19.95
Out of stock
4barsrest Classifieds
Stannington Brass Band
A SOLO TROMBONE player required for this 1st Section Stannington Brass, Sheffield. Sensible balance of concerts & contest...
Newark Town Band
Date: 26-May-2013
Venue: AEC Commercial Vehicle rally at Newark Showground, Nottinghamshire NG24 2NY