---
Mnozil Brass: Crème de la Crème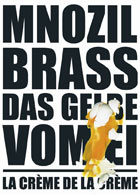 You simply have to see it to believe it ! Mnozil's shows are extraordinary musical events, unique and breathtaking.
Brass playing at its very best allied to a keen sense of musical theatre and a riotous humour that has no international boundaries. They have changed the world of brass entertainment in the last five years and still they win thousands of new admirers every year.
Format:
PAL and NTSC. We'll ship NTSC versions to United States unless you email for the PAL version.
Price: £19.95
Out of stock
Tracks:
1. Marinarella Overture Op. 215, Julius Fucik arr. Mnozil Brass
2. I Can´t Give You Anything But Love, Jimmy McHugh arr. Leonhard Paul
3. William Tell Overture, Gioacchino Rossini arr. Mnozil Brass
4. My Bonnie Lies Over the Ocean, Traditional arr. Mnozil Brass
5. Opera Medley, arr. Mnozil Brass
6. Florentiner March Op. 214, Julius Fucik arr. Mnozil Brass
7. Hungarian Schnapsodie, Leonhard Paul
8. Prelude No. 22, Bach arr. Leonhard Paul
9. Moldavia, Traditional arr. Gerhard Füssl
10. Flötenwahnsinn (The Mad Flute), Haydn arr. Leonhard Paul
11. Auf der Heide (On the Heathland), Robert Stolz arr. Leonhard Paul
12. Riserva, Leonhard Paul
13. Concerto for Trumpet, Harry James arr. Roman Rindberger and Leonhard Paul
14. Ramona, Traditional arr. Mnozil Brass
15. Uraufführung (Premiere), Mnozil Brass�����
16. Blue, Thomas Gansch
17. Wiener Blut (Viennese Blood) Op. 354, Johann Strauss II arr. Mnozil Brass
18. Mürztaler Marsch (Mürztal March), Traditional arr. Mnozil Brass
4barsrest Classifieds
LGB Brass
LGB Brass based in Lewes East Sussex is looking for an additional front row cornet player due to job relocation. Third sectio...
Newark Town Band
Date: 26-May-2013
Venue: AEC Commercial Vehicle rally at Newark Showground, Nottinghamshire NG24 2NY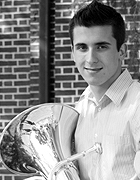 Grant Jameson

Euphonium Soloist, Clinician and Tutor