---
Brass in Concert Championship 2005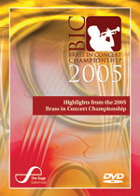 Highlights from the 2005 Brass in Concert Championship from The Sage, Gateshead.
Excerpts from the programmes of all eleven participating bands and including the entire winning performance from Grimethorpe Colliery (UK Coal) Band.
Format:
This DVD is produced in PAL format only. Customers in North America should check their equipment for compatability before purchasing. The DVD will play on all PCs, lap-tops and DVD players which have 'all region' capability.
Price: £19.95
Out of stock
Tracks:
Buy as you View Band
Toccata from Organ Symphony No. 5 (Widor arr. Wright)
Benedictus (Jenkins arr. Small)
Sellers International Band
The Circle of Life (John arr. Gilje)
Glorifico Aeternum (Dean Jones)
Reg Vardy Band
It's Just Talk (Pat Metheney arr. Farr)
The Red Machine (Peter Graham)
Whitburn Band
A Caledonian Fanfare (Patterson arr. Duncan)
The Water is Wide (Trad arr. Duncan)
Scottish Co-op Band
Keighley Moor (Cook)
Mid all the Traffic (Shenandoah) (Ballantine)
Grimethorpe Colliery (UK Coal) Band
The Duke of Marlborough Fanfare (Grainger arr. Smith)
Everybody Loves the Blues (Ferguson arr. Smith)
Red Sky at Night (W Hogarth Lear)
A Quiet Place (Carmichael arr. Smith)
Lizteria (Lizst arr. Smith)
Finale from Gayaneh Ballet Suite No. 2 (Khachachurian arr. Smith)
Mount Charles Band
The Melody Shop (King arr. Smalley)
Battle of Trafalgar (Elms arr. Darwin)
Brighouse & Rastrick Band
Caravan (Ellington arr. Sykes)
Over the Rainbow (Arlen arr. Cassidy/Morrison)
Papa Loves Mambo (Hoffman/Manning/Reichner arr. Newton)
St. Gregory the Great from Church Windows (Respighi arr. Newton)
Polysteel (Flowers) Band
Beyond the Tamar - World Tour for Brass Band (Philip Harper)
Hepworth (Persimmon Homes) Band
Lights Out (McCoy arr. Bentham)
Ritual Fire Dance (de Falla arr. Street)
Ransome Band
Liberty Bell (Sousa arr. Hume)
Highland Cathedral (Korb,Roever arr. Kerwin)
4barsrest Classifieds
Stannington Brass Band
A SOLO TROMBONE player required for this 1st Section Stannington Brass, Sheffield. Sensible balance of concerts & contest...
Newark Town Band
Date: 26-May-2013
Venue: AEC Commercial Vehicle rally at Newark Showground, Nottinghamshire NG24 2NY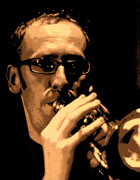 James McCabe
MSc, PGCE, LRSM
Cornet/Trumpet Soloist and Tutor