---
Heritage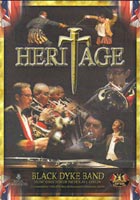 Black Dyke Band, Music Director Dr Nicholas J. Childs, in association with The Royal Armouries Museum Leeds.
A groundbreaking DVD combining two histories. One is a version of history, of the Heritage of a Nation, as the title implies.
The other is the Anniversary of one of the oldest and proudest brass bands, and with it the Heritage of a musical culture which thrives on all the populated continents of the world.
Format:
This DVD is produced in PAL format only. Customers in North America should check their equipment for compatibility before purchasing. The DVD will play on all PCs, lap-tops and DVD players which have 'all region' capability.
Price: £19.95
Out of stock
Tracks:
1. Heritage Fanfare, Philip Wilby
2. Nativity from Dove Descending, Soprano Cornet Michelle Ibbotson,
Euphonium David Thornton, Philip Wilby
3. City Scape from Lowry Sketchbook, Philip Wilby
4. The Battle of Agincourt, Sir William Walton
5. Chanson De Matin, Cornet Soloist: Roger Webster, Sir Edward Elgar, arr.
Wright
6. Jupiter from The Planets Suite, Gustav Holst, arr. Roberts
7. The Clash of Steel, Philip Wilby
8. Popular Song, Soloist: Kate Vigurs, Sir William Walton, arr. Watson
9. Polka, Soloist: Kate Vigurs, Sir William Walton, arr. Watson
10. Nimrod from Enigma Variations, Sir Edward Elgar
11. Spitfire Prelude and Fugue, Sir William Walton, arr. Fernie
4barsrest Classifieds
SEWBBA Ebbw Vale
Date: 18-May-2013
Venue: Ebbw Vale Leisure Centre, Municipal Offices, Civic Centre, Gwent. NP23 6XB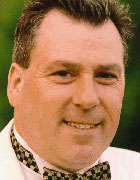 David Hirst
MA, B.Ed (Hons), LTCL
Conductor, adjudicator and arranger