---
British Open Brass Band Championship 2004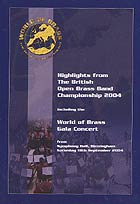 Highlights from The British Open Brass Band Championship 2004 and World of Brass Gala Concert
Recorded at Symphony Hall, Birmingham, September 2004
Format:
This DVD is produced in PAL format only. Customers in North America should check their equipment for compatibility before purchasing. The DVD will play on all PCs, lap-tops and DVD players which have 'all region' capability.
Price: £19.95
Out of stock
Tracks:
DISC ONE
1. Introduction
2. St. Magnus (Downie)
2nd placed performance, Buy As You View Band, Conductor Robert Childs
3. Interview with Robert Childs
4. Featuring: Dalewool Auckland Band
5. Interview with Peter Wilson
6. Contest Music (Heaton)
Winning performance, Foden's Richardson Band, Conductor Garry Cutt
7. Montage (Graham)
4th placed performance, Kirkintilloch Band, Conductor Steve Bastable
8. The Results
9. Interview with the adjudicators
10. Interview with Garry Cutt
DISC TWO
Yorkshire Building Society Band, Conductor David King
1. Keighley Moor (Cook)
2. Festive Impressions (Waespi)
3. Capriccio Brillante (Bellstedt arr. Smith)
Tenor Horn Soloist: Sheona White
4. Samum (Robrecht)
5. Memory (Lloyd Webber arr. Catherall)
Soprano Cornet Soloist: Peter Roberts
6. Hymn for Diana (Turrin)
Stavanger Brass Band, Conductor David King
7. Hymn of the Highlands (Sparke)
8. Cool T (Bowie)
Trumpet Soloist: Espen Westbye
9. Three Dance Episodes - On The Town (Bernstein arr. Farr)
10. Somewhere Over The Rainbow (Arlen arr. Farr)
Flugel Horn Soloist: Margrethe Tønnesen
11. Symphonic Dances from West Side Story (Bernstein arr. Crees)
4barsrest Classifieds
Stannington Brass Band
A SOLO TROMBONE player required for this 1st Section Stannington Brass, Sheffield. Sensible balance of concerts & contest...
Newark Town Band
Date: 26-May-2013
Venue: AEC Commercial Vehicle rally at Newark Showground, Nottinghamshire NG24 2NY