---
A Classical Celebration
Roberts Bakery Band
Colin Cranson
Amadeus: AMS086
CD currently not available for purchase
Tracks:
1. Pomp and Circumstance No. 4, Sir Edward Elgar, 5.14
2. Bess You Is My Woman, Cornet Soloist: Mark Davies, George Gershwin, arr. Adrian Drover, 3.30
3. Scherezade, F. Richardson, Rimsky Korsakov, arr. Drake Rimmer, 13.13
4. Blessed Assurance, Trombone Soloist: Phillip Dias, Phoebe Palmer Knapp, arr. Simon Wood, 4.00
5. Finale from Faust, Gounod, arr. Derek Ashmore, 2.41
6. Winter from the Four Seasons, featuring Sarah Raisbeck (flugel), Laura Small (wood), Sarah Loney and Laura Beeston (Tenor Horn), Vivaldi, arr. Howard Snell, 3.15
7. Themes from the New World Symphony, Dvorak, arr. Drake Rimmer, 13.37
8. Rondo from the Fourth Horn Concerto, Euphonium Soloist: Andrew Ingleby, Mozart, arr. Denis Wright, 3.29
9. 1812 Overture, Tchaikovsky, arr Denis Wright, 11.09
Total CD playing time: 60.52
You may also be interested in...
4barsrest Classifieds
Darwen Brass
Friendly 3rd section band would like to recruit permanent cornet players and percussionists to continue into the next stage o...
South London Fellowship Band
Date: 4-Jun-2013
Venue: Mini Tour (4th June to 7th June 2013).. See 'Concert details'.. Further information to follow.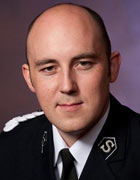 Jonathan Corry
MMus, BMus (hons)
Conductor & educator