4BR Roadtest: Five of the best selling drum kits
10-Nov-2010
4BR has been finding out which top selling drum kit is worth asking Father Christmas to stick in his sack and drop down the bandroom chimney this year....
---
Christmas is coming – and so plenty of brass band percussionists have already written out their wish list for Santa.
And top of many of them will be a brand new five piece drum kit – be it for themselves or for the bandroom.
4BR has managed to have a bash (the scientific term we understand in these circumstances) of five top sellers from our friends at Normans Musical Instruments: www.normans.co.uk/default.aspx

We have given them an extensive workout to try and give you our opinion on which one we think Santa should squeeze down your chimney this Christmas – and all before VAT goes up in January too…
Starting off with the cheapest and working our way up then….
---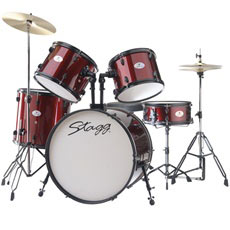 Stagg 'Rocket'
TIM122BK
5-piece drum kit
Price: £179.99 (inc VAT)
An ideal entry level set, the 'Rocket' is just the right bit of kit to get any wannabe Buddy Rich up and running.
Made of 6-ply bass wood construction, the kit comprises a 22" bass drum, 12" & 13" toms, 16" floor tom and 14" snare drum.
Also comes with hardware of 13" hi-hat and 15" crash cymbal as well as tom holders, snare drum stand, hit hat stand, cymbal stand, bass drum pedal and rum stool – and a pair of sticks!
We liked the look in red (opposite) and the fact it was fully adjustable. And even with the most enthusiastic little terror thinking he's in a Boy Band version of Black Sabbath, the double bracing of the construction can take a fair amount of high impact playing too (or punishment as the case may be).
Sounds sharp and precise and is great value as a first time piece of kit for a youngster starting out (there are specific children's kits which are smaller than this so make sure you ask) and especially for youth bands/ lower section bands where the basic requirements of kit playing can be met with ease.
For more information:

www.normans.co.uk/p-2026-rocket-by-stagg-tim122bk-5-piece-22in-drum-kit-in-black.aspx
---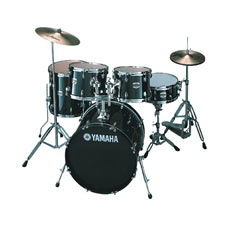 Yamaha GM 'Gigmaker'
2F-5-BK-K
5-piece drum kit
Price: £430.32 (inc VAT)
The next step up in terms of quality and seriousness for the developing player.
Yamaha have earned their reputation by producing quality goods at great prices and this is no exception, coming in a package that includes a 22" Bass drum, 16" Floor Tom, 13" & 12" Toms and 14" snare, as well as bass drum pedal, crash and hi-hat cymbals all constructed with double-braced hardware.
Like all things Japanese its functional and well made, and enjoys taking a fair bit of punishment too.
The set up is solid and adjustable and the kit comes in just about any colour you care to think about – so they cane be tailored to reflect even the weirdest band uniforms.
Lots to admire for the price and an ideal option for a band that wants to invest in a long term hard wearing bit of functionality for the lads and lasses at the back of the band, without having to ask them to keep dipping their hands in their pockets.
For more information:

www.normans.co.uk/p-1582-yamaha-gm-2f-5-bk-k-gigmaker-drum-kit-in-black.aspx

---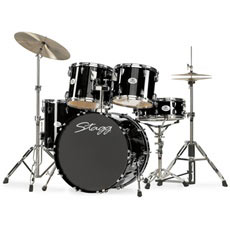 Stagg 'Rocket'
TIM622L BK
5-piece drum kit
Price: £461.40 (inc VAT)
Very much in direct competition with the Yamaha 'Gigmaker' this is the step up in class from the Stagg stable from the entry level 122BK.
Made from 6-ply construction its comes with 22" bass drum, 12" & 13" toms, 16" floor tom and 14" snare drum and hardware that includes tom holders, snare drum stand, hi-hat stand, straight cymbal stand and bass drum pedal.
Additional lugs and double bracing means that it's sturdy, durable, practical and solid and does the business, although it doesn't come with drum stool or cymbals, which is a bit of a disappointment given that the Gigmaker from Yamaha does.
You can feel the difference with this kit – lovely jubbly in fact and can take that extra testosterone fuelled pasting when the need arises, but it falls between the best of the entry and intermediate levels for us.
Bands will have to fork out extra for cymbals etc – and given that the Yamaha does all that you need, with the added extras as standard. A good individuals option, but the band treasurer may have the last word given the choice between it and the Gigmaker.
For more information:

www.normans.co.uk/p-2549-rocket-by-stagg-5-piece-6-ply-22in-drum-kit-in-black.aspx

---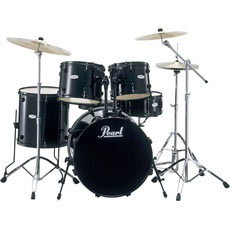 Pearl 'Forum'
FZ725
5-piece drum kit
Price: £499.00 (inc VAT)
A great name in drum kits and one that has carved itself a well earned reputation for quality over the years too.
Although geared to be an entry level kit – it's an entry level for players who know what they want to do and are prepared to invest a bit of hard earned cash to take things seriously.
And unlike the secondary level Stagg and Yamaha, it offers much more for the extra dosh you have to put up front. Comes with 22" bass drum, 12" & 13 " toms, 16" floor tom, 14" snare drum, hi-hat, snare, boom and cymbal stands, bass drum pedal, tom holders and stool.
We found plenty to enjoy getting to grips with here, and the famous forum shells with low mass lugs are still the biz even after all these years. Has the feel and sound of a proper instrument when put in the right hands.
All this and they throw in a pair of drumsticks, cymbals (decent quality and functional) and even a set up video for those with added IKEA flat pack set up experience to fall back on.
Well worth the extra cash and an ideal bit of kit for a band with a good, ambitious percussion section. It also has the flexibility to be improved by adding bespoke extras.
For more information:

www.normans.co.uk/p-1295-pearl-forum-fz725-5-piece-drum-kit-black-w-cymbals.aspx

---
Yamaha Stage Custom
SCB-2FS5-CR-K
5 piece drum kit
Price: £698.41 (inc VAT)
Now we are talking.
Great quality kit for a player with serious pretensions and a fair bit of flashy showmanship ego too.
Superbly put together with precision Japanese efficiency, the Yamaha is a cracking piece of kit – in every sense of the word.
Comes with 22" bass drum, 12" & 10" toms, 16" floor tom, 14" snare, the hardware includes sturdy hi-hat stand, boom stand, straight stand and snare stand, bass drum pedal, attachment clamp and tom holder.
If you going to invest in something as good as this then its no wonder they don't try and sell you basic of the shelf cymbals, stool or sticks.
This kit deserves something of quality to go with it, so don't baulk when the overall bill is inflated by the purchase of bespoke cymbals etc. As the lovely Cheryl Cole says – 'You're worth it'
Sounds brilliant when given a bit of welly, but also has a sharp precise cutting edge too, and looks as good as Chez Cole even in all sorts of weird and wonderful colours (we liked the raspberry ourselves).
Given that it still costs less than half of what you pay for a decent top end cornet, the percussion section of your band will forever be in your debt if they unpack one of these at next rehearsal.

For more information:

www.normans.co.uk/p-552-yamaha-stage-custom-birch-drum-kit-raven-black.aspx
---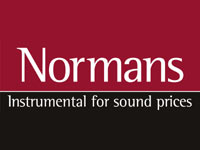 Star Buy:
Without a doubt the Yamaha Stage Custom – although the Pearl 'Forum' is a fine all rounder and the Gigmaker from Yamaha a good intermediate option.
The two Staggs do what they are meant to do and the £179.99 'Rocket' entry level set is amazing value for money for a youth band/lower section band with a tight budget.
If you do have a bit of spare cash lying around though go for the Stage Custom and be prepared to save for the added extras.
It's a great bit of kit and comes at a price that makes sense if you are trying to attract a budding young Dave Grohl to your band too.

Further information:

For further information go to Normans Musical Instruments: www.normans.co.uk/default.aspx
4barsrest Classifieds
Middleton
Vacancies have arisen for a 2nd Trombone and Front Row / Repiano Cornet player with this friendly and enthusiastic 2nd Sectio...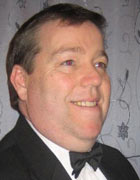 Andrew White
MA, B Ed (Hons), ADNCB, BBCM, PGCE, Cert. Ed
Conductor and educator