4BR Roadtest: Exclusive first look at the new Yamaha Neo tenor horn
18-Aug-2010
4BR has got its hands on a final prototype Yamaha Neo tenor horn. We give it an exhaustive world exclusive roadtest to see what we think...
---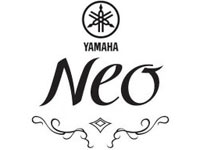 Yamaha 'Neo' Professional tenor horn
YAH803S

There's been a lot of anticipated excitement about Sheona White's collaboration with Yamaha on the new 'Neo' tenor horn, but does the new instrument live up to the heralded expectations?

Does it achieve what the makers say it promises?

Yamaha haven't exactly built a cast iron reputation for great sounding tenor horns over the years (many leading players finding that they're usually too bright).

However, perhaps this is starting to change...

New and exciting?

So what is this new and exciting instrument? And what do Yamaha and Sheona White say about it?

The player herself talked about how she looked to help create 'superb tonal quality' (a trademark of her playing for certain), 'great projection' and 'perfect intonation' (again, aspects of her playing we have come to admire)

From Yamaha, the biggest claim is that they started from scratch, redefining and redesigning every aspect of the 'Neo' (and don't ask 4BR why it's called after a character in the Matrix films – we don't know either).

In addition, they claim that the Neo provides new possibilities in terms of projection and dynamics (attributed specifically to the 210mm bell size), a richer sound, better tuning, and an increased overall 'playability' (a bit of PR fluff that is up there with the ludicrous claims of 'Solar' sound on their Xeno range)

They also say that the instrument is heavier (as a result of a new 'heavy-type' valve casing).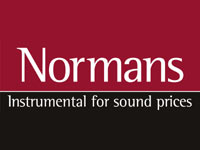 Immediate impressions

Immediate visual impressions are clear.

The lead pipe appears to be more convoluted in design than on previous models, now turning around the side of the bell and entering the third valve casing right on the back of the horn.

Meanwhile, the main tuning slide is as wide as a Sumo wrestlers backside, whilst the 1st & 3rd valve slides are similarly more generously proportioned than those on previous, and rival models), and the 2nd valve slide is set behind the first and third slides (rather than alongside the third as with, say, the 'York').

Normans Musical Instruments provided 4BR with the instrument, and we asked Chris Davies to look at four main areas: Build Quality/Design; Intonation; Ease of blowing/Tone and Overall Performance/Value for money.

Marks are out of 25.

Here is what he thought after an extended 'test drive' over four days of playing of the final prototype (so final it even came with the 'Neo' stamp on it).
---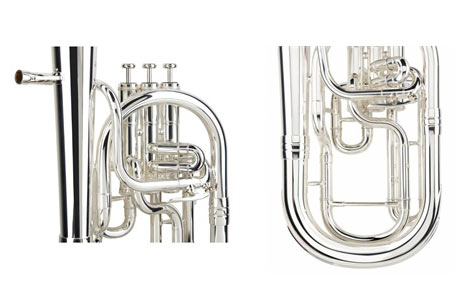 Certainly not skinny - the Neo is a plump little beauty...

Build Quality/Design:

As is usually the case with a Yamaha, the instrument is well put together, and there's plenty of attention to detail.

The extra contact between the lead pipe and the bell adds a degree of sturdiness.

The lyre holder is in the place that it should be (i.e. on the third valve slide, and not where other makers rather thoughtlessly seem to think it should go) and even the lyre holder screw is subtle and well-designed (it definitely won't fall out when you're not looking!).

It looks attractive: It's certainly not Kate Moss thin – more Ruebensian, like Kate Winslett in the buff.

Elegantly shaped, it retains a sensible functionality (no meaningless 'bling'), and despite the sense of 'plumpness' it actually feels rather light and well balanced (it is claimed to weigh the same as a 'York', so it is not that heavy to lift).

It also feels a lot stronger than the old 'Maestro' too; which felt brittle boned and brittle sounding in comparison.

The valves were terrific - perhaps even a little too easy!

That said, you have to bit careful when removing and replacing them: making sure you get them the right way around, as the 'click' happens twice, and only one of them is correct. And if you really are a 'fiddler', the screw-tops on the valve casing were a little awkward to screw back on too. Take care when threading back on.

In terms of the instrument's accessibility, it's really not different at all from holding a 'Sovereign' or a 'York'.

The lead pipe is comfortably placed, and so is the instrument to hold.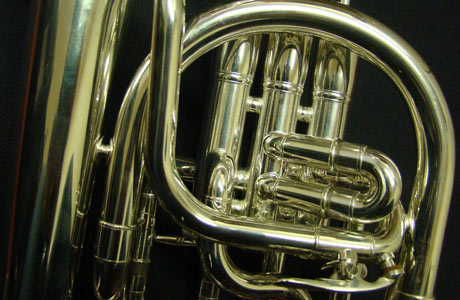 Pointing the other way - the 2nd valve tuning slide may cause problems

One thing that did concern however, was the positioning of the second valve tuning slide, which now points away from the main receiver, somewhat restricting the placing of the fingers of the left hand around the back of the valve casing (particularly awkward if you have long fingers).

Because it is a little more awkward for the left hand to take the entire weight of the instrument (freeing the right hand and its fingers to do what they should), it can place weight on the right hand, which is not ideal for playing fast finger work stuff.

Thankfully there is no cumbersome trigger on the instrument (which has always seemed a bit of a fad – like a flappy paddle gear change on a sports car) and on a very minor note, the main water key is perhaps a little difficult to access from the front of the instrument because of all the extra tubing in the way.

Overall:

Well built? Yes – without a doubt.

Completely revolutionary? No. It still looks very generic.

It's a little more awkward to hold, but it looks the part and is probably very durable.

For me though it's just not comfortable enough, although I can see that for those with slightly smaller hands it might be!

MARKS: 20/25
---
Intonation:

Tenor horns are probably some of the most awkward instruments to get in tune.

Because there is usually no trigger, and never a 4th valve, every instrument has it's own quirks (and so does every player).

I've had a few issues on 'York' horns with first and second valves generally being sharp, whereas nearly every 'Prestige' I've played seems to be designed with the tuning characteristics of a set of bagpipes.

The 'Neo' however seems to live up to the maker's hyperbole.

I found that hardly any movement of the main tuning slide was needed at all in order for the open horn to be in tune.

The temperament seems just right, with enough movement in the main tuning slide in the sharpward direction to accommodate players who play with brass bands that tune maybe to A=442/443 Hz (i.e. slightly sharp).

Octave jumps are really in tune (middle G to top G, for example). Bottom F# is still massively sharp, but the only way this issue will ever be tackled is by the introduction of a trigger somewhere (and that seems a price not worth it).

Top G is a little on the sharp side, and the notes above it tend to get flatter as you go up, but this is just something that needs getting used to and the accomplished performer (the 'Neo' is sold as a 'professional' model) should be able to get things centred almost perfectly without too many difficulties.

Overall:

A joy - with great intonation throughout the range. Whatever they've done, this brand new tubing seems to work really well.

MARKS: 24/25
---
Ease of Blowing/Tone:

I've personally considered Yamaha horns (even the 'Maestro') to be simply too bright for brass bands.

They'd make great orchestral or ensemble instruments (if ever needed), but they often lacked that richer, mellower, darker sound that suits the middle of the traditional brass band.

The 'Neo' though has a much deeper, richer timbre than its predecessors, although it is still doesn't quite sound like Paul Robeson singing 'Ol' Man River'.

This is an ideal instrument for soloists, but I'm not completely convinced by it as a 'section' instrument that would bring extra depth of sound out of the majority of top quality horn sections.

The top register is bright at mf and above, whilst the pedal tones can be a little too bass-trombone like when blown with misplaced enthusiasm.

I was somewhat sceptical at first about the sharp bend in the lead-pipe (particularly since Yamaha claim that this instrument is more free-blowing), although I was soon won over when put into practice.

It is remarkably free blowing (especially in the middle-lower register), whether you're playing high notes or pedal tones, and you can really push some air through it before losing control.

With horns it's often very difficult to get much air through middle G/F#/F, but it seems distinctly possible on this instrument. There's also plenty of beef to enjoy below middle C too.

In addition, you can enjoy real precision at quiet dynamics too.

The final pedal C of the second movement of John Golland's 'Sonata for Horn and Piano' (a real true test of quality) is so easy to produce, and quiet playing in the top register is surprisingly easy.

The 'Neo' makes it easier to control pedal tones at quiet dynamics, which is something I've never encountered before.

Overall:

It's definitely beefy, and it definitely lets you control the quiet register very well. An almost perfect soloist's instrument, although for general band section playing it's still a touch on the bright side.

MARKS: 22/25
---
Overall Performance/Value for Money:

With an RRP of £2,976 (for the silver plated model), this is a pretty expensive bit of kit.

There is howeve significant discounts to be found, so you should be able to pick one up for around £2,380 and you may be able to shop about and strike a hard bargain for your hard earned quids.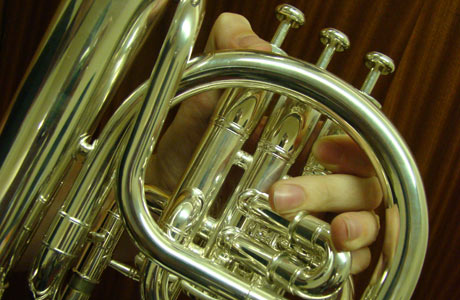 Right hand down a bit - the one concern may be the question of large handed comfort...

The instrument does come in a lacquer version (YAH803) but the saving seems negligible and Yamaha have a well earned reputation for their silver plate finish.

Traders are anticipating high demand however – so do be prepared to wait.

Overall it seems like an instrument that best suits established solo horn players (or the 'professional' as the 'Neo' is marketed as) or horn players who do a lot of solo work. It seems an instrument aimed at serious performers.

Although I do have qualms about its sound in the darker context of a British band horn section, it's a hell of a lot more mellow than previous Yamahas, and is certainly a giant leap in the right direction.

The instrument would be a decent investment too.

It's well built and durable, and ideal for the serious tenor horn player looking to develop his/her skills to the highest level.

In this sense, it is definitely worth the money.

Just be sure to test the 'Neo' before buying it, as it's not the most comfortable instrument to hold for someone with larger hands.

It will come with a usual well made Yamaha hard case (although you can dump the mouthpiece) and the usual bits and bobs.

Overall:

A very fine instrument that has raised the tenor horn bar seriously high for its rivals to match, even if it does come at a premium price.

Not a perfect instrument - I think that we have a long way to go before we have a perfect tenor horn on the market – although it is definitely worth the money you will pay for it, if you are serious about your playing.

MARKS: 22/25
---
Overall Total:

Build Quality and Design: 20 points
Intonation: 24 points
Ease of Blowing and Tonal quality: 22 points
Overall performance and Value for money: 22 points

Overall Score: 88 points

---
Specifications:

Bore Size: 11.9mm
Bell Size: 210mm
Bell Material: Yellow Brass
Valves: 3
Finish: Clear Lacquer / Silver Plate
Case: AHC 803 – lockable hard case
Key: Eb
Bell: 11.9mm 210mm Yellow Brass 3
---
Chris Davies

Chris Davies is a postgraduate at the Royal Welsh College of Music and Drama, and is the current solo horn with Tredegar Band.

He graduated from Oxford University in 2009 with a first-class degree in music, is an Associate of Trinity College London, and a Licentiate of the Royal Schools of Music.

He's currently involved in a research project at the biosciences department at Cardiff University with Dr. Alan Watson and Kevin Price (Head of Brass at the RWCMD), studying breathing strategies in music performance.

He studies tenor horn with Owen Farr, is a composer and a conductor, and won the Blue Riband Instrumental Competition and prestigious Peggy & Maldwyn Hughes Scholorship prize of £3,000 at the 2010 National Eisteddfod of Wales.
4barsrest Classifieds
Carlton Brass
Carlton Brass Nottingham 1st section require the following players to complete its line up . . Tenor Trombone . . Bass Trombo...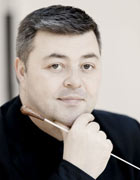 Craig Anderson
DRSAMD CPGS
Conductor, band trainer, teacher , tuba player